Cooler winds are on the way and with them come all of the fall flavors we love! We joined Indy Style to share some of our favorites. From NatureSweet Glorys tomato soup to SweeTango apple snacks, we have lots of ideas to share. Show your family a warm and cozy love with these fall flavors!
Safe, nutritious autumn flavors
We started our Indy-style appearance with a quick discussion of the global pandemic we are currently facing. While these times may seem uncertain, it's comforting to know that the produce industry remains strong! You can be sure that you are buying fruits and vegetables as Covid-19 does not spread through food or food packaging. Indeed, immunity enhancers are found in the the product department! There you will find nutritious foods that will support and strengthen your immune system and help you stay healthy this fall. And of course they are delicious!
NatureSweet tomatoes are number one in America – but they're also great for cooking! We used the NatureSweet Glorys in two of our recipes on the show. They live up to their name in every dish.
NatureSweet Glorys tomato soup
Tomato soup is an autumn classic. Whether you pair it with a grilled cheese sandwich or enjoy it on its own, it is sure to warm you up on a cool fall day. We created a unique version of this ancient soup that is nutritious, filling, and flavorful. Our Indy-style fall flavors wouldn't be complete without them.
Ingredients:
1 container of NatureSweet Glorys
1 tbsp avocado oil
½ yellow or white onion
1 cup of vegetable broth
½ cup of coconut milk
1 tbsp curry powder
Salt and pepper to taste
(Italian spice)
Toppings (we love Desbry tropical avocados)
Directions:
Heat the cast iron pan with avocado or rapeseed oil
Sautee until the tomatoes have bubbles
Bring the vegetable stock + coconut milk to the boil. Add curry powder, salt, and pepper to taste.
Bring to a boil, reduce heat
Put in a blender (tilt cap so that the blender doesn't explode from heat)
Puree & enjoy!
Remember, you should always wash your vegetables! The NatureSweet package is also a colander that makes washing a breeze. Just peel off the label and run the wrap under the sink to wash it off.
NatureSweet Glorys Spaghetti Pumpkin
The product department is preparing for the transformation as soon as autumn products arrive. You'll see some of our favorite fall foods: tough pumpkins! This appealing dish turns into a spaghetti pumpkin boat – your kids will love it! It's perfect for a healthier night out with spaghetti.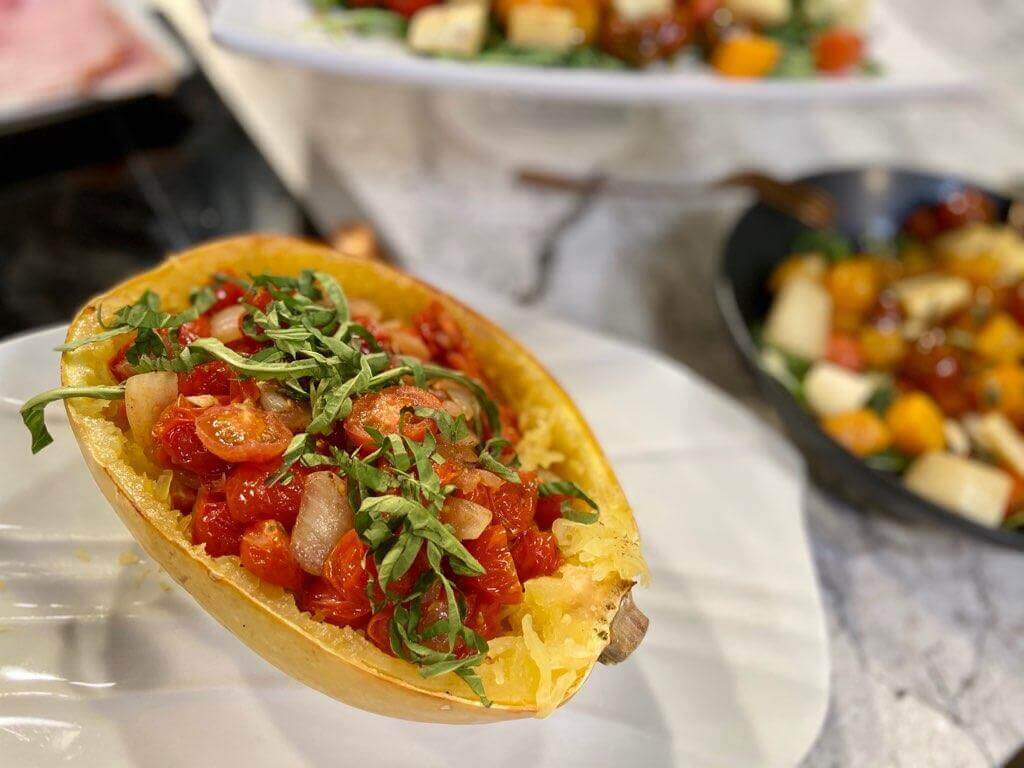 Ingredients:
1 cup NatureSweet® Glorys® tomatoes, halved
1 medium spaghetti squash
2 TBSP. Extra virgin olive oil
Kosher salt and ground pepper to taste
1/2 yellow onion, diced
2 cloves of garlic, chopped
1 TBSP. fresh basil, chopped
1 teaspoon. dry parsley flakes
1/2 cup of grated mozzarella cheese
Directions:
Preheat oven to 375 ° F.
Using a large knife, carefully cut off the stem end of the pumpkin. Then cut the pumpkin lengthways in half. Using a large spoon, carefully scoop the seeds and membrane out of each pumpkin half until the surface is clean and all of the seeds are removed.
Brush the cut sides of each pumpkin with 1 tbsp. Olive oil. Season to taste with salt and pepper. Place each pumpkin half-side down on an aluminum foil-lined baking sheet. Bake at 375 ° F for 30-35 minutes, or until you can easily pierce the skin of the pumpkin with a fork. Remove from oven and allow to cool.
Heat the remaining 1 tbsp. Olive oil in a medium pan over medium heat. Add onions and fry for 4-5 minutes. Stir in garlic and cook for another 2 minutes, stirring occasionally. Add NatureSweet® Glorys® tomatoes and cook for another 5 minutes. Remove from heat and stir in basil and parsley. Season to taste with salt and pepper.
Once the pumpkin is cool enough, use a fork to mince the pumpkin flesh. It comes off the skin easily and resembles spaghetti pasta. Spread the pumpkin noodles evenly in each pumpkin bowl.
Pour half of the tomato mixture into each pumpkin bowl and distribute it evenly.
Top each pumpkin skin with the grated cheese and bake it side up at 375 ° F for 8-10 minutes or until the cheese melts.
* Recipe courtesy of NatureSweet
Roasted root salad with Constellation ™ tomatoes
The aromas of carrots, pumpkin, turnip, tomato and pumpkin combine in an autumnal harmony. This filling dish is a crowd puller at every family dinner. Remember Thanksgiving is coming too!
We used Constellation ™ Tomatoes in this dish for extra color and flavor. Remember to leave them out of the bowl during the first stage of frying, otherwise they will crumble in the oven.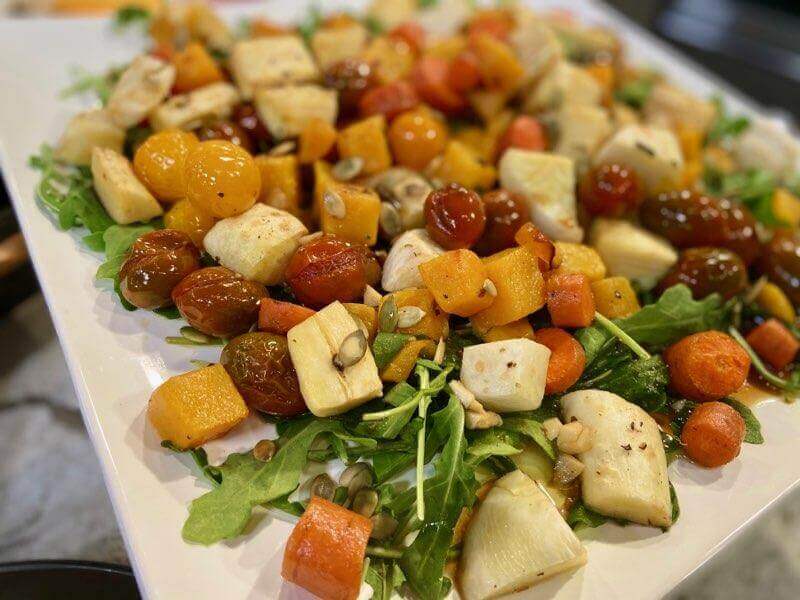 Ingredients:
16.5 ounce container of NatureSweet® Constellation ™ Tomatoes
4 cups butternut squash, peeled and diced
3 large carrots, peeled and cut into bite-sized pieces
2 parsnips, peeled and cut into bite-sized pieces
2 beets, peeled and cut into bite-sized pieces
3 TBSP. olive oil
Salt and pepper to taste
2 TBSP. fresh rosemary, chopped
1 sachet of arugula
2 TBSP. Balsamic vinaigrette
Roasted Pumpkin Seeds (optional)
Directions:
Preheat oven to 350 ° F. Place the pumpkin, carrots, parsnips and beets on a baking tray, drizzle with olive oil and sprinkle generously with salt and pepper. Bake for 30 minutes.
Put the tomatoes in the sheet pan and mix all the vegetables. Add another dash of olive oil. Bake for another 20 minutes
Remove the vegetables and let them cool. Mix the roasted vegetables and tomatoes with rocket and a little more olive oil and vinaigrette. Top with roasted pumpkin seeds (optional).
* Recipe courtesy of NatureSweet
We have also used tropical avocados in our recipes. They go with almost anything, so we strongly recommend always having a pair on hand. Smooth-skinned tropical avocados are twice or three times the size of typical avocados and are perfect for cutting in any dish. They are great value for money and can help you remove more food waste from your home.
What can almost everyone agree on? The SweeTango Apple from Applewood Fresh, that's what! Over 98% of people who have tried the SweeTango Apple said it was at least one of their favorite apples, if not their favorite. The SweeTango Apple holds the Guinness World Record for the loudest apple crunch. There's nothing like a satisfyingly crispy apple!
Now look for SweeTango apples at your local grocery store. Use the store locator here.
SweeTango Apple Ring Sandwiches for children
With the SweeTango Apple Ring Sandwich we got creative in our autumn aromas in the Indy style. Instead of putting an apple slice in a ham sandwich, let's put the ham sandwich in the apple! The tangy sweetness of the apple goes perfectly with ham and cheese for a delightful and unique taste that your kids will love.
Ingredients:
2 SweeTango apples
Ham slices
Slices of Turkey
Cheese slices
Directions:
Wash, core and cut the apples to make apple rings.
Assemble sandwiches: place meat and cheese between two apple rings.
SweeTango Apple Ring Sandwiches for adults
Apple ring sandwiches aren't just for kids. We have refined them with smoked fish and cream cheese. This taste of Scandinavian cuisine goes perfectly with our autumn flavors in the Indy style and is easy to put together.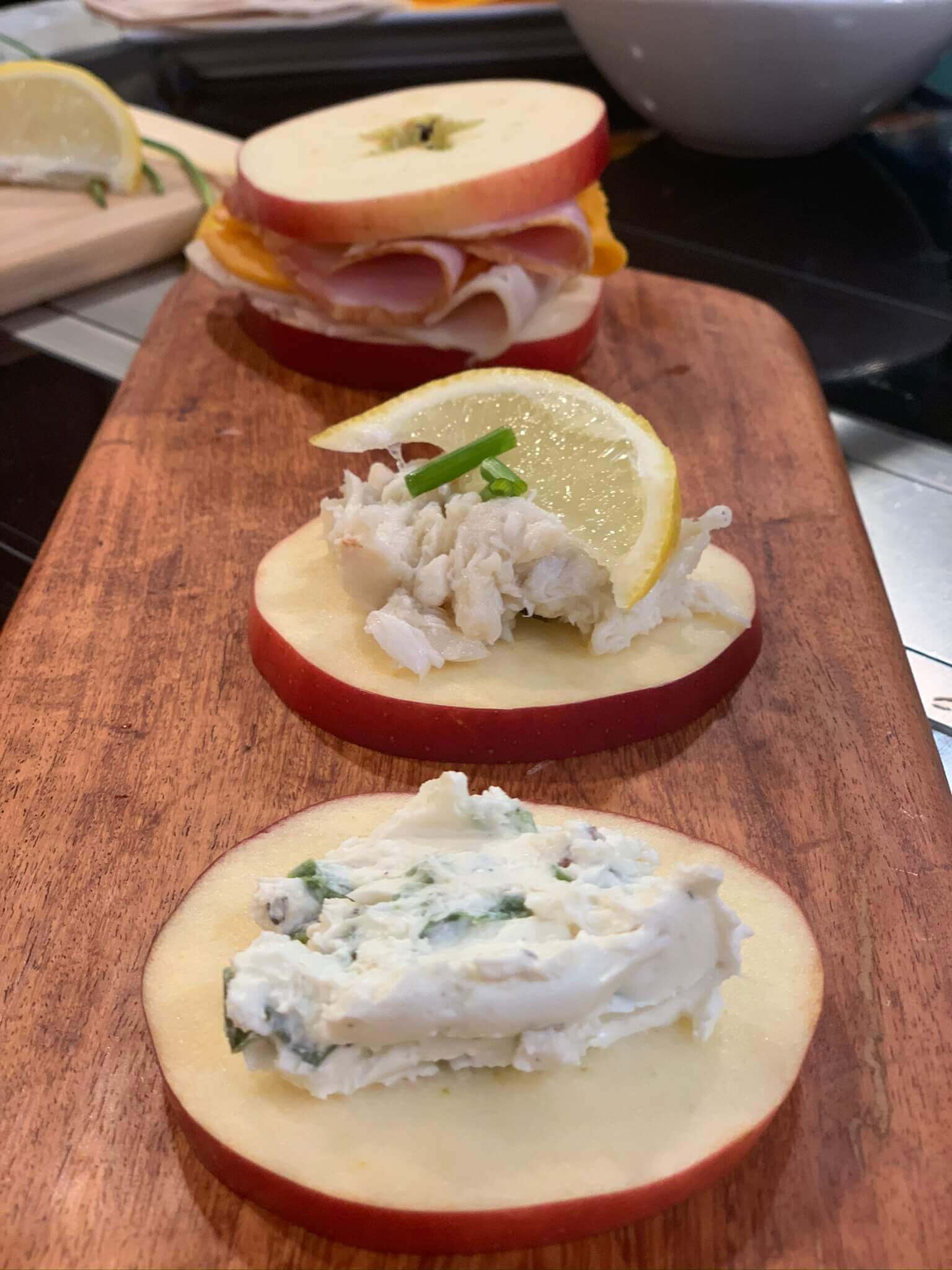 Ingredients:
Smoked salmon or ahi tuna
cream cheese
Directions:
Wash, core and cut the apples to make apple rings.
Assemble sandwiches.
Infused SweeTango Vodka + Cocktail
Vodka has been one of our most popular recipes since March. And we can all guess why! This recipe is simple and creates a delicious vodka for some delicious martinis. Pour your favorite vodka into a glass with some SweeTango apples and let it sit for at least 24 hours or up to four days. Our martinis also use elderflower liqueur, which brings out the sweetness of the apples.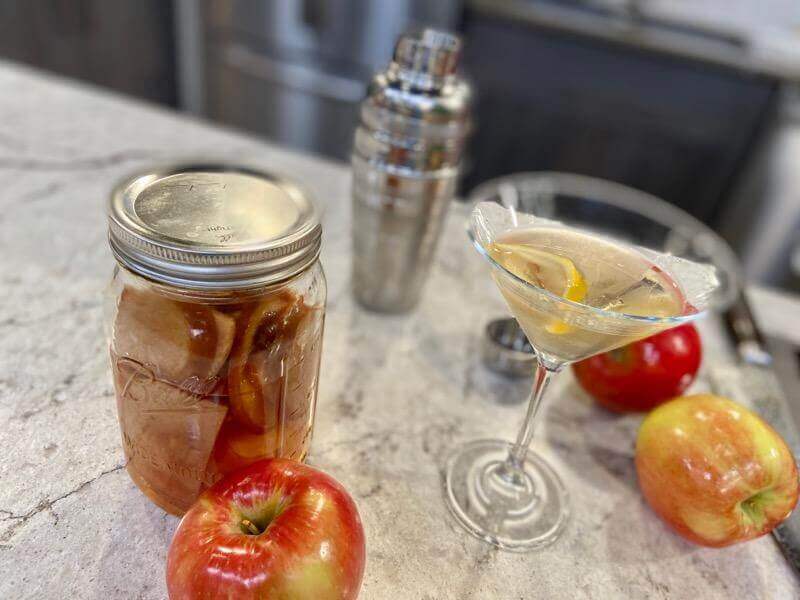 Ingredients:
SweeTango infused vodka
Elderflower liqueur
SweeTango apples
Garnish:

1 lemon for twist
SweeTango Slice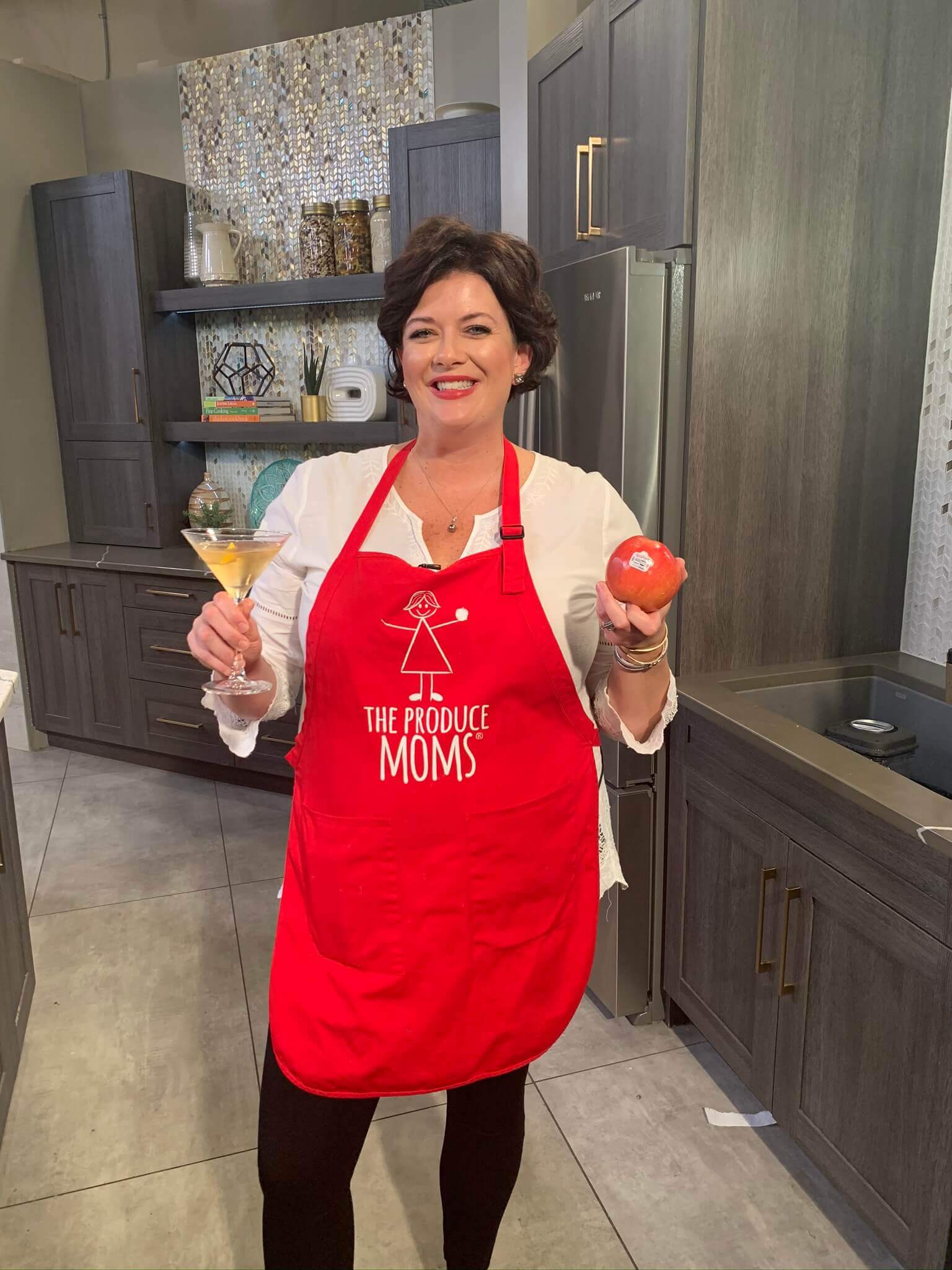 What was your favorite indy style flavor? We'd love to know what you're cooking this season! Share in the comments below or tag us in your food photos on Instagram @theproducemoms.
Note: We are not the author of this content. For the Authentic and complete version,
Check its Original Source