One of the biggest frustrations I've experienced teaching gifted children in public school – and continuing to homeschool my own gifted children – is that teaching can feel like this restrictive. Their brains are moving and processing so fast that it is often frustrating for them to sit and listen, wait for everyone else and not move forward as quickly as possible. Not only is it frustrating, but so much of the children's natural curiosity and excitement can wear off if they are made to wait while they study. Be lifelong learnersLosing this excitement is one of my greatest fears for my children.
To satisfy her curiosity – and buy me a few quiet mornings – we hugged interest-oriented, more independent learning style. Whether it sprinkle, Gift Subscriptions for birthdays or just to go out of their way and be available to fund or support theirs Rabbit holesIndependent learning is a big cornerstone of our school. It can feel shaky at first to trust that your child is learning without a lot of guidance. To help you feel more confident as you let go and learn, I am sharing some of my favorite resources for independent learners, things I know a child can't get away with without learning, and books for that no formalities are required by my lesson plan.
One of my all-time favorite resources for independent learning is books from the For children Series. I discovered this when I fell into a Frederick Douglass rabbit hole and was absolutely delighted with everyone we read. Combining detailed and extensive knowledge with fun activities or hands-on projects, as well as colorful photos and sources for further exploration, these books attract my children's attention. They're especially good for history, like hers American Revolution for Children, Industrial revolution for children, Native American History for Childrenor certain historical figures like Leonardo da Vinci for children. The For children Series also has books on specific subjects, such as: Zoology for childrenor cards with theirs Map the world Book. And don't be surprised by the "For Kids" title – their books are filled with higher-level information and suitable for almost all ages, so your teenagers can learn on their own too.
Another favorite book series of mine – and my children! – are the You wouldn't want to be … Books. There is a ton The great graphics and the unique format attract attention from the start. Every period in history that we have studied so far has been followed You wouldn't want to be … Books, and my children have found nearly myriad of supportive titles for their independent learning. Add You don't want to be a Viking explorer to our ever popular Viking bread ensures an unforgettable study. Unique perspectives like You don't want to be a secret agent during WWII, You don't want to be sick in the 16th century, even You don't want to be a skyscraper builder Provide so much more insight than just reading about dates and events. Not only are these books great for history, they also offer a wide variety of topics for independent readers, such as: Bees or Weather!
There are many popular series out there that are perfect for independent learners, workbooks to practice, or supplementary texts to support a particular study. The cartoon guide to … Series is so visually pleasing that kids can't help but devour it, and Brain Quest workbooks are simple and thorough enough for independent work, waiting room work, or "sub" days when your children may be with someone other than you. The Who was… The series is full of small, easy-to-digest readers for younger children. If you haven't enjoyed any Sir Cumference Books still, you are missing out! Full of colorful illustrations and stories that are as engaging as they are educational Sir CumferencThe books have been a fantastic resource for my children to learn about math on their own. And although it's not a series The number devil is such an entertaining story that kids can learn some math without even realizing it.
Homeschooling and Rabbit trails You don't have to occupy every second of your day and when you have the freedom to explore, kids will amaze you with what they can learn on their own. Stocking your library with books that enable independent learners is a great idea that not only promotes lifelong learning but also builds children's confidence to practice the learning on their own. And it could even buy you some quiet mornings!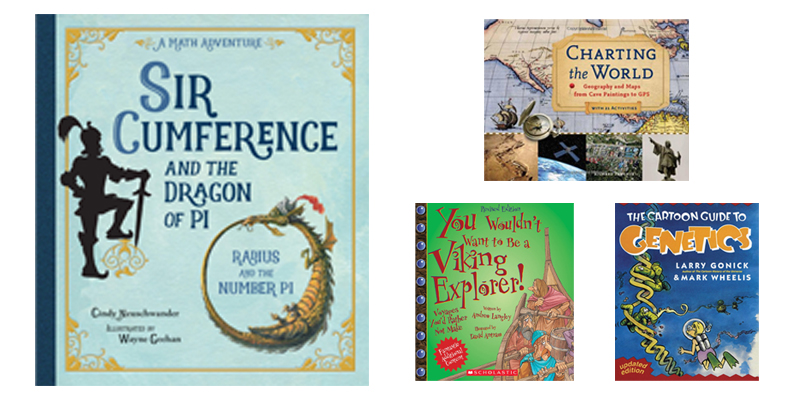 Note: We are not the author of this content. For the Authentic and complete version,
Check its Original Source