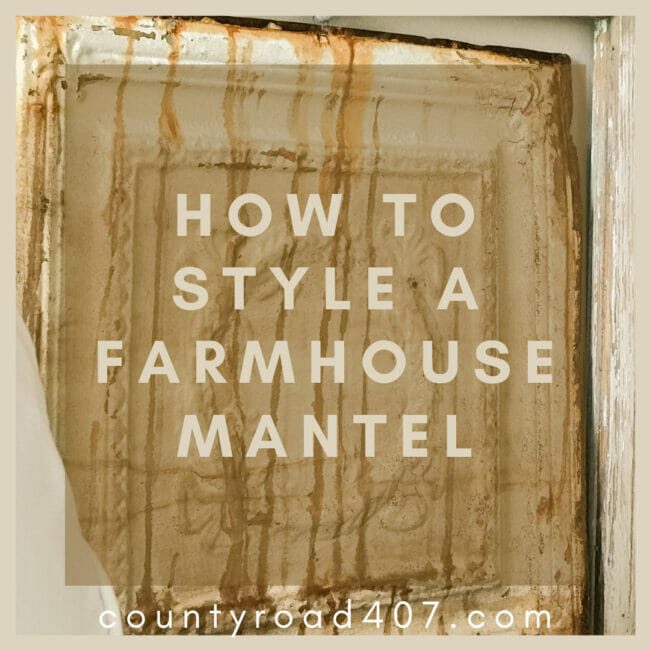 Hello my dear friends! Did you have a nice day of work Unfortunately we worked, but it was nice to pay tribute to the contributions and accomplishments of our American workers throughout the day. I spent some time on the mantelpiece in Navasota. I'm still wondering whether to leave it alone, paint or strip it off and keep it natural. One day I'll either get sick of it or get my hair wild and you'll see what I've done. At the moment I have given the mantelpiece an everyday look without worrying about the color. Would you like to see how to style a gorgeous peasant coat? Yes let me show you how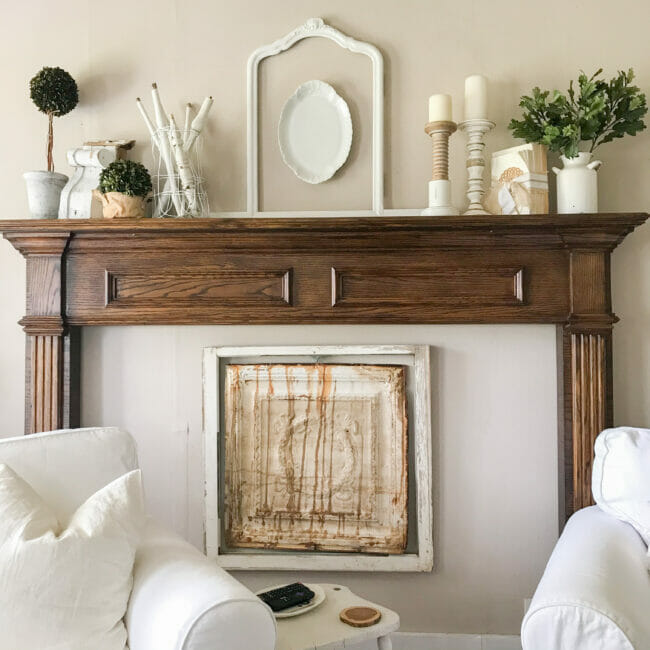 I think it's lovely because I like how it turned out. It has some specific farmhouse staples, but also a few unique things that put a smile on my face. And who doesn't want to smile every day ?!
Styling step one:
Find out if you want the decor to be asymmetrical, symmetrical, or asymmetrical. Confused? I will explain. Check out the mantelpiece in the photo above. It's symmetrical because the number of items is the same on either side of the piece in the middle. Four things on each side. The same basic colors, the same basic sizes, but the articles themselves are not the same – asymmetrical. That's what I like best.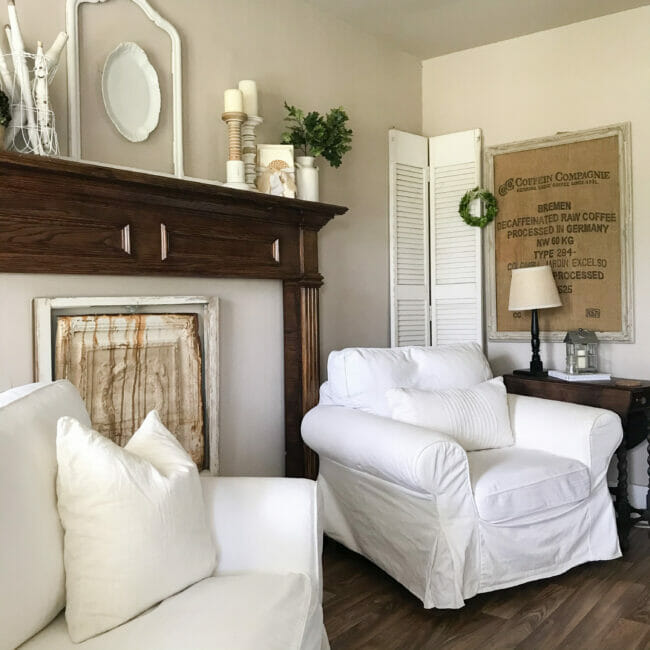 Styling step two:
Here I would normally say pick your theme, but since we're doing a farmhouse style it will obviously look like this. Now first choose your highest object or the one piece that can stand on its own. I use a vintage dresser mirror frame. I always encourage friends NOT to use a mirror over the fireplace. You should want the mirror to reflect something pretty. Here we have ceiling fans and that is definitely not something to write home about so the mirror has been removed.
If you really want or need to use a mirror and its reflection is boring, hang something on the mirror. Use a sturdy command hook and hang a wreath or a beautiful painting. Then nobody will notice the ceiling fan. 😉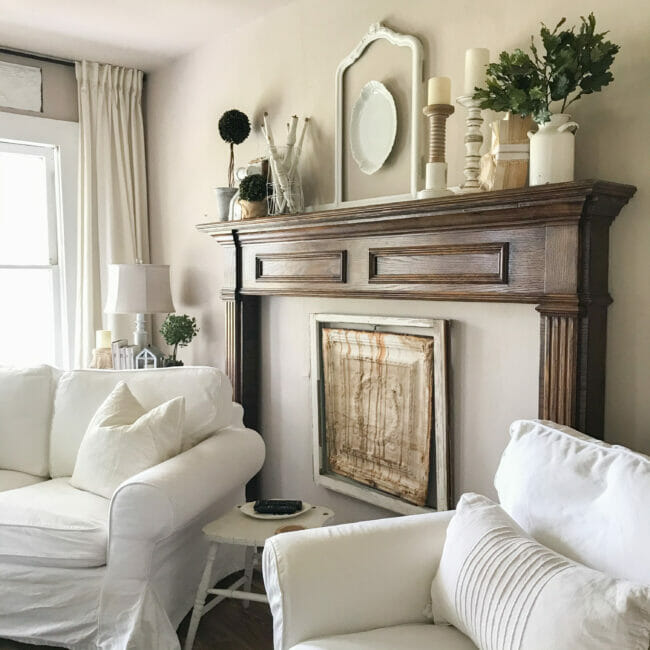 Styling step three:
Here you can identify the symmetrical styling with asymmetrical sides. People interested in symmetrical styling may want to use the triangle method for this next step. same things on either side form a triangle to keep things even. Me on the other side I like to be a little different so I want my items to be wavy. I like to have the same amount of items on each side, but instead of the eye going straight out and down (like a triangle) I want the eye to go up and down like a wave.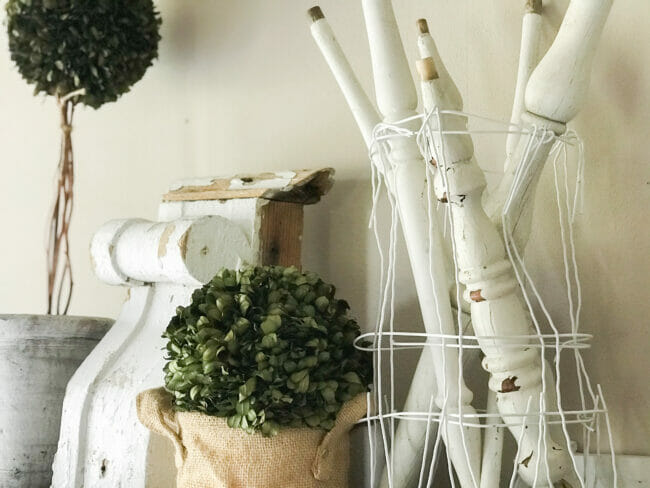 Can you see symmetry between the sides? The width of the two candles is balanced out with the vintage spindles as they are joined together with fun little fences. The white deconstructed books are balanced with the chippy white architectural piece because they are about the same size.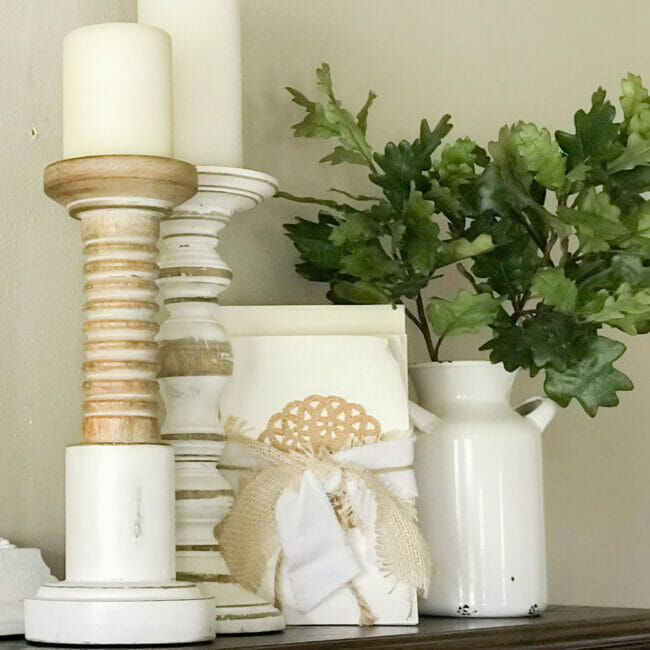 Styling step four:
Real or false as false, I like adding green to all of my spaces. I think it adds life and beautiful "filler" to it. Imagine what the mantelpiece would look like without the green parts. Bleh. With the green stems on the right being so full, it looked strange that they weren't nearly as full on the opposite side. Your eye does not notice that each side is not exactly balanced with green as they are visually the same weight. The eye only sees flow. Nice undulating river.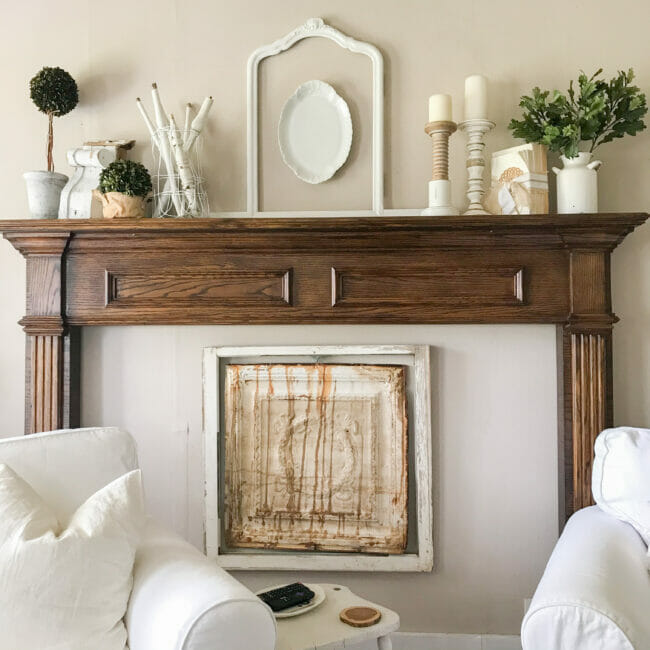 The artificial fireplace below:
The hardest part I think of for someone with an artificial fireplace is what to put under it. This one is so big and wide that it's hard to decide what to add that doesn't differ from what's on top of the mantelpiece. I tried shutters, iron bars, wreaths and even left it blank, but so far I didn't like anything. The old farmer's window and the piece of vintage ceiling sheet metal hanging in it fit me just fine. It is just enough to fill in the large space below so that your eye is focused directly on the empty mirror frame.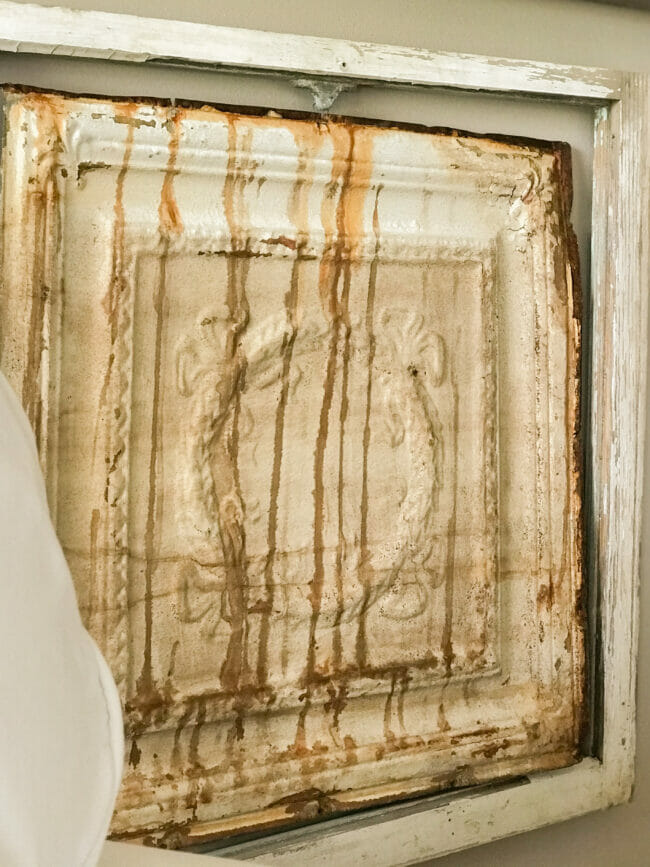 I think you either fill the space completely or you only have one piece. I like the rustiness, texture, and drip of gunk on my selected piece. The Lord says it's dirty and not very attractive. But he also says that all his taste is in his mouth, except that he chose me. I grinned and said to get out of a serious eye roll and a slap on the head. I stuck out my tongue and got back to work. That showed him! 😉
Now you know how to style an adorable farmhouse coat and a little more about symmetrical styling with asymmetrical sides! 🙂 At the beginning of summer, when we were putting the mantelpiece on the wall, I was looking for styling ideas. If you want to see this post, click here.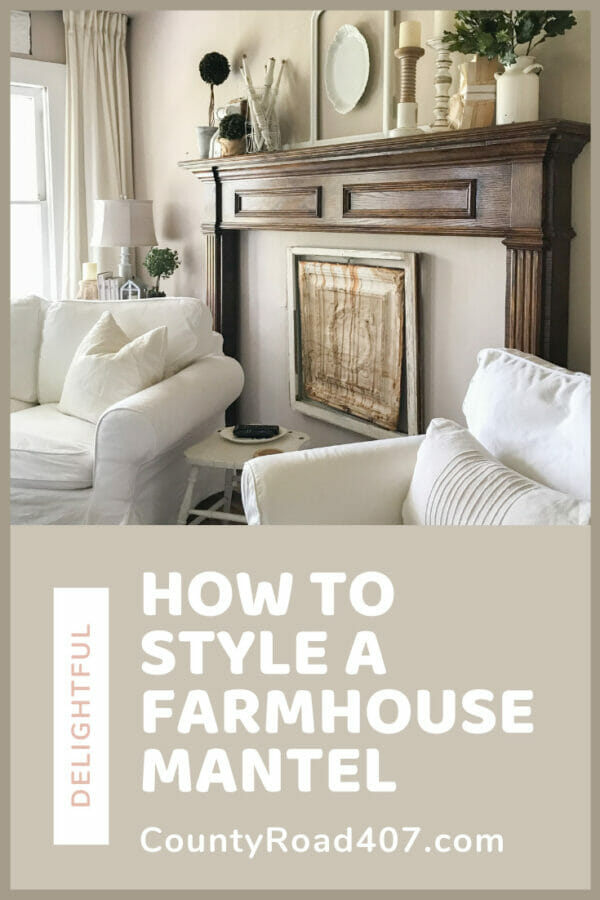 Have fun decorating friends!
Note: We are not the author of this content. For the Authentic and complete version,
Check its Original Source