Welcome to my 134
th
Post gems. Here I share some of the latest news, ideas, and resources for a math teacher.
This is a double gem contribution! Lots of ideas and resources have been shared on Twitter in the past few weeks, and given the calm before the storm (that is, the weekend before the start of what might be the craziest school year!), I'd better post them all now. before things get too busy.
1. Games
Thanks to the wonderful
@ Ayliean
for sharing their favorite short-class games. They are great for an entire class while students sit down and the teacher runs the game from the computer on the board – this is good when social distancing measures are in place. I imagine some of these games could work just fine when you meet a new tutoring group. Open the file
Here
for clickable links, and check out those too
Teacher guide
with tips and curriculum links.
3. Display of offers
I love it 50 Math Quotes Display from @ nathanday314. I added it to my displays page.
4. Videos
In Gems 133 I shared a video from @ McGuirea499. Mr. McGuire has now made his own Youtube channel. He recently shared a number of new videos, including a series on ratio tables. Here is an example:
A level teacher might also be interested
@mathsaurus
The new pages of the A-level exam questions by topic for each chapter of the
Year 1
and
Year 2
Textbooks. All questions come from sample and 2018 articles for Edexcel, OCR A and B, and AQA for the new curriculum.
And while I'm on the A Level topic, I love that
task
on related binomial expressions
@ 360maths
.
7. Primary resources
In Gems 132 I wrote about the Ministry of Education's publication of
Guide to math
Documents for the national key phase 1 and 2 curriculum and associated CPD videos.
The NCETM (
@ NCETM
) has now shared a number of resources to accompany the criteria for readiness for progress. Written in collaboration with Nrich, the first of 79 PowerPoints can be downloaded from the
NCETM's newly redesigned website
.
8. Vocabulary card
@ MissACMaths created a beautiful Math vocabulary card shows how everything is connected.
9. Mr. Carter Maths A Level
@ MrCarterMaths has launched an exciting new one A level website which will be free for at least the first year.
You can watch a video
Here
to see how a student is using the site, and a
Here
about how a teacher uses the website.
A similar location for GCSE is planned for next September.
10. Timer
To update
For those of you who took the summer off and missed some of my posts, this is what I've been writing since July:
Earlier this week, I hosted two webinars for The Mathematical Association titled Prepare for September. A global zoom outage meant the session couldn't continue on Monday afternoon, but I was able to rearrange it for Wednesday. Thank you to everyone who joined me for one of the two webinars. The recordings can be viewed
Here
and the slides are
Here
.
Another thing I did over the summer was one
resource
based on the old textbook exercise below. I like the way the problems are presented in pairs: one with numbers, one with algebra. I've already done this in the class discussion, but not as an exercise.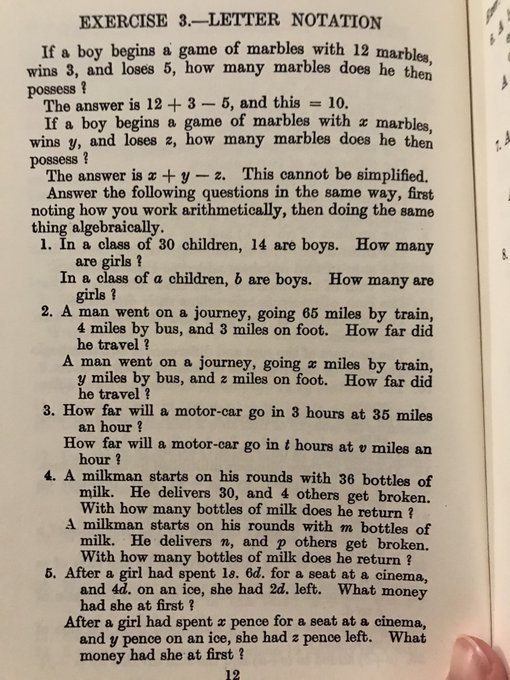 I started planning my workshop for
# mathsconf24
which will run online on Saturday 3rd October. I will share ideas for Key Stage 3. Tickets are still available!
A couple of weeks ago, I tweeted an open invitation to the "socially distant math teacher drinks" on Friday night in London to celebrate the start of a new school year (and lament the end of the holidays!). Many thanks to the ten tweeters who came to see me – it's always great to meet new people and meet old friends after such a long time. I really missed the conviviality of the summer conference season this year.
thanks to @MathsTeacherKYPfor the giant computer. I'll lend this to the students!
Here are some things you may have overlooked if you haven't been there for the summer:
I will leave you with this lovely activity 'Number Pyramids' from @ MathforLovealong with helpful Foils prepared by @fawnpnguyenthat contain extension tasks.
Those of you who are going back to school next week – have fun! And good luck. See you on the other side.
Note: We are not the author of this content. For the Authentic and complete version,
Check its Original Source