79% of US SMEs are either in the digital transformation planning phase or have a formal strategy, but only 19% are actively pursuing it. Small businesses stand behind medium-sized businesses. 29% of small businesses do not have an ongoing digital transformation strategy compared to 9% of medium-sized businesses. As a result, the digital divide is growing in the SMB segment, and most SMBs need guidance in developing a vision that breaks the components of digital transformation into two nested and complementary ladders, one focused on technology and the other on business outcomes .
The following figure shows a single image representation of these double ladders of the digital transformation. The lowest group of steps is called "technology leader" and ranges from the provision of a modern, flexible infrastructure to extended IT-enabled functions. The building blocks needed to build an infrastructure that can support digital transformation include mobility, virtualization, hyper-converged infrastructure, and other technologies that are essential to delivering advanced IT services. These building block technologies are an essential foundation for digital transformation but deliver modest discrete value. The point automation solutions, which are based on the business results, offer rapid but limited utility through substitution and expansion.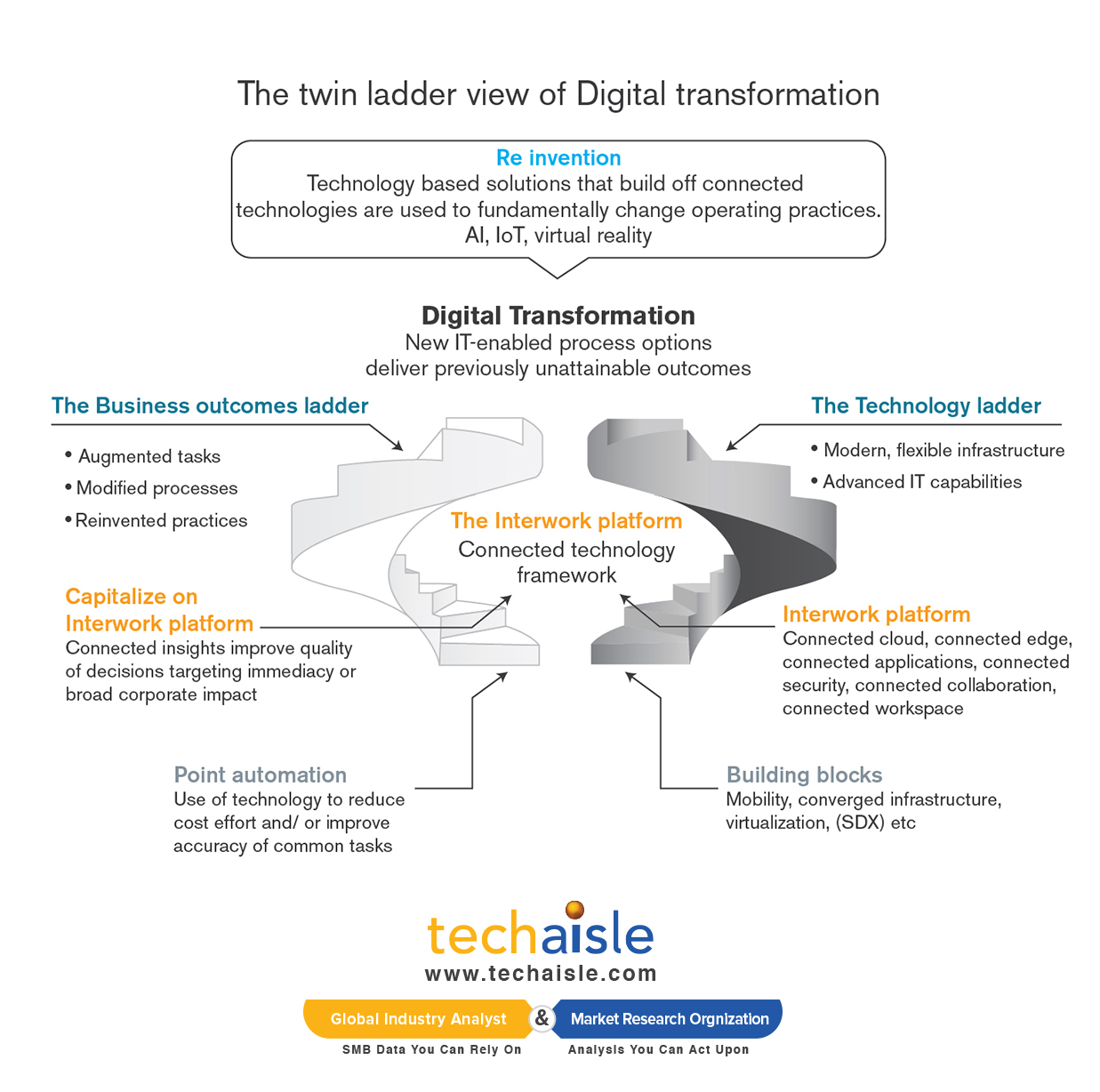 The technologies at the top of the figure include AI, IoT, AR / VR, autonomy, robotics, etc. – are still experimental, tempting, but difficult to integrate profitably into production environments in many SMBs. Although AI and the other technologies are gaining momentum in environments where they are effectively positioned as point automation solutions to transform operations – to provide previously unimaginable benefits – these technology solutions should not be positioned as a replacement for existing systems using systems.
The Future of Work platform technologies that build on the base technology level are more transformative. They are also more difficult to sell for traditional distributors as the technologies are tied to a number of operational goals that are in turn expected to meet one or more SMB business goals. To sell effectively, channel sales professionals need to help the business-side management of SMB customers understand how investing in platform technology will help them achieve these goals – and then help the IT professionals at those SMB companies to network within and between different categories in order to deliver on the target results. It is usually difficult for channel partners and IT vendors to effectively sell to business and IT management. However, this connection is critical to support the two-wire approach to digital transformation.
Note: We are not the author of this content. For the Authentic and complete version,
Check its Original Source