In our latest interview with real estate tech entrepreneurs, we speak to Tom Rossiter of RESAAS
Who are you and what are you doing?
My name is Tom Rossiter and I am the CEO of RESAAS, the world's largest platform for real estate technology. Before that, I worked at a digital marketing agency serving some of the world's most popular brands such as Nike, Nintendo, Samsung and Nokia.
In 2007 I left the UK for Vancouver, Canada and found myself in a brand new city with very few connections. When I started building my network, I was naturally drawn to the friendly and social real estate industry. After spending time at various networking events, it was clear that real estate professionals value their network and building connections is critical to success. That's when I decided to build RESAAS. Today we connect 500,000 agents in the US and worldwide.
What problem does your product / service solve?
RESAAS is a software platform that provides technology for large real estate companies with the aim of providing real-time communication, transactions and data to their agents worldwide.
As COVID-19 changed the landscape of the real estate industry, I knew we had to adapt and provide every possible support to our customers to keep them safe while keeping their business running. RESAAS embedded digital platforms (DocuSign, BoxBrownie), virtual tours (Matterport) and videos (YouTube Live, Facebook Live) within our platform. Since security is the biggest hurdle to overcome, RESAAS has also received the exclusive license to distribute the next generation of COVID-19 rapid tests to real estate agents worldwide.
What are you looking forward to the most now?
At the moment, I'm focused on the safety of our customers and their representatives, which is why I'm so excited about our RESAAS COVID-19 rapid tests. With results in 8 minutes, this enables the real estate industry to operate and allows brokers to get back to personal business while keeping their surroundings safe. As a father, I feel empathetic with working parents and their need for work, while protecting their families at the same time.
Networking and education are also very important and I am delighted to have worked with Grant Cardone, author of the 10X Rule, one of the best sales trainers in the US, to start an 8 week mentoring program. I'm very proud of this initiative because I believe one of the keys to being successful in any industry is keeping learning new things. The real estate industry is constantly changing, especially in the digital landscape, and I want our clients to be able to adapt, especially in these unprecedented times.
What's next for you
COVID-19 got me on my toes! Since security is my top priority in the real estate industry, I will continue to work with our team to develop new technologies that can improve our clients' performance.
In these unprecedented times, we will continue to focus on uniting the real estate industry by building relationships with brokers and agencies around the world. Most recently, we announced a strategic partnership with Mitsui Fudosan Realty, a luxury real estate developer in Japan.
What is a thing you are passionate about and why?
When I first moved to Canada from the UK in 2007, I realized the importance of community. This is still important to me, so I donate my time to the Salvation Army. Vancouver, Canada is a beautiful city, but we have a large vulnerable population. After immigrating to a new country I can relate to this feeling of loneliness which is why I think helping and giving back when you can is so important. Whether it works in the soup kitchen, donates to a good cause, or just says "good morning" to someone who looks like they are in trouble, I always try to treat everyone with kindness because it could change the whole day .
My passion for the community is embedded in RESAAS. We donate our vacation time to various soup kitchens and to the REALTORS® Care Foundation, which works with housing and housing-related charities.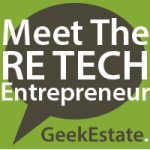 Thanks to Tom for sharing his story. If you want to connect, Find him here on LinkedIn.
We're always looking for great real estate tech entrepreneurs. If you are, please read this post – drop me a line (draw @ geekestatelabs dot com).
Note: We are not the author of this content. For the Authentic and complete version,
Check its Original Source