Hello my friends and welcome back to another round of hookin on Hump Day! If you're new here let me give you the overview … the party is both held here at Petals to picots and at Moogly – The links are displayed on both sides for Double the exposure!! And we both advertise the presented projects on our social media. Before we start, let's take a look at the top links from the last round …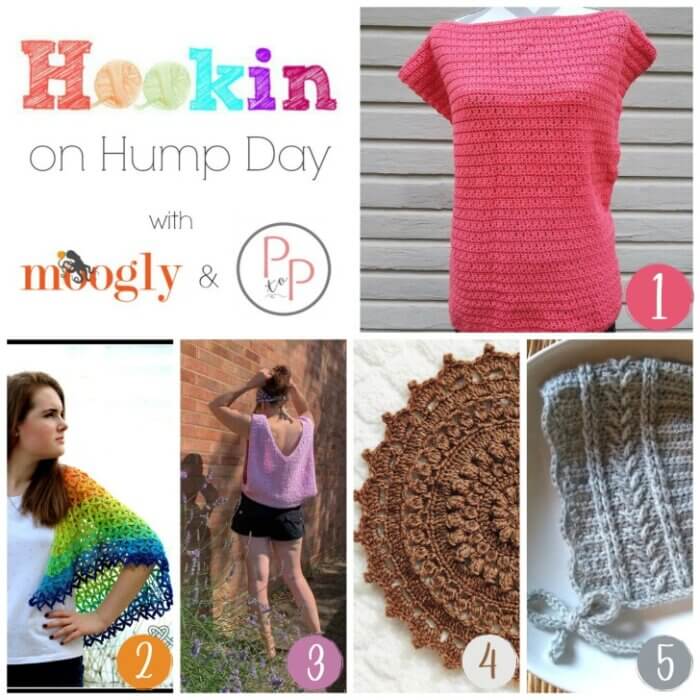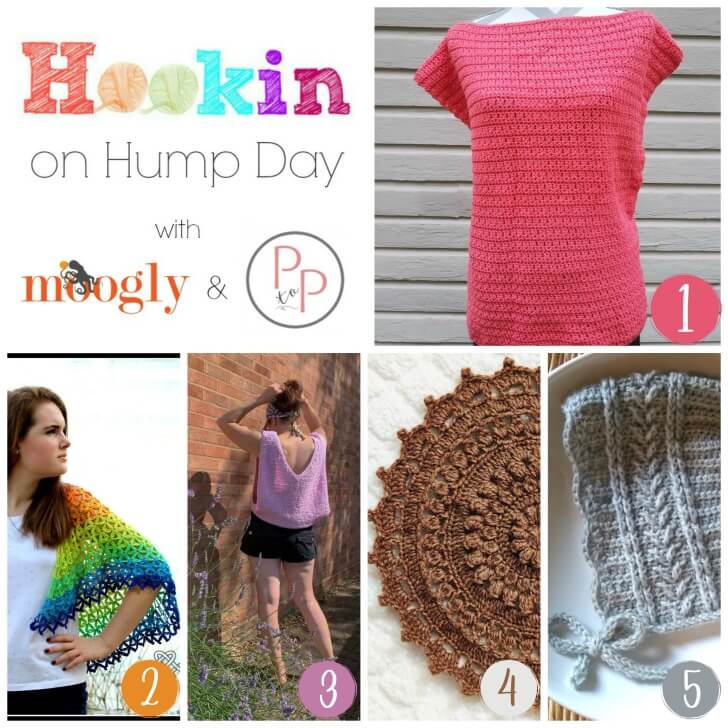 1. Most frequently clicked link: Easy Summer Tee from Eye Love Knots – Walk through the process of choosing and making a crochet garment – link to the FREE crochet pattern included in the post!
2. Summer Petals Shawl from Celtic Knot Crochet – This beautiful and colorful case has a unique shape that helps keep it in place. Most of the time it will be a single row repeat … and a FREE crochet pattern!
3. The Summertime Hangout Crochet Top from Dora Does UK – A simple, relaxed V-neck crochet vest top that is oversized and (optionally) left open on the sides for the summery vibe on the beach … a FREE crochet pattern in XS to 3X!
4th Round structured crochet flower tray from Rajis Crafty Hobby – Popcorn, Double Crochet Cluster and Front Post Stitches together make up the amazing texture in this FREE crochet pattern with photo tutorial!
5. Ingrid Baby Bonnet from Designs by Diligence – This delicate looking bonnet is so beautiful and it is sure to become a family heirloom. You can buy the PDF for expanded sizes. Or get the newborn to 6 months baby size for FREE in the blog!
Congratulations!! Feel free to take yours I was introduced Button and point. I'll stick you on mine Pinterest board and up with you Facebooklike the will Moogly!
Now to the party this round! Here are some simple rules:
By participating in this link party, you provide InLinkz with voluntary personal data. Here is a link to the privacy policy where you can see how your data will be used: http://www.inlinkz.com/new/privacy.php
Please visit at least one other link and leave a comment on their post so we can really support each other!
Please remember to link to your actual project url rather than your homepage url and use the name of your project or post, not your own name.
No Etsy shops, Facebook pages, freebies, or other link parties. Simply blog posts about your current projects.
If your project is featured, please do not resubmit it to the party at a later date.
I would love if you followed me on one of my social media links below!








I can't wait to see what you've done now! You don't have to be a designer or a well known blog to attend this link party – All you need is a post about a crochet, knitting, or fiber art project that you have done and that you would like to show off! Remember this party is in a random order so there is no delay. New to the Hookin On Hump Day Party? Enter your email address here to receive reminder emails about the party twice a month. Otherwise I won't bother you if you don't want a reminder!
Note: We are not the author of this content. For the Authentic and complete version,
Check its Original Source