17th August 2020
Amazingly creamy orzo with juicy chicken, mushrooms and baby spinach. Everything made in one pan, even the uncooked pasta!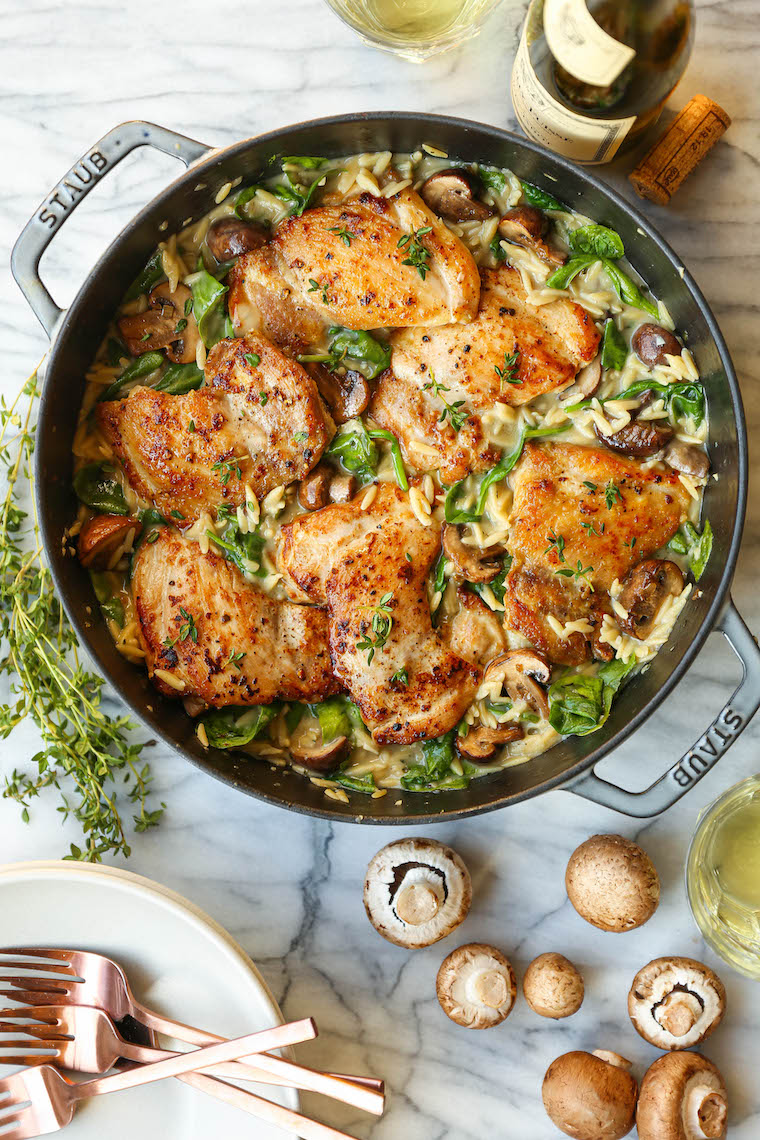 The creamiest orzo with all the fix-ins and the juiciest, golden-brown chicken legs in one. Single. Pot.
It's probably the easiest dinner one could ask for, and you can easily substitute chicken breasts if dark meat isn't your jam. (You know we love our boneless, skinless thighs!) Kale and / or arugula can also replace the spinach. And if you hate mushrooms, you can leave them out entirely. EVERYTHING IS GOOD.
Side note: I throw in extra mushrooms + spinach for myself to make sure I'm getting ALL of my veggies because this creamy orzo goodness is just too good to go without.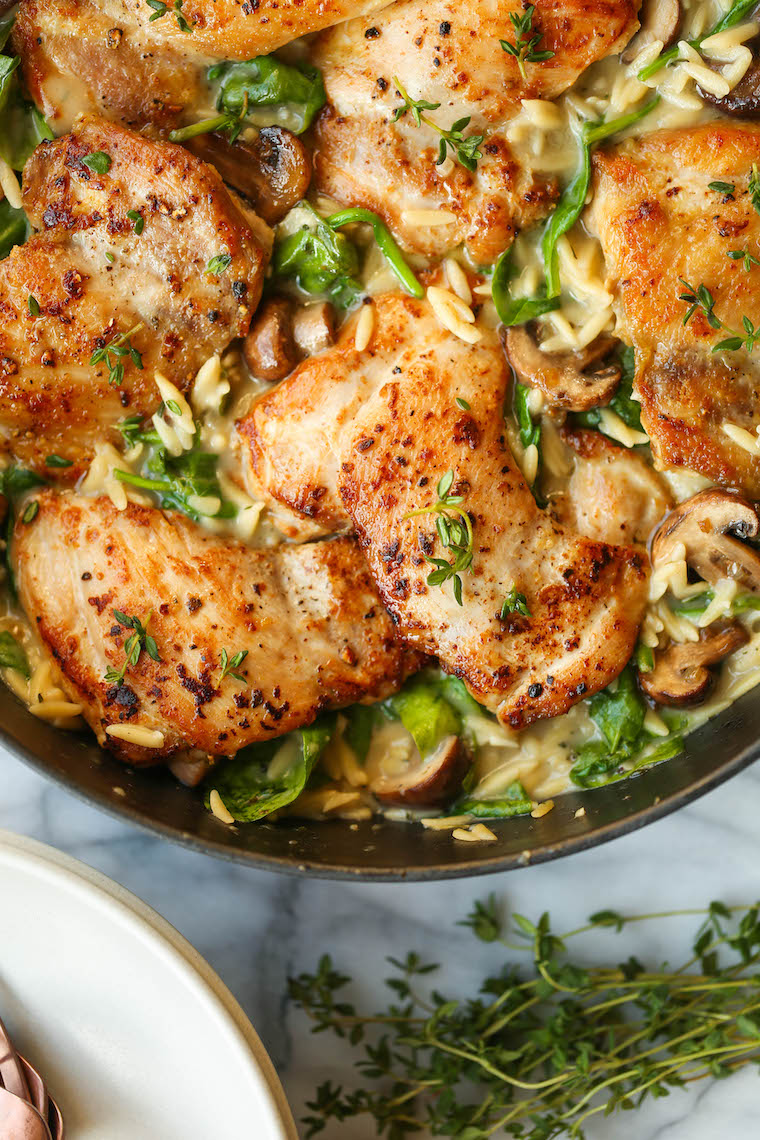 Stew chicken and mushroom orzo
Amazingly creamy orzo with juicy chicken, mushrooms and baby spinach. Everything made in one pan, even the uncooked pasta!
main dish
Stew chicken and mushroom orzo
Chungah Rhee
Ingredients:
1 1/2 pounds of boneless, skinless chicken thighs
Kosher salt and freshly ground black pepper to taste
2 tablespoons of unsalted butter
8 ounces cremini mushrooms, cut in half
2 large shallots, diced
3 cloves of garlic, chopped
4 teaspoons of chopped fresh thyme leaves
2 tablespoons of all-purpose flour
3 cups of chicken broth
1 1/2 teaspoons of Dijon mustard
1 cup of orzo pasta
3-4 cups of baby spinach
1/3 cup freshly grated parmesan cheese
1/4 cup of heavy cream
2 tablespoons of chopped fresh parsley leaves
Directions:
Season the chicken with 3/4 teaspoon salt and 1/2 teaspoon pepper.
Melt butter in a large pan over medium heat.
Add chicken to the pan in a single layer and cook until golden brown and cooked through until an internal temperature of 165 ° F is reached, about 4 to 5 minutes per side. put aside.
Add mushrooms and shallots and cook, stirring frequently, for about 3-5 minutes until tender. Stir in the garlic and thyme for about 1 minute until fragrant.
Stir in the flour for about 1 minute until it is lightly browned.
Stir in the chicken broth and Dijon and scrape any browned parts off the bottom of the pan. Stir in orzo; Season to taste with salt and pepper.
Bring to a boil; Reduce the heat and simmer, stirring occasionally, until the noodles are cooked through, about 6 minutes. Stir in the spinach, parmesan and cream until the spinach is wilted, about 3 minutes. Return the chicken to the pan.
Serve immediately, garnished with parsley.
Did you make this recipe
label @damn_delicious on Instagram and hashtag it #damndelicious.
Note: We are not the author of this content. For the Authentic and complete version,
Check its Original Source