Note: This is the quarterly update being sent to Buffer shareholders with some additional information for context. We transparently share these updates as part of our Standard for Transparency value. See all of our earnings in our public earnings dashboard and see all of our reports and updates here.
---
It's been quite a year and it's hard to believe that the first half of 2020 is already behind us.
I'm happy to announce that we came out of our forecast sales decline in the second quarter with good MRR growth in July and renewed optimism.
We are motivated by what we will achieve in the next few months as we continue to focus on product strategy and create significant added value for customers as our top priority. Read the latest from our CEO Joel to find out more about product development over the past 10 years and what's next. This includes our active search for a VP of Product and our plan to bring Engage, a small business community engagement product, built from our experience of growth and sunset.
Let's take a look at the financial results highlights for the second quarter and how we've supported our customers, communities, and our team.
Financial results for the second quarter of 2020 and July 2020
Q2, 2020
Total Net Income: $ 832,000
EBITDA margin: 16.2%
MRR: $ 1,704,768 (down from $ 1,830,267 MRR at the end of the first quarter)
July
MRR: $ 1,728,259
ARR: $ 20,739,108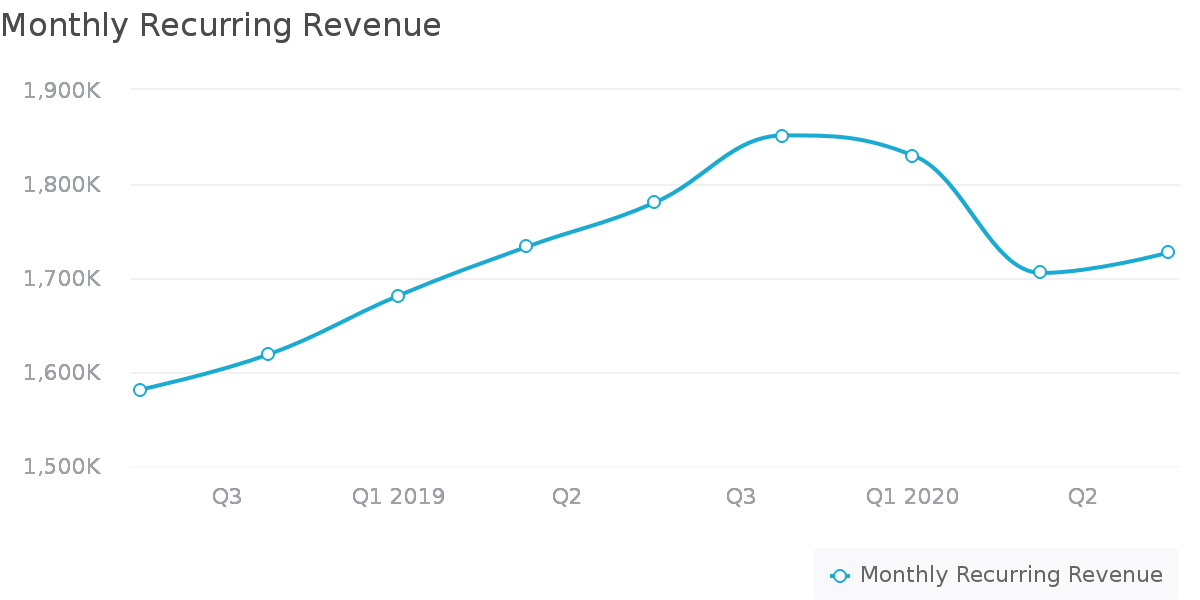 Our Bank balance At the end of July it was $ 7.2 million with a net cash balance (after repaying our line of credit) of $ 5.9 million. In general, we aim for operating costs of three to six months. This position made a significant contribution to managing the uncertainties of 2020 from a proactive position.
We look up Sales per employee from a growth perspective by taking ARR divided by the total number of employees and contractors. We generally aim for an ARR of $ 200,000 (or more) per teammate.
Supporting our customers, communities and our team
We expected this decline in sales in the second quarter. Much of this is due to the expansion of payment facilities to customers whose companies were affected by the pandemic. We've helped over 1,200 customers and given a total of $ 191,000 in payment facilities.
In May, we experimented with a four-day work week in response to the added stress and pressure people were experiencing due to the pandemic. After a successful first month, we decided to test this model for the rest of this year.
In June we committed to anti-racism work in solidarity with the Black Lives Matter movement. We donated a total of $ 100,000 to organizations that our black teammates selected: The Marsha P. Johnson Institute, The Marshall Project, and Brave Space AllianceAt the same time, the donations from our teammates double. To date, we've donated $ 120,000 to more than 40 different organizations working to promote anti-racism.
looking ahead
In June and July we saw an increase in new business, expansion revenues and reactivation revenues, as well as lower customer churn. We are pleased that the decline in Q2 growth in July is shifting towards positive MRR growth, and we see the same trend for August.
For the remainder of the third quarter, we expect the small growth spurt to continue while we also impact customer loyalty and value by focusing on product strategy. Metrics and numbers are moving in a conservative yet positive direction.
Note: We are not the author of this content. For the Authentic and complete version,
Check its Original Source