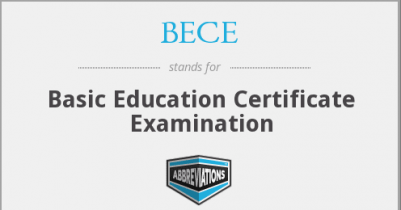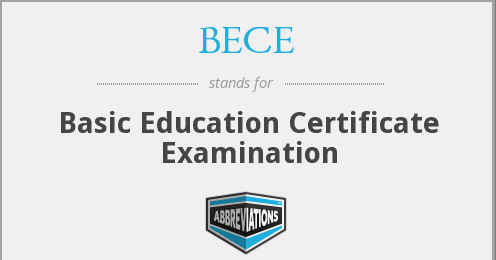 BECE 2020: The registration and examination date for the primary school certificate (BECE) 2020 is the topic of everyone JSS3 student (or JSS2 student who wants to sit for BECE) wants to discuss. Of course you have to Sign up and write Junior Waec 2020 before you can go to senior secondary school (SSS).
BECE 2020 Registration started from Wednesday February 20 and ends on April 16, 2020. The The new exam date for BECE 2020 is August 24th to September 7th. Registration takes place at secondary schools. If you are a JSS3 student, you can register BECE with your classmates.
RECOMMENDED


A. BEST APP TO PASS WAEC AND JAMB
B. SSCE, JAMB AND BLOGGING VIDEOS
If you don't want to sit for BECE in your current school, you can register at any school of your choice. You may not write BECE in the junior secondary school you are currently attending. You can now click here to view the curriculum and topics for Junior Waec for registration in BECE 2020.
After you have the information you need, be well prepared so that you can pass your Junior Waec once and for all. Find out how you can pass Bece 2020 here.
BASIC EDUCATION CERTIFICATION EXAM (BECE)
In order to move from the ninth year of the elementary school class to the higher secondary level, the BECE for candidates is carried out in the third year of the junior secondary school.
While each state and FCT conduct BECE for its candidates, NECO conducts BECE for Federal Unity Colleges, Armed Forces secondary schools, and other federal agencies that operate secondary schools.
Private secondary schools also participate in NECO BECE, provided they are approved by their state ministries of education.
Eighteen subjects are administered at the BECE level. A candidate is expected to take a maximum of ten subjects. A candidate passed BECE if he passed six subjects, including English and math.
The rating system is as follows:
A distinction
B – Upper credit
C – Lower credit
P – Pass
F – error
READ ALSO: Register Junior Waec curriculum and hot topics
How to apply to NECO BECE [Junior Waec] 2020
The application is made at www.bece.neco.gov.ng
Schools (centers) must register their candidates via the offline application before registering. The approved fees for the exam and other related items are listed below:
Registration fee 4,000.00 Naira (mandatory fee)
Late registration 1,000.00 Naira per candidate (mandatory fee)
Repetition of the test 1,000.00 naira per copy
Name correction 2,500.00 naira per copy
Results check 40,000.00 Naira (for centers where fewer than 20 candidates are registered)
NOTE::
The minimum number of candidates that a school must register for SSCE Internal is twenty (20). Any center with fewer than 20 candidates registered is considered unprofitable.
Registration cards will no longer be used from 2020. Schools (centers) must register with the NECO portal and pay the registration fees online using the payment options at the NECO TSA. As soon as the payment is successful, the candidate's data can be uploaded from the offline app. Only then will exam numbers be generated for the candidates.
(Junior Waec) BECE 2020 schedule
Download the schedule for Clear Bece
A new Junior Waec schedule for 2020 is available for download here …
Hope you found this article helpful? Please let me know how you feel in the comment box.
Note: We are not the author of this content. For the Authentic and complete version,
Check its Original Source