Surprisingly simple homemade potato gnocchi with a quick tomato sauce make for a cozy and delicious dinner.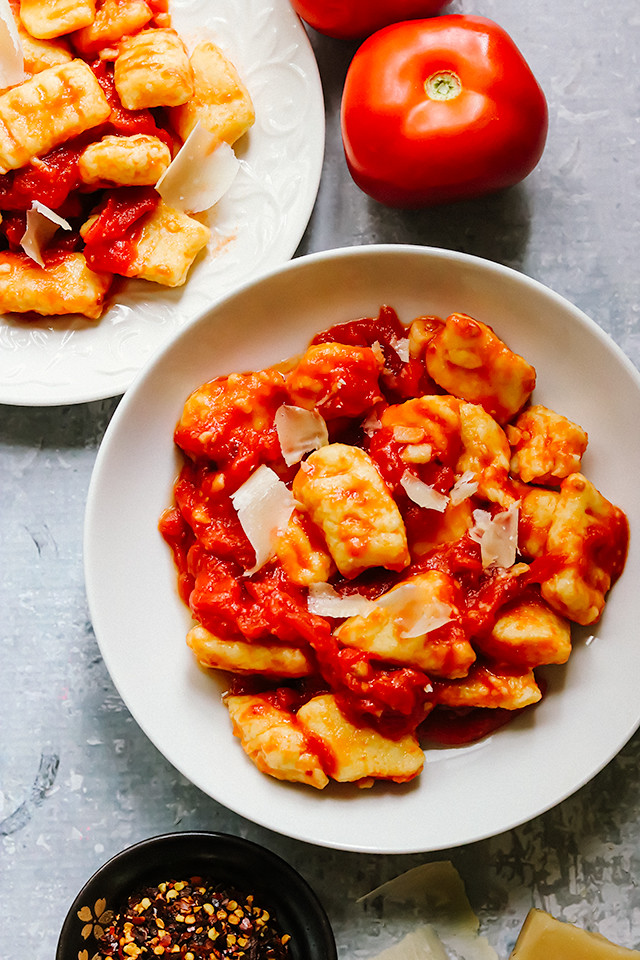 Are you ready for this gnocchi party ?!
It's just the only party we have today.
COME IN. (Practical. Because you know.)
I hope you've worn your stretchy pants because things are going to get messy soon!
(I laugh to myself because there are other types of pants. Not anymore. Right? RIGHT !!! ??? !!)
Funny fact: every time I think about doing gnocchi, my first instinct is to grab an Advil because I think it will be a total headache.
I think I had a traumatic experience of making gnocchi in my cooking learning adventures early on, which may have been a bit too ambitious for my skill at the time. If I remember correctly, these were also times when I tried to make gnocchi in 30 minutes or less on a weekday. HA. Bad life decision.
The first time you try Gnocchi, it should be a leisurely, absolutely NOT time-consuming experience. We're not at MasterChef, let's not make our lives more difficult.
That being said, this gnocchi is really simple and can be made in less than an hour. Maybe even under 40 minutes if we really go crazy.
First you start with potatoes! Peel, cook, bake (just 5 minutes to remove excess moisture), rice, then (carefully!) Mix with a butter / egg yolk / flour mixture. Emphasize this gently, because if you are too firm with your gnocchi dough, they will turn into dense rubber weights in your mouth and not the light pillows that they should always be.
Then roll them out (gently again!) And cut them into cute little nugget shapes. Give them one last time for about 2 minutes and they are ready to go.
Next up is the sauce, which is possibly one of the easiest things I've ever done and shockingly delicious at how quickly it comes together.
We talk in the pan less than ten minutes. So doable.
But make sure you use good fresh tomatoes here, as this sauce is so simple that it can't hide behind anything.
Throw everything together, cover with parmesan and feast.
Homemade potato gnocchi with a quick tomato sauce
Surprisingly simple homemade potato gnocchi with a quick tomato sauce make for a cozy and delicious dinner.
ingredients
For the gnocchi
18 ounce peeled Yukon gold potatoes
4 tablespoons unsalted butter, softened
4 egg yolks
1⅓ cup (160 g) all-purpose flour
¼ tsp finely grated nutmeg
2 tsp extra virgin olive oil
For the quick tomato sauce
½ cup of olive oil
1½ pounds of tomatoes, seeded and roughly chopped
3 cloves of garlic, thinly sliced
9 fresh basil leaves, torn
¾ tsp salt and more to taste
¾ tsp red pepper flakes
½ cup of parmesan
manual
For the gnocchi
Heat the oven to 400F. Fill a large saucepan with water and season with salt. Let it boil. Cover it and let it simmer over low heat until you can use it.
In the meantime, cut the potatoes into eighths and place them in a large, empty ovenproof pot. Cover with cold water and heat over high heat. As soon as the water begins to boil, reduce the heat to medium and simmer until the potatoes are soft (approx. 10-12 minutes).
Drain the potatoes and put them back in the pot and then in the oven. Bake for 4-5 minutes to remove excess moisture. Stir butter and egg yolk smoothly while baking. Put aside.
Take the potatoes out of the oven and put them in a large bowl through a potato press. Fold in the butter and egg mixture until it is incorporated, then add the flour, nutmeg and ½ teaspoon salt. Mix until it is just incorporated.
Place the dough on a lightly floured work surface and press it into a ball with a light hand. Cut it into quarters. Work with only one piece at a time and leave the rest under a tea towel.
Roll each piece of dough into a thin tree trunk about 1 cm wide. Dust with flour as needed so it doesn't stick. Use a bench scraper or paring knife to cut the stem into ¾-inch dumplings. Place on a baking sheet dusted with flour. Repeat with the rest of the dough.
Shape the gnocchi with a gnocchi board or the back of a fork to get the distinctive burrs. Carefully drop yourself into the boiling water that boiled on the stove. Once they start swimming, cook them for another 30 seconds, then drain and toss them with the olive oil.
for the sauce
Pour the olive oil into a large Dutch oven and cook it hot. Add the tomatoes and garlic and then smooth it in a single layer in the pot. Add basil, salt and paprika flakes. Stir and cook for 4-5 minutes or until thickened. Season with salt.
Mix with the gnocchi and top with parmesan just before serving.
3.5.3208

Note: We are not the author of this content. For the Authentic and complete version,
Check its Original Source