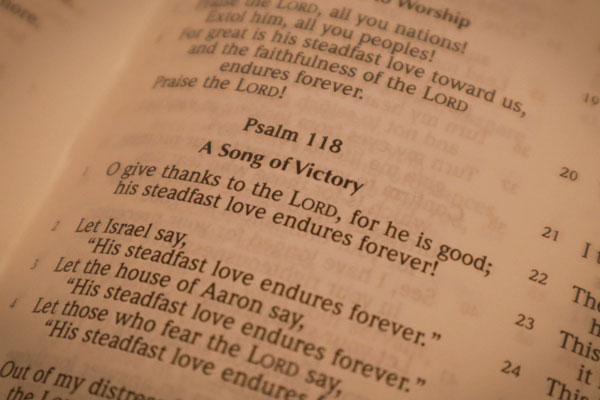 Christians have repeatedly turned to the Psalms throughout the history of the Church. These ancient prayers have given millions of people just the right words to express their strong feelings of excruciating grief, terrifying confusion, or jubilant joy. These are more than just beautiful words – they seem to open up some of the most important aspects of what it means to live in faith.
This year I was taught a framework that describes how the psalms relate to the universal spiritual journey. I learned it in a class taught by Dr. Peter Choi was taught at the Newbigin House of Studies. If you have never heard of this program, it is a nine-month online scholarship that provides theological training by exploring the spiritual, public, and missionary dimensions of Christian life. The Pittsburgh Theological Seminary is a partner seminar for this fellows program. The scholarship therefore offers recognition for the Master of Divinity and other PTS courses.
Orientation, disorientation and reorientation
In the course Spiritual Theology of the program, we discussed some of the content of Walter Brueggemann The Message of the Psalms: A Theological Commentary. In this wonderful commentary, Brueggemann provides a framework for a better understanding of both the psalter (the entire collection of psalms) and spiritual life: orientation, disorientation and reorientation.
According to this view, psalms are from orientation correspond to seasons in life or belief that are characterized by well-being. These are psalms of creation that contemplate and celebrate the reliably ordered universe of God. Psalms from Disorientation instead correspond to seasons of fear, suffering and death; These are poems that are characterized by painful disorder. Finally psalms from Reorientation have almost a surprised tone when they look forward to new gifts of life from God.
But Brueggemann makes us even more aware of the transitions between these seasons (and the psalms associated with them). He calls these the two decisive movements of faith: from orientation to disorientation and from disorientation to reorientation. The first step in the old Jewish context would have been evident in the initial enslavement of the people of Egypt, their unforeseen difficulties in the wild, the arrival of new enemies outside their borders and the catastrophic step into exile. In the early Christian tradition, the clearest step from orientation to disorientation was the crucifixion of Jesus Christ. This type of movement is recorded in the psaltery with plaintive psalms.
The other crucial step in belief is from disorientation to reorientation. The old Jews were no strangers to hope. They had prayed for liberation in Egyptian bondage and would eventually enter a promised land. As exiles in Babylon, they had dreamed of returning to this promised land; While the new direction may not have lived up to expectations, they were allowed to return to Jerusalem to rebuild and live in the city. For early Christians, the disorientation of Christ's death naturally gave way to the reorientation of his resurrection. This movement of faith clearly sounds in psalms of thanks.
Psalms and Christian spirituality
Perhaps this is why the psalms were so useful for the spirituality of both individual Christians and religious communities. They offer prayers that are attuned to the crucial seasons and movements of faith and life: from a comfortable but naive orientation to a confusing and miserable disorientation; then, luckily, from this pain and confusion to a new place of acceptance and gratitude. And of course, these seasons and movements will occur many times over the life of a person or community.
What time of life and faith are you experiencing right now? Does your heart have to scream with anger or sadness? Are you overwhelmed by unexpected grace and love?
May the Psalms help you discover, name, and express God in your mind and heart in each of these seasons.
Jon Mathieu is a Master of Divinity student at Pittsburgh Theological Seminary. With a background in mathematics, he has been serving in Pittsburgh for more than a decade. Most recently, he worked as an author and program director in a Protestant church. When he felt that God was leading him to new ways of thinking, believing and loving, he became a fellow at the Newbigin House of Studies and a student at PTS. His letter was published on RelevantMagazine.com.
Note: We are not the author of this content. For the Authentic and complete version,
Check its Original Source