Google it
Students entering high school this fall were born the year Google was added to the dictionary as a verb. However, I still often hear teachers expressing concern about their students' lack of strong search skills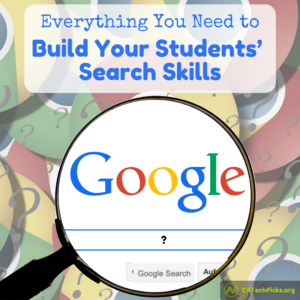 Fortunately, Google's employees have created a number of lessons and challenges that are perfect for developing better search skills. Learning search skills is not only an essential skill, but also promotes critical thinking and empowers lifelong learners.
Five teaching topics are available in three levels of difficulty: beginners, intermediate, advanced. For example, when beginners assess the credibility of sources, they study tone, style, and purpose, while advanced learners learn to recognize and consider the effects of bias. Teaching topics:
Choosing the right search terms
Understand search results
Narrow down a search to get the best results
Seek evidence for research assignments
Assess credibility of sources
A Google a Day challenge gives students the opportunity to test and develop their search skills. The challenges are divided into four categories: culture, geography, history and science. Each challenge is conveniently available as a Google Slides presentation. After asking the question, you can also access a slide to get clues and explain how to find the answer. The last slide contains additional background information for further discussion.
Note: We are not the author of this content. For the Authentic and complete version,
Check its Original Source