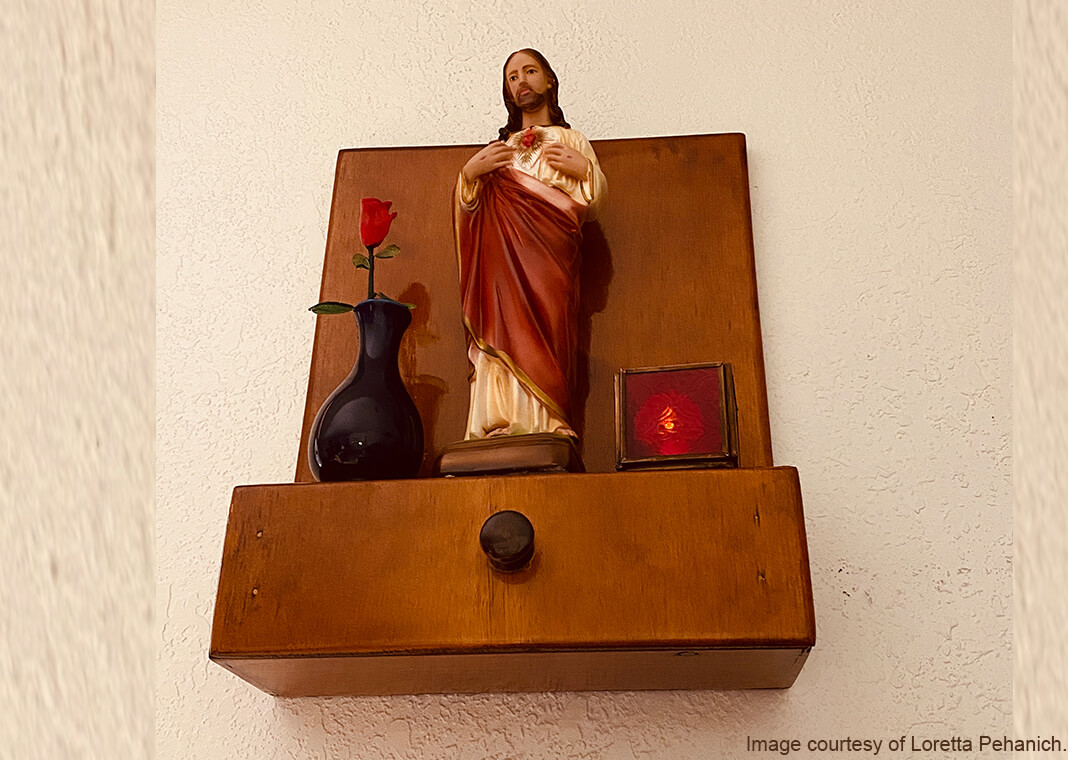 Alone in the dimly lit living room I stretched my child-friendly neck to a shelf with a small drawer underneath. A votive candle cast a moving shadow on the wall. In our house the red vigil light burned in front of a statue of the Holy Heart.
When I was older, my mother sometimes gave me the "job" to light the candle in the morning. More often than not, I caught her or her father praying when they rededicated our family to Jesus while they set the wick ablaze.
The shelf was the tallest object on a wall and showed its priority.
When I went to mom with a problem, she said, "Go and ask the Sacred Heart." Today I wonder if she was surprised by a deep question, too busy to do her job, or wanted to teach me to pray.
If I did something wrong, I may be sent to the living room with instructions to spend a few minutes in front of the Sacred Heart and think about what I did. I remember occasionally shouting to my mother in the kitchen, "Was that long enough?" Maybe she had forgotten that I was there. She has mothered seven children, so I wouldn't be surprised if this were true. Some days it felt like hours. Other days, mom would release me, but I would stay a little longer. Something happened, but I didn't know it at the time. I can still imagine a single purple votive light shining, the furniture, the carpet on which I was kneeling or standing, and the window on the left, where natural light flooded between floor-length curtains. Candles were never smelled, but I remember a faint aroma of wax and smoke. I experienced moments of God there.
What is behind the veneration of this image of Christ whose heart pops out? While it may seem too traditional or old-fashioned to some, its meaning is always contemporary.
I can not understand how wild, deep, mystical and radiant God is in love with all mankind – no exceptions. Jesus pumps Eucharistic blood all over the body. The heart of Christ bubbles over all of humanity.
The love light shines so brightly from Christ that it is as if his heart was physically bursting out of his chest. A more recent rendition of the same idea, I think, is that Divine Mercy. I like the version that shows rays flowing from the edges of the picture. An endless supply of love seems infinite.
Mother brought us to Mass every month on the first Friday, because when Saint Margaret Maria Alacoque had visions of Jesus at the end of the 17th century, Jesus promised mercy and a happy death to those who accomplished this prayer.
Fast forward to my wedding date, October 16, selected for the convenience of the community, our families, and my husband's college graduation. It happened to be the feast of St. Margaret Mary Alacoque. Coincidence? Or a wink from God?
Some time later my husband built a small shelf with a drawer for petitions. We bought a statue and dedicated our family to the boundless love of Jesus, who offers us his loving, sacred heart.
"Follow me," says Jesus. How would it look, how would it take for my heart to feel like it was bursting with love?
Note: We are not the author of this content. For the Authentic and complete version,
Check its Original Source