The following is a guest post by the Indianapolis-based planner Jeffrey Tomkins with a forward of Micah Paldino, Clifton Heights resident and founder of Fallon Thatcher, the creative storytelling agency. It was edited easily.
"As the area in and around Findlay Market is expanded with new restaurants, bars and lifestyle concepts, the neighborhood is ready to talk about how we can offer a safer and nicer experience.

This is a good time for the ongoing construction of the FC stadium, which is due to open in March 2021, to make the use of this space by pedestrians even more important. Pedestrian visibility at this important, but rather troubling and cumbersome intersection has always been a problem when crossing the street and competing with cars.

This reconfiguration, designed by Jeffery Tompkins, reduces the risk to pedestrians by reducing the allowable bends and creating a quieter environment. This is something we need more than ever as Over-the-Rhine and Clifton Heights become a more unique entity. "

Micah Paldino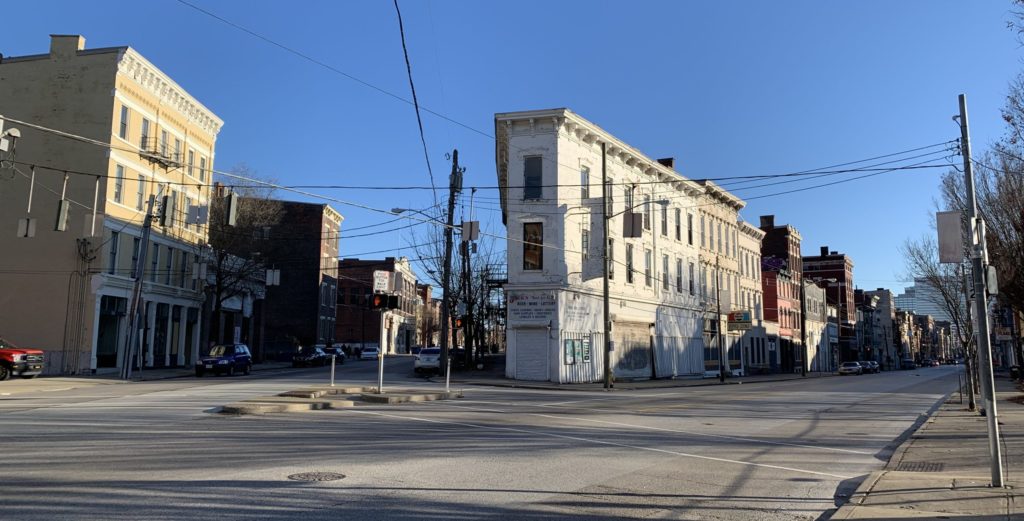 The intersection of Vine St. and McMicken St. is one of the more complicated and possibly deadly of Cincinnati. While that was it Object of artThe first search engine result for the five-way intersection lists pedestrian deaths as the greatest story. No wonder: complicated turning radii, poor visibility of the vehicle from a wild angle and an outdated driveway have created a logistical nightmare for cyclists and pedestrians who want to cross the intersection.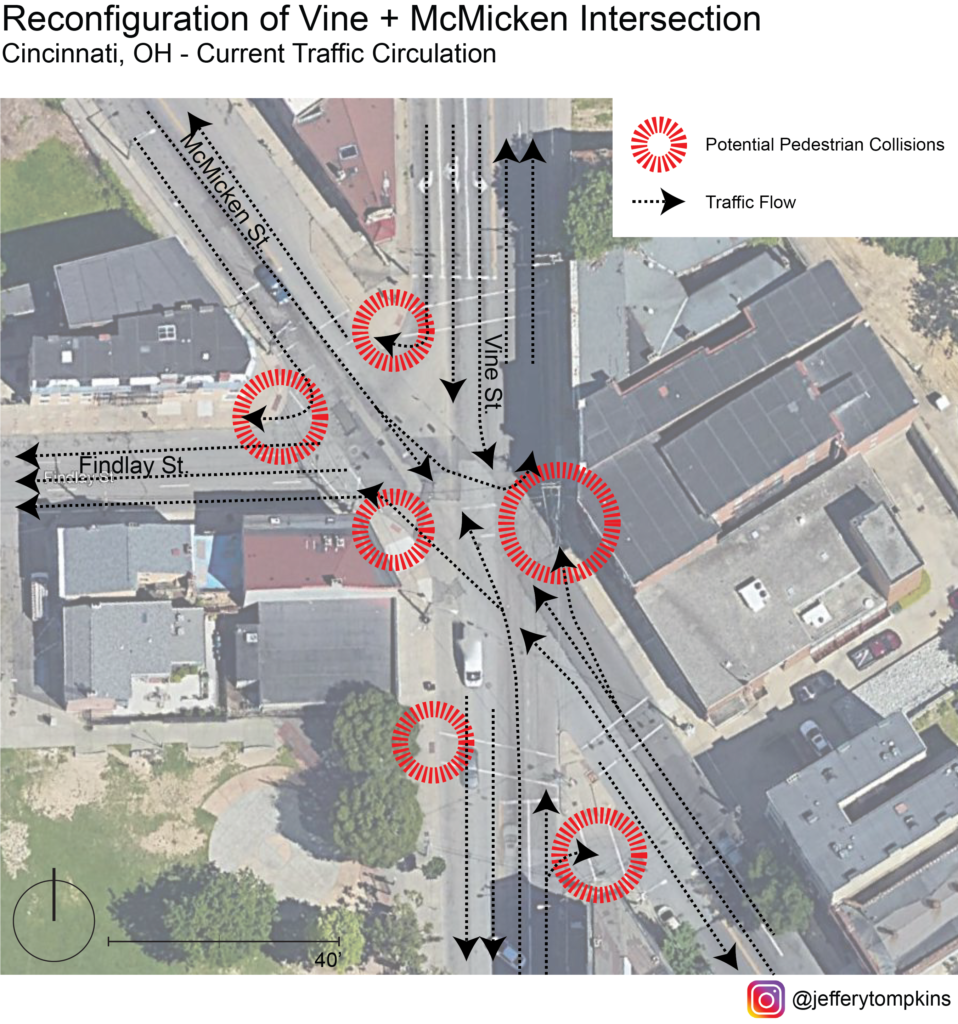 Any design process that aims to calm traffic and improve mobility at this intersection should take into account the district-wide importance of this intersection and therefore think in terms of the relevant traffic flow through the Vine and McMicken corridors. The current flow of traffic is currently too complicated and is aimed almost exclusively at automobiles instead of promoting interaction with pedestrians.
This map shows that the wide turning radius and variety of turning options promote inhospitable conditions for peds, with several critical points ripe for accidents. In addition to reducing pedestrian safety, this multitude of turns can also negatively impact traffic flow and connectivity between neighboring neighborhoods. To completely reconfigure the intersection to ensure a smoother traffic flow and security, the traffic flow of the corridor should be re-analyzed and possibly redirected.
To allow Vine / McMicken to be completely redesigned on the road, my proposal removes McMicken on Vine left turns and Vine on McMicken right turns. The northbound traffic on Vine, which is to turn right on McMicken, will be redirected to a new two-way Elder Street that will allow a southbound ride. The southbound traffic on Vine, which intends to turn right on McMicken, is instead redirected south to a two-way elder and headed north on a newly configured two-way Race Street north of the Cincinnati tram connection, causing the Driveway becomes superfluous. Traffic from McMicken to Vine northbound would go from Pace to Elder southbound and then north to Vine. Traffic going south from McMicken to Vine would instead use Elder as a link between the two roads. While this reconfiguration may cause inconvenience to residents in the short term, it is worth saving pedestrian lives in the long run. In addition, the redesign hopes for slower traffic, an improvement in the overall flow of traffic through the elimination of one-way streets and a reduction in accidents.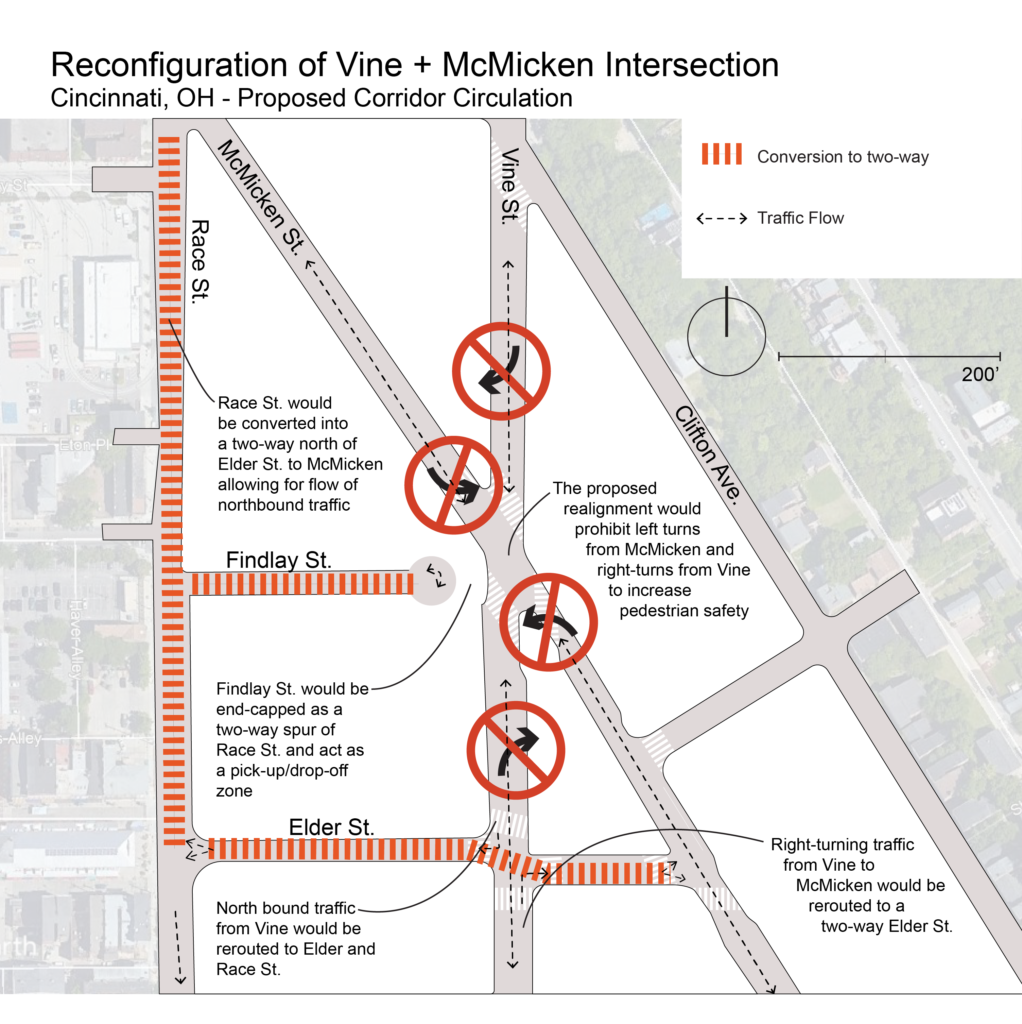 Aside from the turn control at the intersection, my suggestion for Vine / McMicken involves limiting Findlay St. to eliminate the five-way route and reduce incidence. This reclaimed space from the new configuration and the removal of drive-on lanes would create public space and significantly improve the line of sight for pedestrians at the new intersection in four directions.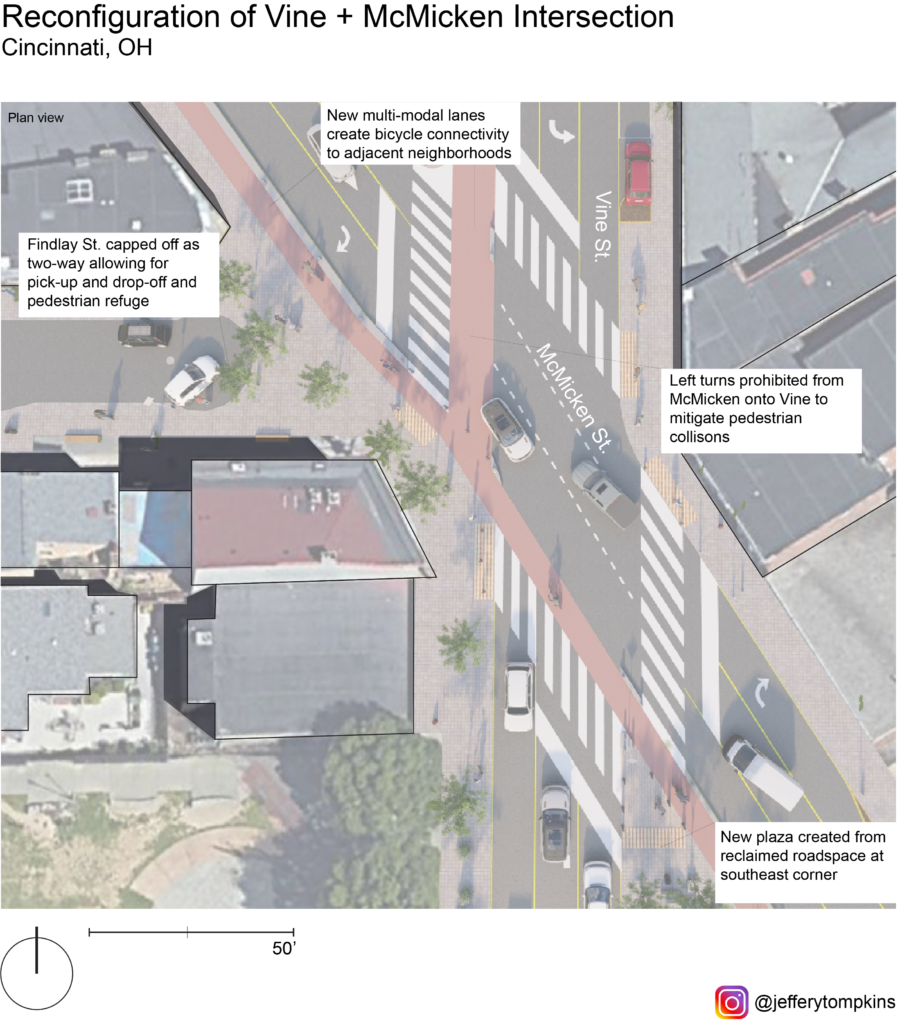 The new configuration requires a reduction in vehicle space and the inclusion of multimodal lanes for medium-speed journeys (bicycle, scooter, electric wheelchair, etc.) along Vine and McMicken. The reclaimed access road on the southeast corner would be reallocated as a public space and pedestrian area, protected by bollards and activated by food trucks or art in public spaces. A 6-inch multimodal lane along McMicken would improve connectivity for cyclists along the corridor and provide a shuttle solution for residents across the Rhine. The 10-inch multimodal track along Vine would replace the current right-hand bend and offer an option for northbound bike connections. One side of the street parking lot would continue to exist north and south of the intersection in both streets. The locked Findlay St. would become a possible pick-up and drop-off area for ridesharing and Uber / Lyft.
In addition to promoting pedestrian safety and improving the viability of bicycles, the redesigned intersection significantly improves the overall flow of traffic because fewer turns. This can offset future accident rates. While the reconfiguration would affect bus lines 46 and 78, which are currently turning south from Vine to Findlay to get to Race St. SB, the new configuration would allow the bus ride on the newly designated Elder Street in both directions , pushing the handrails back to allow bus travel.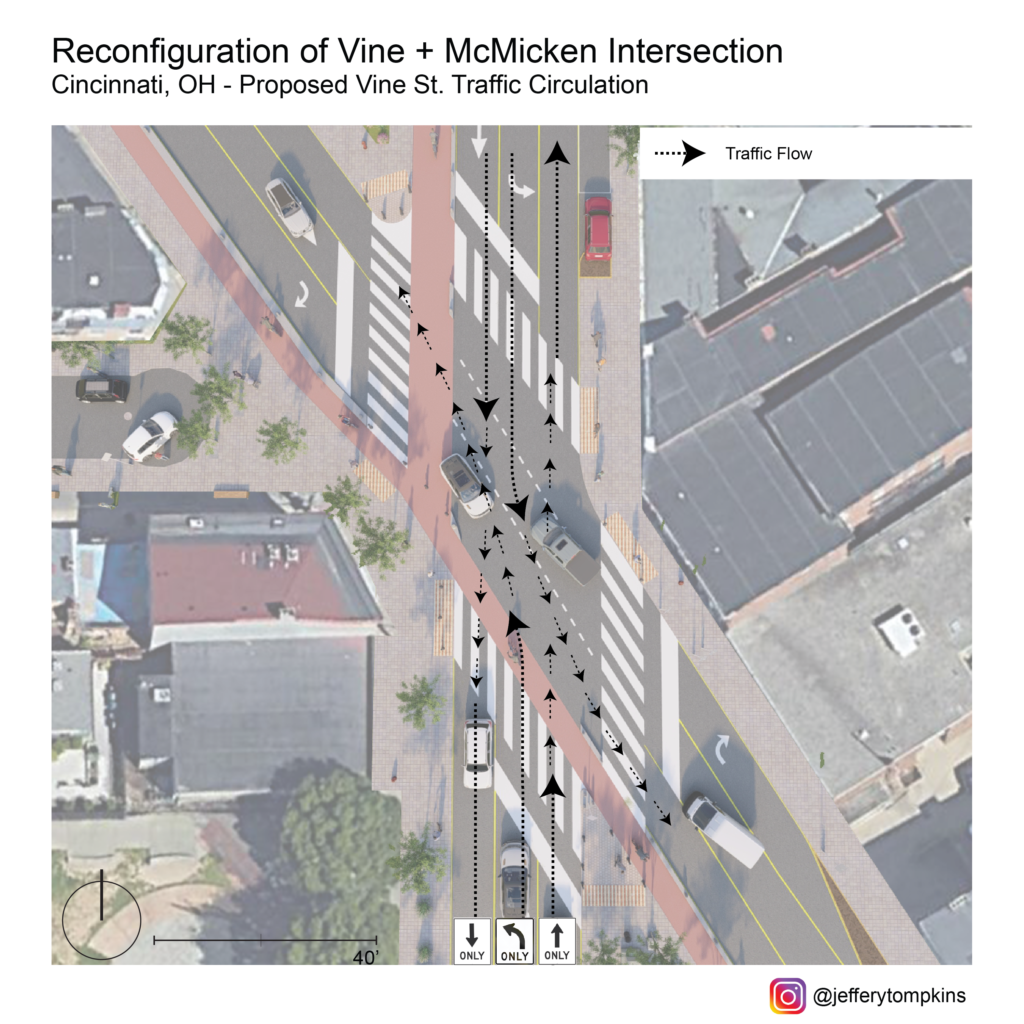 If you would like to publish your thoughts and opinions on UrbanCincy, simply contact us at [email protected]
Note: We are not the author of this content. For the Authentic and complete version,
Check its Original Source