So the world is a little different, isn't it? To say that the current situation has slowed progress in my mother's kitchen would be an understatement. I think we've all been a bit busy lately. But we've made some progress and it's so close to graduation! There are still some pretty big things to do, but we are definitely on the way down to the goal. So I thought I would share our progress so far!
We have completed and installed 20 of the cabinet doors, along with the new door handles. It looks so different now! Here is the window / sink wall …
We haven't painted the walls yet, but my mother made some cuts a few days ago so we can see what the new wall paint will look like with the new body color.
The difference is amazing to me! Here's a reminder of what this side of the kitchen used to look like …
We removed the scalloped canopy around the window, made some very simple * new closet doors, added some new cladding directly over the cupboards, filled and dragged the laid lines in the cladding over the cupboards and took up the paint as far as it would go to the crown molding. You will find that we also removed the dishwasher and replaced this room with a cabinet where my mother can keep her KitchenAid mixer on a Rev-a-Shelf mixer elevator.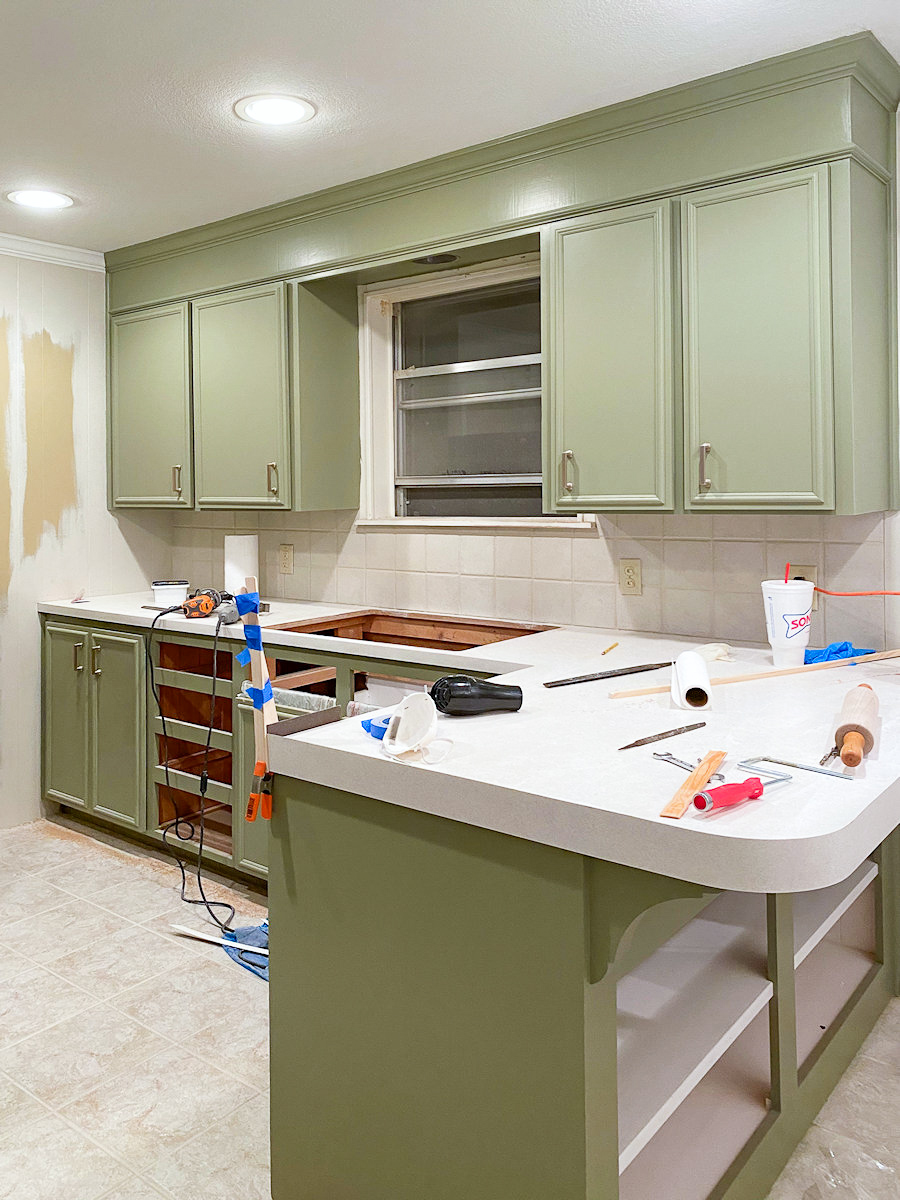 We are still looking for a nice light above the sink. We also have to paint around the window, put some trims under the windowsill and find a shadow for the window.
On the other side of the kitchen you will find a reminder of where it started.
And so it looks with the changes so far …
It's a long way, isn't it ?! 😀
The big project we are currently focusing on is installing the new worktop laminate. And after a smart person asked before a few posts whether it is possible to install new laminate over old laminate, I did a little research. The thought of it was so exciting for me because it would make the project so much easier, faster and cheaper.
Sure, of course. It is possible! So that's exactly what we're doing. Yes, some prep work is required and I will post a post where all the details will be shared when we are done. We started working on it yesterday and we cut out all the parts (that was the hardest part of the whole project) and then started installing the edge parts on the sink wall and peninsula. We installed and cut one piece and then installed the second part, but not yet cut it. Hopefully we can finish this countertop today.
And again I will tell you all the details of the laminate-over-laminate worktop in a future post.
Anyway, I still have several drawers and pull-out shelves to build, but the time has come! It's a little disappointing because the whole reason we started it was because my mother wanted to have a party to celebrate my grandmother's 108th birthday. Now it is uncertain whether we can have this party at the end of April. But either way, we are knee-deep in this project and there is no end now! 😀
---
---
Note: We are not the author of this content. For the Authentic and complete version,
Check its Original Source