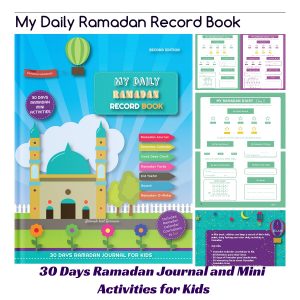 Available online!
My Daily Ramadan Record Book – Second Edition | With a new design and more activities.
It contains 48 pages of colored paperback (8.5 x 11 inches), including 30 pages of a daily checklist of salah, fasting, the Quran recitation log, record of good deeds, and mini-activities (Ramadan puzzles).
In this book, children can record their daily salah, daily fasting, and other daily activities in Ramadan.
Includes:
• Countdown for the Ramadan calendar to oath.
• 60 good ideas for Ramadan.
• 30 day Ramadan table with good deeds.
• 24 interesting facts about Ramadan.
• Ramadan Duas.
• 30 days of Ramadan Journal and mini-activities.
• Eid Takbīr.
• RamadanÖ-Meter.
Suitable for 8-11 years
£ 6.99
A perfect gift for your loved ones.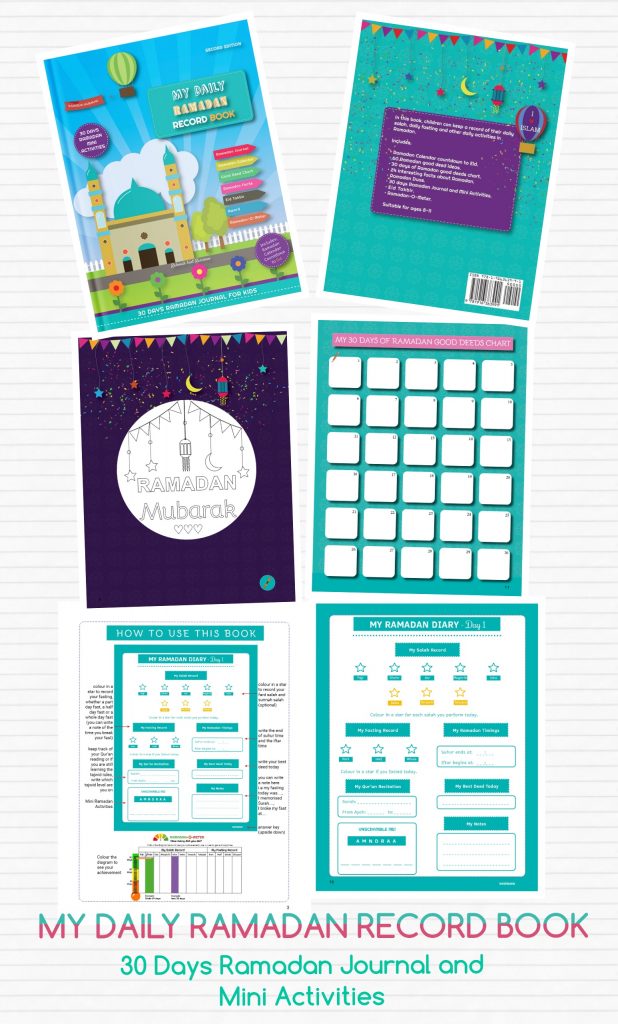 Check out my other Islamic books here: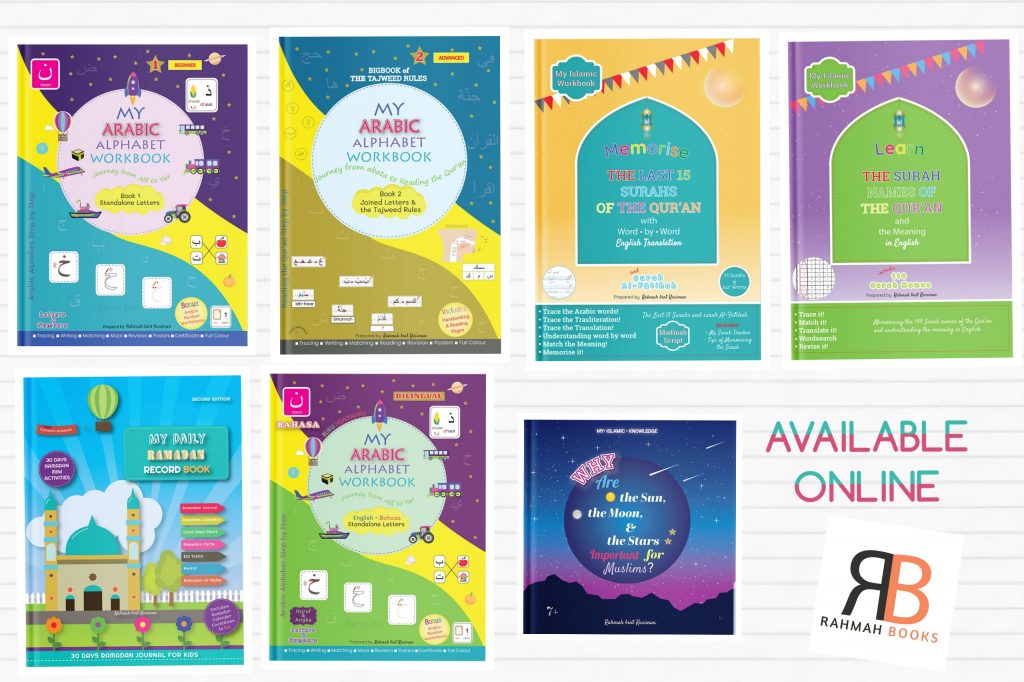 My Arabic Alphabet Workbook – Journey from Alif to Yaa: Book 1: Standalone Letters (5-8 years) – 80 pages,

available in English and Bahasa.


Learn the Arabic alphabet from Alif to Yaa by tracing the letters (point to point), coloring, writing and matching. Bonus: worksheets with Arabic numbers.
My Arabic Alphabet Workbook – Trip from Abata to Read the Koran: Book 2 Linked Letters and the Tajweed Rules (from 8 years) – 106 pages.
This workbook is suitable for anyone who wants to learn to recite the Quran regardless of age (young children, adults, and reverts). Contains: Makharij diagram, trace worksheets, Tajweed rules and revision pages.
Memorize the last 15 suras of the Quran word for word. English translation: Track and write the suras (from 8 years) – 70 pages.
This workbook is suitable for everyone who wants to remember the short suras and their meaning in English word for word (the last 15 suras + surah Al Fatihah) regardless of age – small children, adults and reverts.
Learn the names of the surah of the Quran and their meaning in English (7+) – 98 pages.
For example: A Nas = humanity, a Nisa = women.
Why are sun, moon and stars important to Muslims ?: My Islamic Knowledge Series – Picture Books (7+) – 26 pages.
Discover how Muslims use the sun, moon and stars (the SMS) for religious and non-religious matters.
If you live in Indonesia, Portugal, Slovenia, Malta, Denmark or Thailand, you will get a 10% discount on all books when you buy from Book deposit ( search: Rahmah bint Rasiman). Free delivery worldwide (in shaa Allaah).
Code: BUKU10
[for Indonesia (23 Mar – 5 Apr)]
Code: PT10
[for Portugal (23 Mar – 5 Apr)]
Code: BOOK10
[for Slovenia (23 Mar – 5 Apr)]
Code: TH10
[for Thailand (23 Mar – 5 Apr)]
Code: MALTA10
[for Malta (16 Mar – 29 Mar)]
Code: BOG10
[for Denmark (16 Mar – 29 Mar)]
about
My name is Rahmah, I'm originally from Indonesia, but I currently live in the UK. My educational background is in electrical engineering.
If you like my blog, please press Ctrl + D to bookmark my page and check what's new at Rahmah Muslim Homeschool.
Note: We are not the author of this content. For the Authentic and complete version,
Check its Original Source