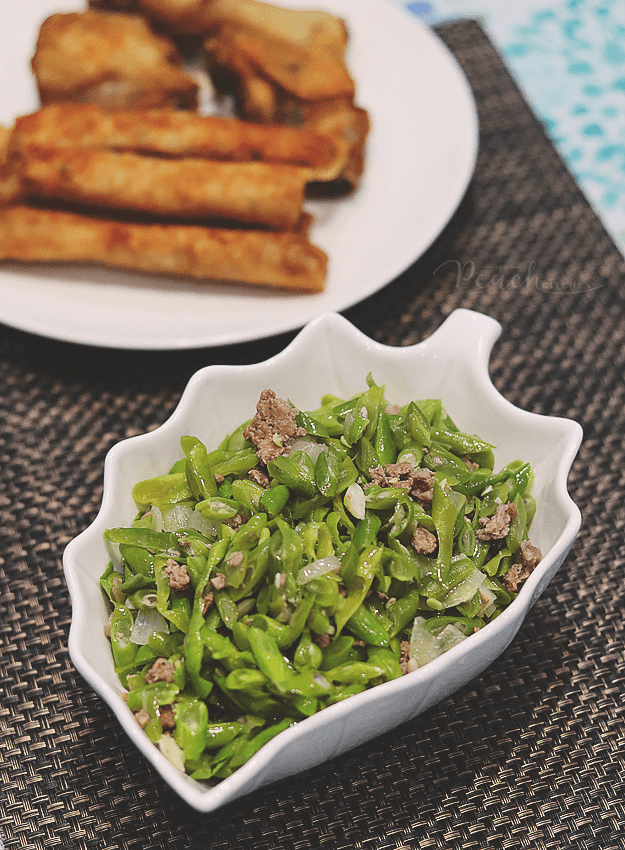 #PHLockdown day 7.
I'm more scared than ever after watching the update – there are 462 confirmed cases of covid-19. I'm more scared to go out to buy the bare necessities for the pantry!
We received our quarantine ID card yesterday, which a member of our family can use to buy groceries, medicines, and other needs. It's usually the head of the family and for us it's peanut butter♥. This is because he takes Tita Eva on dialysis twice a week.
We consume our stuffed vegetables and I tell you one of our budget-friendly ulams, which costs around 100.
1/2 kilo of baguio beans – ₱ 40
100 g minced beef – ₱ 40

(Or 100 g ground pork – ₱ 35)

2 cloves of garlic, 1 onion, 1 tablespoon of cooking oil, cubes of beef – approx. ₱ 20
So easy to cook, just fry everything and let it simmer for a few minutes. Voila! You have a healthy, cheap ulam that you can combine with rice or any other vand of your choice. For us, it's the leftover Lumpiang Shanghai and a couple of fried chicken pieces.
♥♥♥♥♥
If you follow me InstagramYou may have noticed that I now post more regularly than ever. I think it's my way of dealing with everything that happens around us. It is my way of maintaining my mental health because cooking relaxes me and reminds me of this pandemic. I know we have different ways of coping and that's mine. Others do Tiktok, others watch Netflix all day and others post selfies, others exercise and sunbathe, and that's okay. I think we are guilty of ourselves so that we can emerge from this situation as ourselves, if not better and stronger.
Stay home and protect yourself, mom. Let's help smooth the curve.
U 100 Ulam: Ginisang Baguio beans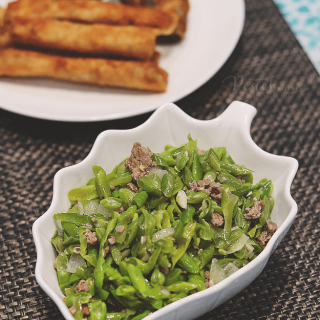 ingredients
1 tablespoon of cooking oil
2 cloves of garlic, chopped
1 onion, chopped
100 g ground beef
1 beef cube
1 cup of water
500 g baguio beans, cut into small pieces
Season with patis and pepper
Directions
Heat the oil in a pan and fry the garlic and onion until the onion becomes translucent.
Add ground beef and cook until brown.
Pour water and add beef cubes. Stir to dissolve and bring to a boil.
Add the beans and simmer for 5 minutes.
Stir as desired and season with patis and pepper.
Turn off the heat and serve with rice.
3.5.3251
♥ If you make this recipe, be sure to take a photo and tag @thepeachkitchen on Instagram (OR tag it with #thepeachkitchen). I would love to see what you cook!
<! -

->
Note: We are not the author of this content. For the Authentic and complete version,
Check its Original Source