At this time of social distancing without a clear time frameI have a need to share some of the things I've learned in 17 years working in a home office. It is clear that the novel corona virus will disrupt our previous business processes, but it is possible that some parts of it will ultimately be good. For people who are able to return to near previous productivity levels during the course of COVID-19, you may be able to contribute to economic stability and save a lot of the approximately 6 weeks a year that the average North American commutes to work. This would severely affect available production hours, with significant savings in transportation costs and greenhouse gas emissions.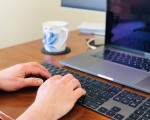 The average American household spends more on transportation (16%) than food or health care. Low-income families can spend up to 58% of their income on transportation if they live in an auto-centric environment. (Neighborhood Technology Center and Virginia Tech University) A person with a one-hour drive to work must earn 40% more to be as satisfied as someone who leaves. Switching from a long walk to a short walk would make a single person as happy as if they had found a new love. (Lively cities) There are no comparable studies for working from home, but I assume a similar scenario. Here are some of the things that have helped my home office productivity and made it profitable in the long term:
1. Set limits.
Many of us share sparse office space with partners, roommates, children and pets. Or suddenly teaching children at home, or at least trying to check the progress of online teaching. And drop older friends and family members on the side of the road. With all these new dynamics, it is important to create enough time and space for the work that needs to be done. Think about what timeframes may work for you, which may no longer be between 9 and 5, but have a second shift in the evening.
No matter when you take the time to work, keep it safe. Make yourself some simple rules about what can be part of the working day: Childhood and walks with the dog: yes; Housework, news media, calls from friends: no. How can you carry out multiple tasks in a sustainable manner? You might want to schedule one or two conference calls during each dog walk or grocery run to clear an airspace at home, but still do dual tasks.
2. Respect the river.
You need some new tools to work with your team, such as: B. Messages to mirror text messages to your computer and FaceTime, Zoom or Skype. While we are all concerned about how and for how long COVID-19 will disrupt our lives, it is more important than ever to work with a large team from home to achieve a state of productivity. Don't send SMS, messages, or video chats to your team members unless you need really quick input. Don't text them unless this is important enough so that you usually go to their desk and interrupt them. Instead, choose more discreet communication channels (see 6. Communicate well).
Realize that we all have times of the day when thinking is easier. This applied to you in your regular office and also to your home office. Protect yourself from writing or working with high productivity and save long periods of time for conference calls, emails and social media. Especially now, you shouldn't check email or social media until afternoon, which is generally less productive. (Business insider)
3. Be responsible.
While you don't have the physical time to appear in the office to be held accountable, you can sign up with your team members on a shared online timesheet, even if you're hired or work for a flat fee or performance. For a while, everything will feel strange. So if you hold yourself accountable, you can analyze time. "What is measured is done."
Select a minimum number of large categories so you can see how much time you and your team are spending. Mine are: billable hours; Business development; solid development; and volunteering. Add a note column to share your intentions at the beginning of each day, focus, and report back to your team. In this new environment without physical proximity, it is a welcome contagion to see the commitment of others.
4. Share information.
Dropbox and Google Drive are some of the simplest file sharing protocols (FTPs) and make remote collaboration easy. Decide carefully which documents work best. We use Google Sheets for large research projects like www.CodeScore.org and www.CodesStudy.organd Google Docs for the co-development of most policies and physical plans, as well as zone codes and subdivisions that come as InDesign files.
Only when the content has been agreed will we be included in InDesign for the layout that is saved on the FTP that we have defined for the respective project. If the client needs a zoning code or subdivision rules to be a Word document, we do not edit them at the same time to ensure accuracy and we usually work as a file with date names in Dropbox.
5. Record your workflow.
Regardless of which systems you choose to save and share your work, record your workflow. Think of this as an office manual when hiring a new employee so that they understand step by step how your team's toughest production work can be done. However, make sure it is electronically shared with the team and updated in real time. When someone makes a new find for a productive workflow, you want to make sure they remember it for the next round and share it with everyone.
We organize our workflow basics according to the programs and systems we use most frequently: blurb, CAD, Charrette book requirements, code score updates, codes study updates, GIS, Illustrator, InDesign, Microsoft Word, Photoshop, production software requirements , SketchUp and Slack.
6. Communicate well.
In our 17 years with many partners in many places, the biggest challenge is sustainable communication. So we spent some time doing a number of hacks. For team members with whom I work closely on a specific project, we have a short morning phone call every day while walking the dog. While larger team conferences are important when starting new jobs and to check team progress, several other tools are essential for the decanted workspace.
With a shared calendar, you can easily see when others are available to meet customers, at least for a few weeks. For smaller teams, we use shared task lists in Notes or recommend Slack for larger teams to determine both tasks and who is responsible for each task. Choose your tools carefully for the respective project so that you are not burdened.
Laura Clemons at the Collaborative communities is the queen of virtual happy hours that can be hosted by Zoom or other video conferencing platforms. A group of colleagues who practically enjoy drinks at the end of the working day help one another to check each other and to keep in touch during these difficult times. Nevertheless, Laura emphasizes: "With all this e-communication, it is also good to remember to take the time to separate and to spend a quiet time alone with a book or a bubble bath or with the dog to cuddle. "
7. Be hopeful.
We are clearly in a time of disturbance when things will change dramatically. Finding what we can do now is more important than ever. Here are some places I find inspiration:
Check out Yale's most popular professor ever, Dr. Laurie Santos, and her podcast to engage in psychological and temporal distancing. (Happiness laboratory)
Think about copying a portion of Washington's neighborhoods where small militias run errands of kindness, support, and care, take the dog for a walk, and deliver food to vulnerable or quarantined neighbors. Bars turn into pantries. Tutors help via Zoom, Skype, FaceTime. (Washington Post) Or the people who turn small free libraries into small free pantries. (LIT HUB)
"Think about what just happened. Within a few days, even hours, a large number of people felt that drastic measures had to be taken to smooth the curve and avert a worse crisis. And they took it. It is a victory of conscience and above all of the collective sacrifice for the collective good. "- Melissa Martin (Winnipeg Free Press)
"In these very difficult and uncertain times, we often look at things in our community that connect, inspire and help us. Art has always been a means of informing, inspiring, connecting and healing. "- Stephen Borys (My daily art on Instagram, Facebook, and Twitter)
"I firmly believe in people, and if you tell the truth, you can be sure that they will face national crises. The big point is to tell them the real facts. "~ General Douglas MacArthur, April 1944
8. Be thankful.
PlaceMakers celebrated our 17th anniversary last week. We would like to thank you for being a reader, colleague and employee. We've had brick-and-mortar stores in South Beach, Miami, and Calgary for some time, but since most of our public time is in community design workshops, we moved to virtual offices years ago to maximize free time and minimize the carbon footprint . It was an honor and pleasure to work with 111 customers who plan and / or code 5,455,555 acres. Most of it was done from home and in local communities.
Maybe you go further than we do and take a page from Isaac Newton's book when he was sent home from college to create social distance for almost two years during the Great Plague, which killed a quarter of Londoners. Newton used the time to develop calculus and optics, sitting alone under his apple tree, which helped to formulate F = ma and the collection of ideas we know today as Newtonian physics. Without his time in self-isolation, you probably wouldn't be on an electronic device at the moment or might consider doing one thing on this blog. (Washington Post)
So as not to raise the bar too high, let's make some silver strips together for the disorder we'll continue to face in the coming weeks and months. We wish you health, well-being and productivity in these challenging times.
– Hazel Borys
If PlaceShakers is our soap box, our Facebook page Here we step back, have a drink and talk a little. Are you looking for a heads-up on the latest community news and prospects from the Internet? Click through and like and we will keep you up to date.
<! -

->
Note: We are not the author of this content. For the Authentic and complete version,
Check its Original Source