March 3 was the last day of one of the most important series of events in the fashion industry – the fall / winter fashion weeks.
The FW 2020 started with the Haute Couture Week in Paris, continued in Copenhagen, New York, London and Milan and closed the circle again in Paris in early March. It spanned more than 300 shows over 7 weeks and generated thousands of articles, photos, videos, live streams and social media posts.
What have we learned from this enormous amount of design and content about the state of the fashion industry? More specifically – about the always problematic relationship between fashion and sustainability? Have the fashion houses finally come with the times? Tackle your collective responsibility in creating and aggravating the climate crisis? Offer concrete solutions?
Given the enormous environmental impact and problems facing the industry (Water, air and soil pollution, gigantic greenhouse gas emissions, terrible working conditions, human rights violations, promotion of overconsumption, overproduction, waste – to name just a few) is a pretty topical issue these days.
Has sustainability just remained a practical PR tool or are we finally seeing fundamental changes?
I will list some highlights below – both positive and negative – but I will spoil the final verdict: so far, Fashion Week FW2020 has not solved the industry's environmental problem. OK, that might have been an unrealistic expectation at first, but I would still have preferred more specific measures.
I have the feeling that brands recognize that, at least in public, they can no longer avoid the question. The pressure is increasing and although there are some designers that I think are really trying to change the fashion industry and there are some positive initiatives overall, I see rather weak efforts. There is still no hard responsibility, still not enough concrete commitments, and very few people talk about the need not only to make the industry greener, but to slow it down overall.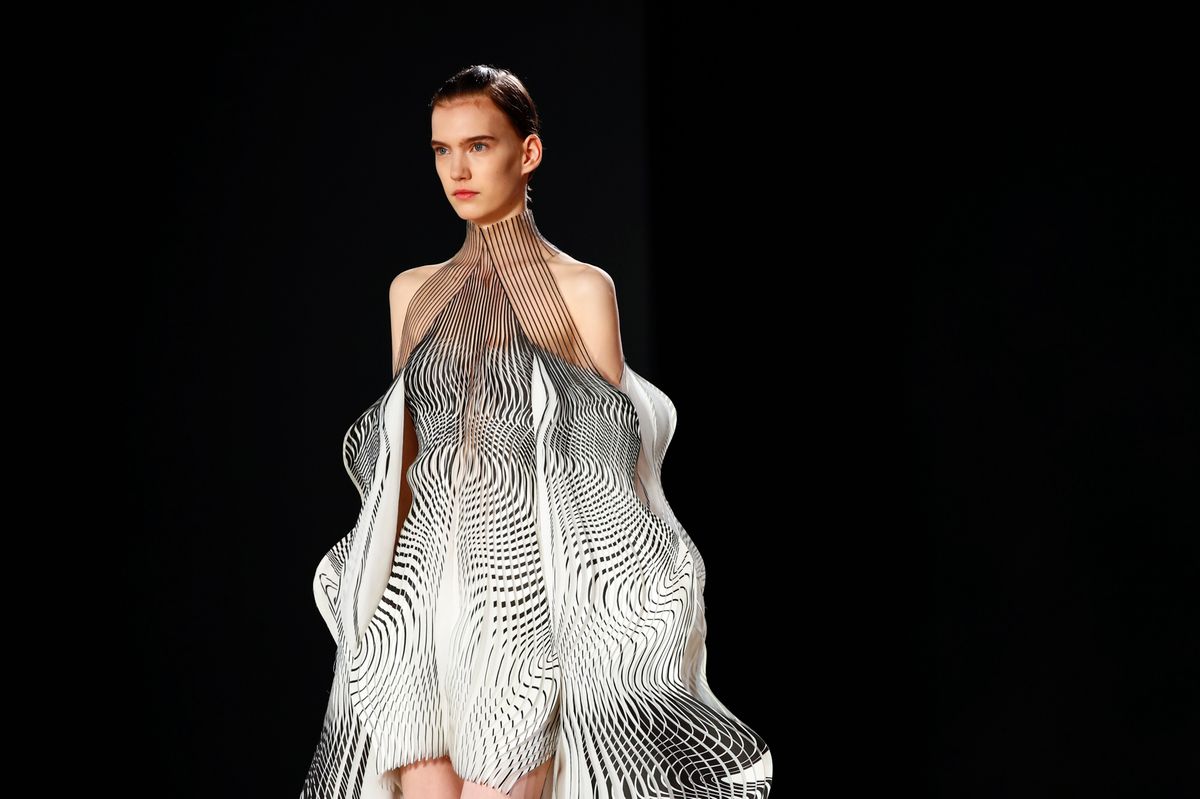 Sustainable couture
In a way, haute couture is uniquely suited to exploring the relationship between fashion, creativity, technological innovation and sustainability, as the creations are not mass-produced like most of our garments. Designers can let their creativity run free and many of them used this opportunity during Haute Couture Week to send a message about the future of sustainable fashion.
Recycling, upcycling and technological innovations were the main sustainability trends in Paris in January (and also dominated the runways later).
Jean Paul Gaultier (whose Paris show was his last) presented an upcycling haute couture collection that used objects, designs, fabrics and materials from the past and reinterpreted them in an astonishingly creative way.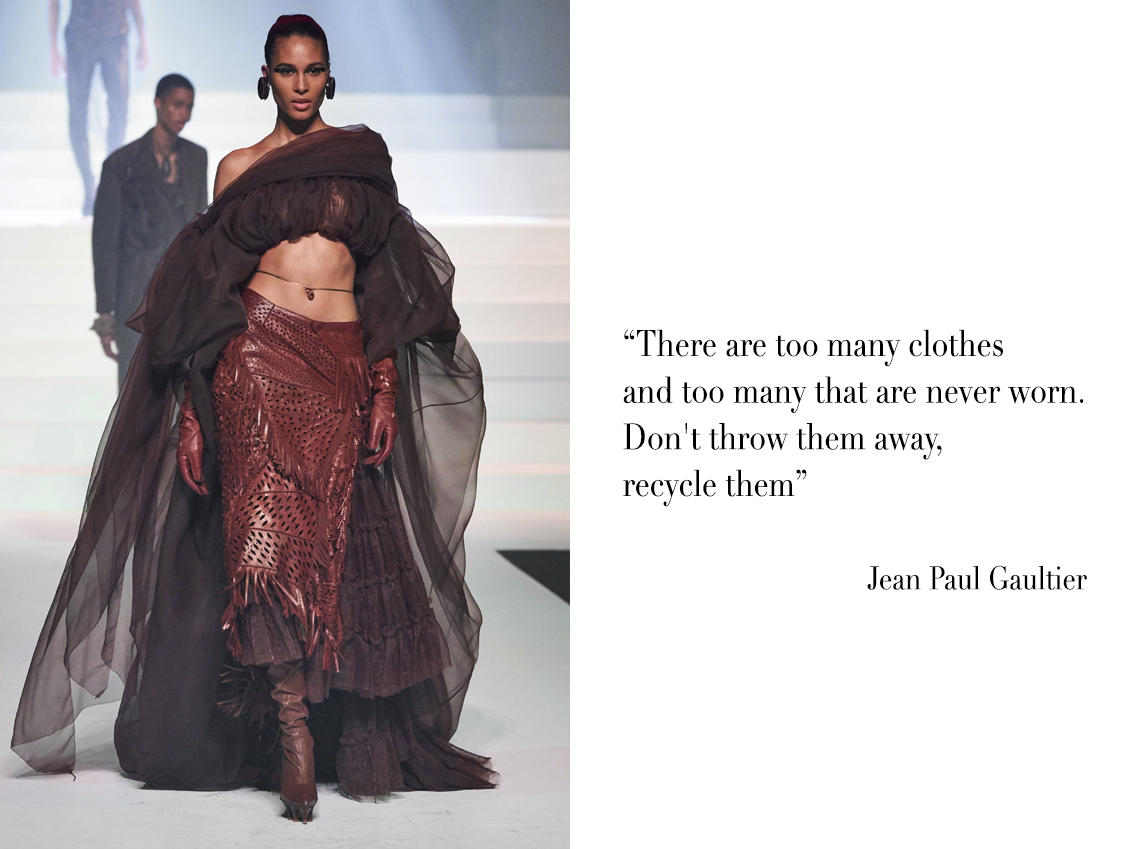 Yuima Nakazato used recycled silk for his clothing, introduced jewelry from glass bottles and experimented with an innovative new production method (biosmocking) that minimizes waste when cutting material.
Ronald van der Kemp, one of the most famous designers for sustainable couture, who has been working with leftover materials for years, created a collection of recycled vintage dresses, remnants of previous shows and upcycling fabrics, such as patterns sent to him by suppliers.
Dutch designer Iris van Herpen used 3D printing for some of her avant-garde looks.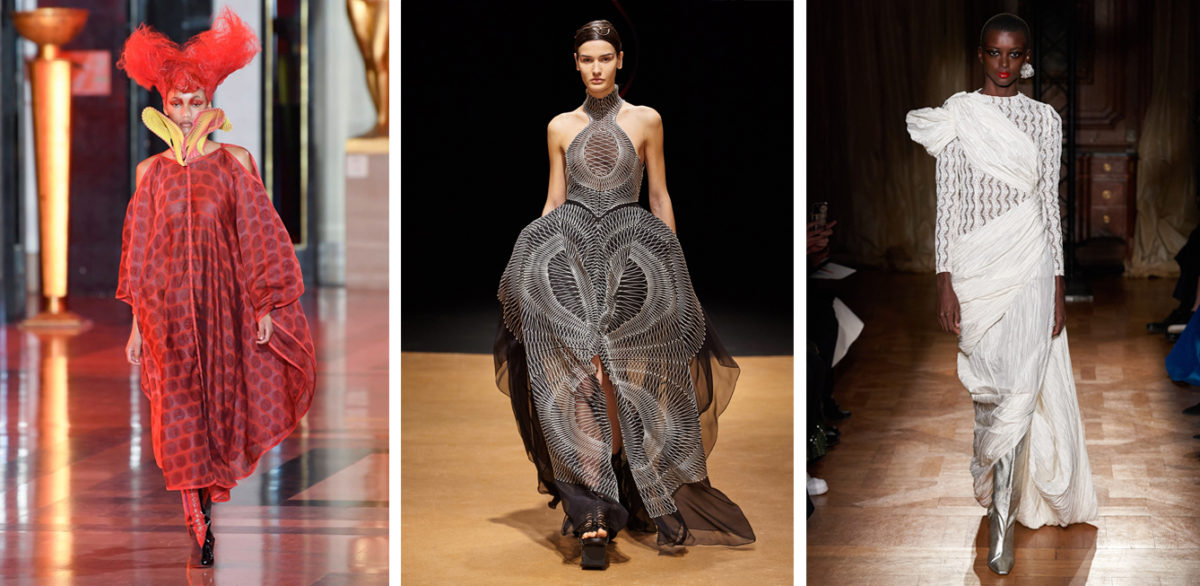 The real question, of course, will be how this translates into everyday and mass fashion. Will leading fashion brands really take the lead and implement sustainable practices in their operations, or will they see sustainability as another creative toy?
The fact that Joaquin Phoenix was the most sustainable high fashion achievement in the past awards season and wore the same Stella McCartney suit at all events is unfortunately not very encouraging, but we remain optimistic that next year designers will compete against whoever dresses most stars in sustainably made dresses.
Copenhagen Fashion Week turns green
Copenhagen is a leader in assuming (and enforcing) responsibility for the environmental impact of the actual Fashion Weeks. In January 2020 they presented one Sustainability Action Plan 2020 "Designed to strengthen the event's sustainability profile and, above all, to motivate the industry to accelerate its sustainability efforts."
The plan, which was compiled and reviewed by leading sustainability experts and organizations, including Fashion Revolution and the Center for Sustainable Fashion, has set some concrete goals for the next three years in two main categories: pushing for the reduction of the environmental impact of their own businesses and fashion brands to be more sustainable.
Measures to reduce the environmental impact through the Copenhagen Fashion Week:
Measure the carbon emissions and use them as a basis from 2019/20
Continue to compensate for the CO2 emissions from your own business for every edition of the fashion week (since 2019).
Reduce your carbon footprint by 50% by 2022
Discover digital solutions to make shows accessible to a wider audience, thereby minimizing travel CO2 emissions
Use venues that meet green energy standards
Only use electric cars during the fashion week
Forbid single-use plastic hangers, garment bags, and other types of single-use plastic garment protection and backstage materials at exhibition and presentation venues
Don't waste your own Copenhagen Fashion Week activities by 2022
Providing instructions for show brands to help them run zero waste shows, e.g. through seminars, toolkits and / or a list of recommended suppliers
Develop a code of conduct for suppliers, partners and sponsors
Develop and publish annual sustainability reports
Urging designers to become more sustainable:
From 2023, only brands that demonstrate their sustainability efforts can take part in Copenhagen Fashion Week. To monitor this, the organizers have compiled a list of sustainability requirements. Brands have to meet two requirements:
Meet the 17 mandatory minimum standards in the list (e.g. no destruction of unsold clothing, use of at least 50% organic or recycled textiles in their collections, creation of designs without waste, no use of disposable packaging, etc.)
In addition to the minimum requirements, brands must also collect points by fulfilling other specific sustainability requirements in the list and achieve a certain number of points in order to be able to take part in a show or presentation in the official Copenhagen Fashion Week schedule.
I really like the initiative and the fact that the goals seem pretty concrete enough. Hopefully they will succeed – and other fashion weeks will follow suit.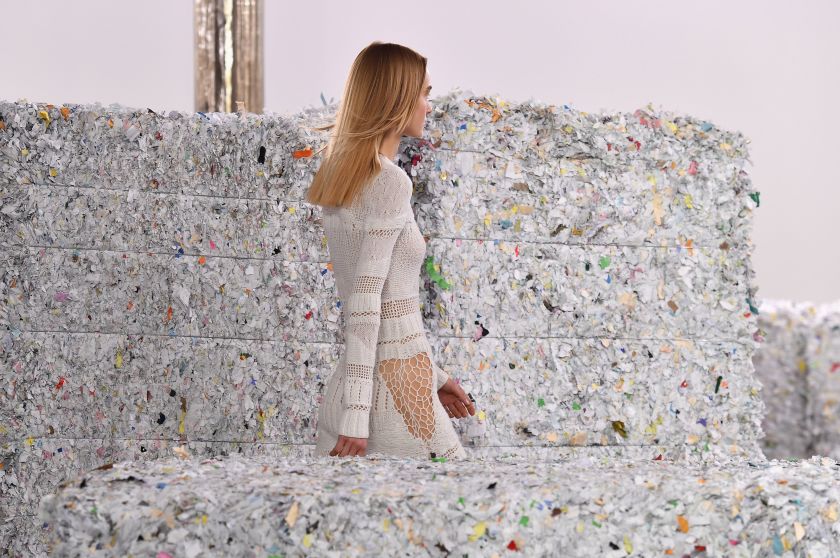 Trend: recycling, upcycling and waste reduction
Recycling, upcycling and waste reduction were also the focus of the runways in New York, London, Milan and Paris.
Gabriela Hearst called her FW 2020 collection "Repurpose with Purpose" and focused on recycling and upcycling old textiles and materials. She made coats from vintage Turkish carpets, recycled cashmere dresses, and outerwear and knitwear by reusing materials and fabrics from last season's show to highlight the importance of reinventing existing and excess inventory. The reduction in waste was also evident in the stage design – the models ran around shredded paper bales.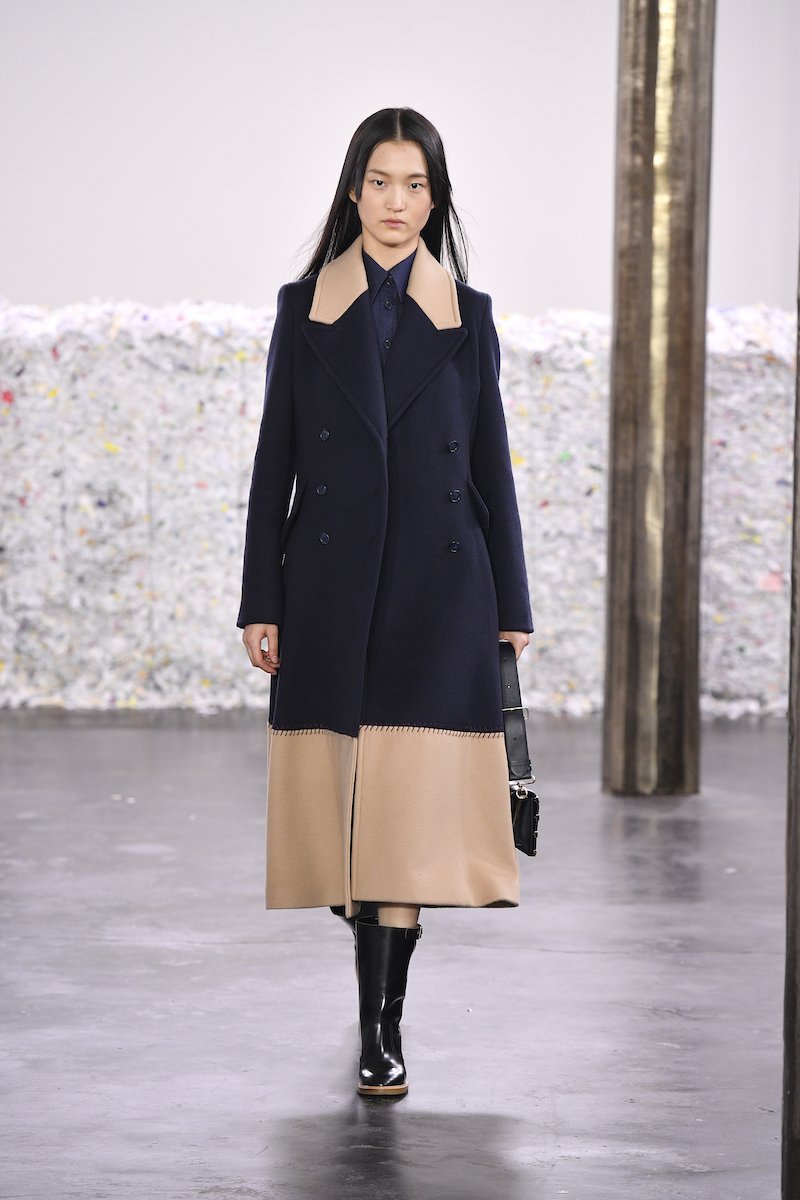 John Galliano also focused on upcycling at Maison Margiela. The collection is based on the "replica" concept by founder Martin Margiela. In the early 1990s, he began to include copies of vintage dresses from around the world in his collections. Instead of using replicas, Galliano has further developed this idea by selecting items from charities and converting them into new parts for the runway.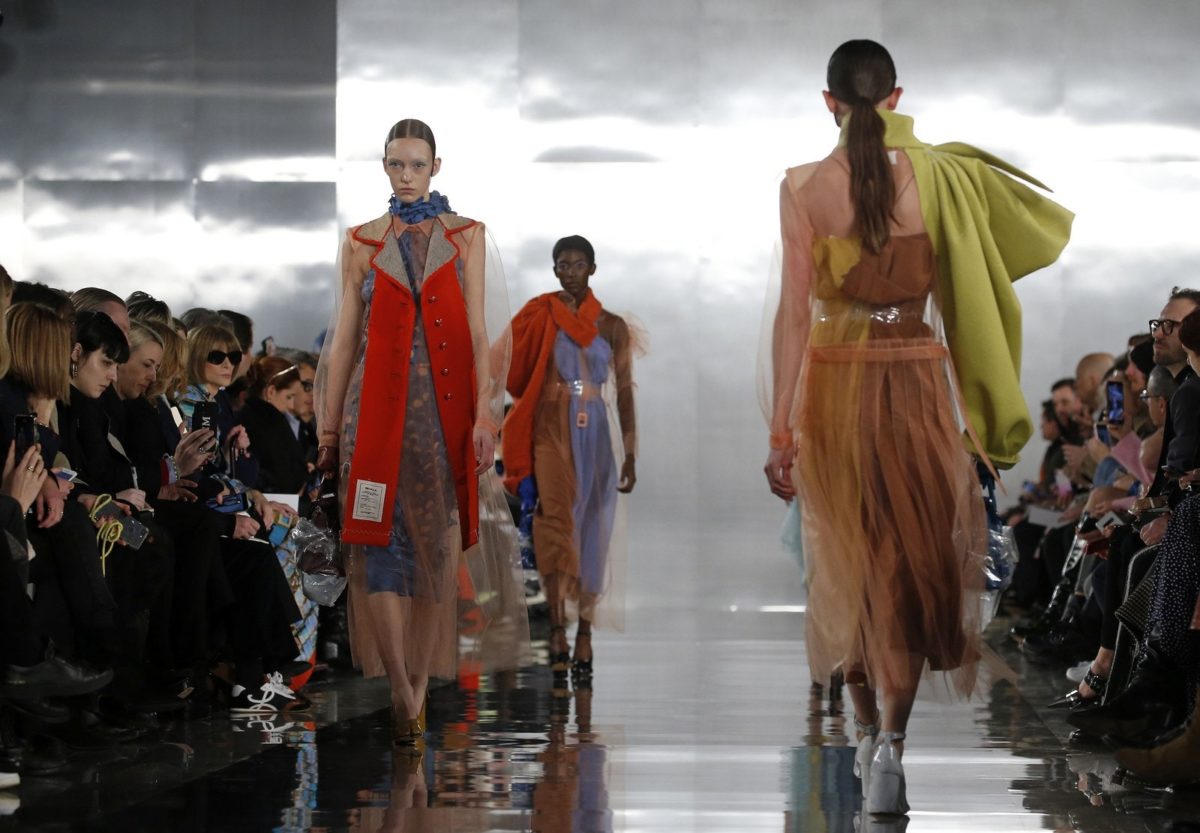 Diesel started its own upcycling series called "Diesel Upcycling for", in which they work with various designers to create unique and colorful capsule collections from old prototypes, remnants, and materials.
Phoebe English asked other London designers to donate studio waste and used it to create their collection.
Eckhaus Latta partnered with The RealReal and used used shoes for their runway show.
In London, Ganni opened a pop-up shop for recycled and upcycled clothing and design objects (Ganni Kiosk), and in New York, Goodwill held a night full of upcycled purchases.
Make a statement
I consciously choose to be very positive and forgiving when I include it in the section with positive highlights.
There was a lot of discussion about sustainability during the fashion weeks, that's for sure. Roundtables, conferences, industry events, press releases, slogans and much more.
And these discussions are important – to a certain degreee. We need to put sustainability and the climate crisis at the center of industry discussions. We need to acknowledge the most pressing issues, agree on a way forward, broaden the circle of involved parties and listen to experts. But talking is the bare minimum (frankly, we should have done that ages ago). What we urgently need is action. Let us hold companies accountable for pursuing the big words with even greater practical action.
To be fair, some really valuable workshops and events have also been added to the program – workshops on textile waste disposal and clothing repair, exhibitions of sustainable clothing brands, clothing exchange shops, etc.
Some designers also took the opportunity to make important environmental statements.
The Danish brand for sustainable fashion Carcel opened the Copenhagen Fashion Week in a revolutionary way. This was their very first show and they used it to make a statement by not showing a single new item of clothing. Instead, they made a video presentation about the most important ethical and sustainable issues in the fashion industry and how they are trying to change something. They also invited guests to walk the runway together in the clothes they were already wearing.
Long-time advocate of sustainable and ethical fashion, Stella McCartney, published a series of cartoons on her Instagram page before the show with subtitles like "My coat looks better on me" and "Skinning does not win" and then sent models disguised as animals The conclusion of their fashion show in Paris highlights the fact that their designs are completely vegan. She also vowed to change the world's largest luxury fashion group from the inside out after LVMH took part in her label and made her the personal sustainable advisor to LMVH owner Bernard Arnault.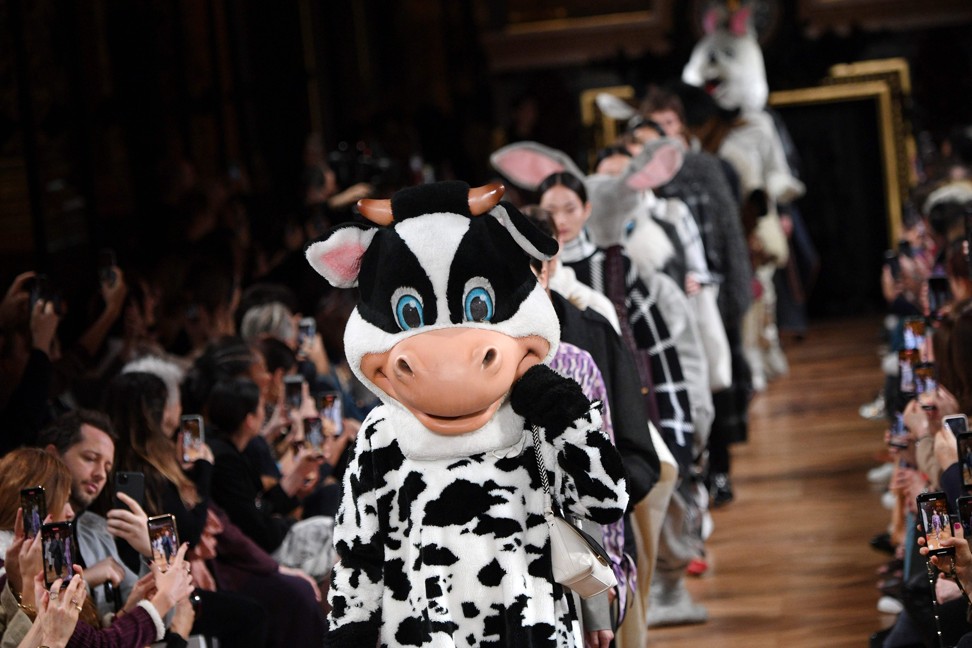 Anya Hindmarch made headlines with her bag "I Am A Plastic Bag", which was made from recycled plastic bottles and coated with recycled plastic windshields. The brand closed its shop in central London during the FW in London and filled it with 90,000 plastic bottles to provide an explanation of the waste problem of the fashion industry and the global problem of single-use plastic.
Amy Powey, founder of luxury eco-fashion Brad Mother of Pearl, launched the during London Fashion Week #FashionOurFuture Campaign in which everyone can make a promise that makes their wardrobe and style more sustainable.
Some designers have weakened the extravagance – but they remain the minority
In recent years, many people have questioned the relevance of fashion weeks because the industry has accelerated so much that the whole seasonal show thing doesn't make sense anymore. In addition, more and more voices draw attention to the enormous environmental impact of the fashion weeks themselves.
In London, Extinction Rebellion called for the fashion week to be canceled. The New York chapter chose a different approach, and while they held protests, they emphasized the importance of working with industry to address the issues together.
Personally, I don't see a fashion week going by soon, but it would be great to see it transform into a more mindful event. Some designers have decided to weaken the extravagance and are experimenting with new approaches to showcasing their collections, such as pop-up shows and more reserved issues.
Philip Lim hosted an open house event instead of a runway show. Rihanna debuted her collection at Bergdorf Goodman with a pop-up store. Patrick McDowell also left the runway behind and presented his collection at a clothing swap event.
Giorgio Armani also refrained from public presentation, but for a completely different reason. The Coronavirus reached Milan around the time of Fashion Week, and that was the main reason why they decided to broadcast the event live from an empty theater. However, environmental organizations have been recommending the use of digital technology to present collections to minimize the travel and environmental impact of the fashion week for years, and it turns out to be possible.
The bullshit greenwashing tactic lives on
Unfortunately, with all the positive initiatives, the fashion industry has not yet gone completely beyond greenwashing. Fashion Week still uses bullshit PR tactics to get some cheap green points instead of tackling the real issues. In London, visitors to the British Fashion Council showroom can request a free S'well bottle. Another designer produced an "ethical" canvas bag to take away giveaways (basically things that nobody really needs), invites (clearly a burden to carry around without a bag) and snacks (probably the free water bottle).
I mean – the effects of a trip around the world in at least 4 cities within a month and the performance of eye-catching shows are clearly offset by a trendy 40 euro bottle of water and a fashionable bag. Nice priorities.
River Island has taken a page out of H & M and Zara's greenwashing guide and launched a sustainability challenge for young designers. A shelf of supposedly sustainable clothing in one of their stores that is full of cheaply made fast fashion clothes just screams for bullshit PR tactics for me.
Another thing that I see as greenwashing is the constant talk about "creating timeless pieces" in the name of sustainability. I'm a big fan of slow fashion and buying pieces that we can wear for years (if not decades) but let's face it – in many cases this is just an excuse to sell a plain white shirt for € 350. If there is nothing else behind it, no environmentally friendly materials, no transparent supply chain, no sustainable production – then it is just a marketing hack.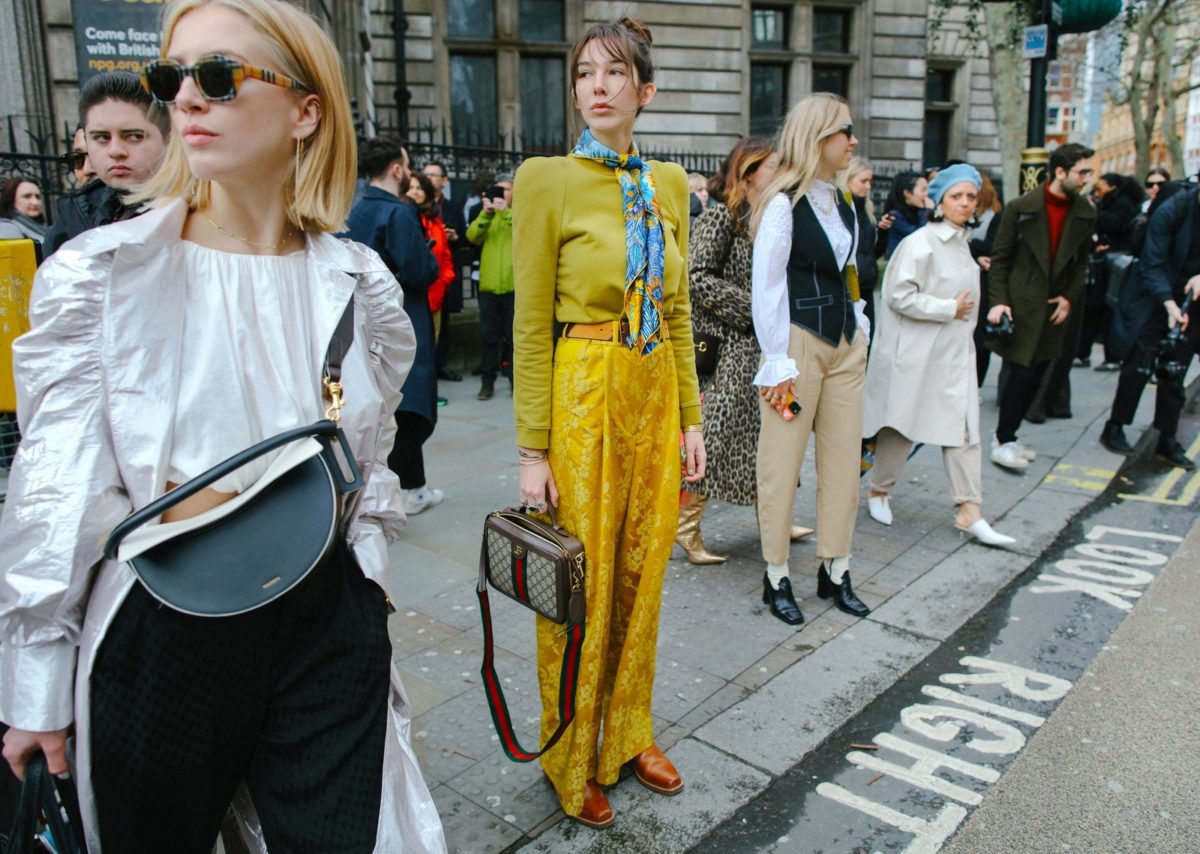 Influencers miss the opportunity to advance the sustainability discussion
There are a few exceptions, but unfortunately most of the fashion influencers I follow have missed the opportunity to discuss important fashion-related things. I've seen gigantic Instagram stories where basically whole fashion shows, artistic photos from exclusive designer parties or private tours, and beautiful #ootds. And don't get me wrong, the main thing I'm following these people for is aesthetic inspiration. Still, it would have been great to discuss other aspects of fashion too. Tell your followers about the issues in the fashion industry. Talk about the steps designers take and the steps we as customers can take. Lead by example and wear vintage, second-hand, or just the same item multiple times. It is high time for influencers to take the "Influencing"Part of their job much more serious – and start using their violence forever.
Too little, too slow (too late?)
What is the verdict?
My biggest problem, as I said at the beginning of this post, is the general lack of concrete commitments to make fundamental changes. What we need from brands is a complete overhaul of their attitude towards production and creation. They have to address the problems in their factories and supply chains. You have to set very specific emission targets. You have to be careful not to destroy your unused clothes. You need to create a system to minimize waste, reduce overproduction and recycle leftover materials. You have to stop using virgin polyester and use organic cotton. They have to make sure that everyone in their supply chain provides workers with safe working conditions and a living wage, and stop blaming suppliers for the problems. They have to invest money in sustainable practices and, yes, they have to accept that changes, at least initially, can result in a loss of profit.
And they have to slow down production and stop encouraging people to shop, shop and shop. The art and creativity inherent in fashion can still be celebrated, but until fundamental changes are made, the fashion weeks will continue to be the symbols of a deeply unsustainable and unethical industry.
Note: We are not the author of this content. For the Authentic and complete version,
Check its Original Source