The more products you have, the more guidance your customers need to find what they're looking for. Simply put, a frustrated customer is a lost customer. To help the customer organize your Shopify experience, personalize it so they can find what they're looking for. This means that conversion funnels are defined based on consumer goods categories. For example, a hardware store owner should try to organize their business according to the customer's typical "tasks to be done" and assign product categories based on the general tasks that your products can accomplish.
If you have hundreds or even thousands of products and are wondering how you can improve your conversion rate for each product, read on, this is for you.
Note: There are many ways to organize products depending on the company and product type. One size doesn't fit everyone.
Considerations for organizing product categories.
If you are reasonably successful with your e-commerce efforts, your business will grow and you want to increase the number of products. Before scaling up, however, you should consider going beyond the standard product types and opting for a category hierarchy. For example, the following list shows different ways of organizing categories.
By industries
According to functionality
For convenience
According to consumer needs
According to consumer preferences
According to demographic characteristics (age, gender, location)
According to performance
Through quality
By price
In a large store, these considerations are often combined through the use of a category hierarchy, tags and custom fields so that highly focused conversion funnels can be created.
The answer to the question "Which option is best for my company?" Is another question, in particular: What type of product do you sell and to whom? For example, a car dealership could have the following hierarchy: –
By brand (consumer preference)

By type – consumer needs / functionality (4 × 4, hatchback, small / city, sedan, sport, electric / hybrid, family, etc.)
Newly used

By type

By brand
Newly used

Newly used

By brand
By type
Of course, there are many additional options for cars, and so dealer websites often offer an advanced filtering system that allows consumers to find what they're looking for. The following image is a fantastic example for advanced users.
example https://www.hasznaltauto.hu/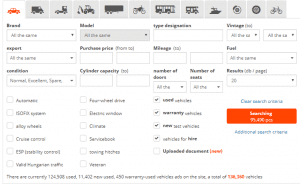 In the example above, the top hierarchy / category is the engine size of the vehicle and then the vehicle type, although you may not be able to tell from the form. In this way it is determined that this website is not just a car dealership, but a car dealership. Any additional settings that users can apply allow segmentation by vehicle selection and in many other ways. The difficulty is often to decide which option is the most effective way to personalize. In this example, all of the following options are valid.
Preferred brand and model
Newly used
Vehicle type (export picture)
price range
Engine power (cylinder power)
Number of doors
Number of seats
Fuel
Model year
One of the biggest advantages of this filter system is that it provides a very clear picture of what the customer is looking for. Clearly, there is no shortage of data that allows for extremely tight segmentation, and yet this website could do much more to use the data it receives every time it searches.
For example, a quick reload of the website shows that cars are sold at prices far above the previously selected options, forcing users to reapply all filters. They do not target anonymous returning visitors on site or redirect them!
Ideally, once the user has applied their search criteria, this should be considered, since in the case of a car dealer, the visitor is likely to keep coming back looking for their preferred brand and product. While this can be done without identifying the user, the goal should be to identify the user so that they can turn on again when a vehicle of interest is listed.
Upscaling your Shopify shop? Use product conditions !!!
One of the best things about Shopify is how easy it is to group products into collections – automatically based on product conditions. Too often Shopify users manage their collections by manually adding and removing products. If you're struggling to keep your business management up to date, it's time to adopt the product terms. It really saves so much time.
Your product selection should fit into your carefully selected categories. Try to stick to these categories and the strategy defined at the start of your business creation process, not different categories. New products that do not fit into the existing category structure should go into a new business with a clearly defined brand and marketing strategy in order to attract an audience for the new brand.
How to choose your Shopify business categories.
You should use an SEO platform to define your product niche and product categories. If not, you should seriously consider scrapping your categories and starting over. AHREFS.com is a good choice, although it is expensive. Start your research by looking at competitors' stores and their branch category structure and creating your potential category list by copying it. For example, let's take a look www.thebodyshop.com with the aim of opening a makeup store similar to Colourpop.com.
In this case, isolate the URL prefix for makeup. thebodyshop.com/en-us/makeup/
The URL prefix (URL above) is examined with your SEO tool. For AHREFs go to Site Explorer and copy the URL for investigation. The prefix is ​​selected by default. Then search.
Do a quick export (xlsx) of the 1000 most important keywords
Open your newly generated table and generate a new column next to the volume column.
Enter the following formulas in the newly generated column as shown in the picture and copy them down.
Filter column from largest to smallest
Simply copy and paste the top categories and the best performing products as highlighted in column E in the image below. Choose another competitor and try again. It is also worth recording the best performing keywords here.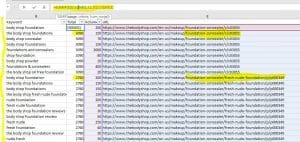 The formula used in the example sums the volume in column D if the URL in column E is duplicated. Ergo calculate the popularity for each individual product of the store, which can then be summarized into category data. In this case, Foundation Concealer is the most popular makeup product in the Body Shop.
Not all categories are worth using if they are very competitive. Note the "KD" column in your export. This column provides an indicator of the difficulty of the classification. If you don't use AHREFs, other tools like MOZ also have their own difficulty rating. Each category phrase should be tested for its KD value. If there is too much competition, which is indicated by a high number, an alternative / similar term should be searched to categorize the same product group.
This method of competitive analysis works for every industry and every e-commerce website.
Conclusion.
When creating a new ecommerce store, it is important whether you set it up to sell your own product range as a manufacturer or as a point of sale for a number of manufacturers, to sell brands of others, or for your own brand like you Structure your e-commerce shop.
When building a new brand, the way you structure your e-commerce website should determine the products that you get for your business, and consequently the marketing campaigns you run to drive traffic and sales.
The entire consumer journey depends on these decisions.
By carefully planning your business structure (depending on how your customers search for the products you store), you can better optimize what you offer and who. With OptiMonk, you can create campaigns based on categories and display product recommendations based on previously purchased items (OptiMonk's product recommendation engine) or generate special offers that are triggered by the shopping cart value.
Note: We are not the author of this content. For the Authentic and complete version,
Check its Original Source