Last year I founded the Straight to Shortlist Challenge, where I step by step guide a small group through the process of opening up the hidden job market to find a job.
It was wonderful to help people make a career turnaround they never thought possible.
After helping people create a target list of contacts and employers and figuring out what to say to complete strangers, it was really instructive to routinely go through some of the counseling experts in real time.
After doing that, I suspect that much of the advice on networking best practices comes from people who haven't put it into practice at all.
So here is what I learned to be a nonsense about networking.
And here's what I learned to be true.
MYTH 1: You need a large LinkedIn network to find your dream job.
It is not so.
One customer I trained wanted to move from Australia to the UK.
She was originally from the UK and had previously worked in the human resources department she loved.
However, she had not been employed for 6 years and had not been employed in the UK for 15 years.
She found her dream job in the HR department in the UK with fewer than 30 connections.
MYTH 2: Don't connect with people you don't know.
LinkedIn recommends that you only connect with people you have met.
However, from the hundreds of connection requests we sent to strangers, we found that 60% of these strangers said yes.
It is interesting that sometimes we have added a note and sometimes not.
However, the rate of people saying yes to connect is roughly the same.
MYTH 3: You can't ask the elderly for coffee.
Oh yes you can.
Network gurus will not say this.
But the truth is what they say is "not coming to me"
It is pure projection.
People on the Straight to Shortlist Challenge asked to meet very elderly people.
Many said yes.
The yes votes range from senior partners of the top 4 consultancy to CFOs of the top ASX listed companies.
When we made this request sincerely and politely, we explained why we chose it and expressed a genuine interest in that person – which has contributed a lot to our success in getting a yes.
MYTH 4: It helps if you have an introduction, if you want to meet someone.
We have found that this works in both directions.
Sometimes it helps to know someone who can make the transfer – but sometimes you can wait a long time for the person you are counting to get in touch with you – and this will slow down the networking process.
When someone introduces you to your goal, it depends on your relationship with your target.
Are they respected?
Do you have any influence?
Your success also depends on how the person who introduces you sees you.
MYTH 5: Most people will disagree with you.
I think a lot of people are initially skeptical about reaching people they don't know, and they are limited to people who they think will say yes.
But here your mind can play a trick on you.
When you are in this negative spin cycle, you can have the underlying thought pattern that nobody says yes – that you don't deserve yes, or that you're not smart enough that someone says yes.
You choose yourself even if you try.
When we emailed people for a meeting, I expect 25% of people to say yes.
But usually we had yes rates between 50% and 90% – depending on the person.
So these are the 5 biggest myths that we've exploded in the Straight to Shortlist Challenge so far.
If you want to destroy some of your own myths, I invite you to register for it Straight to the Shortlist Challenge.
On the page you will find all details and information about registration.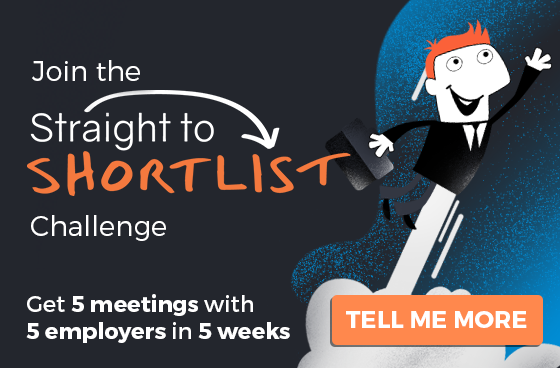 Note: We are not the author of this content. For the Authentic and complete version,
Check its Original Source