Many thanks to Biossance and ShopStyle for sponsoring today's post!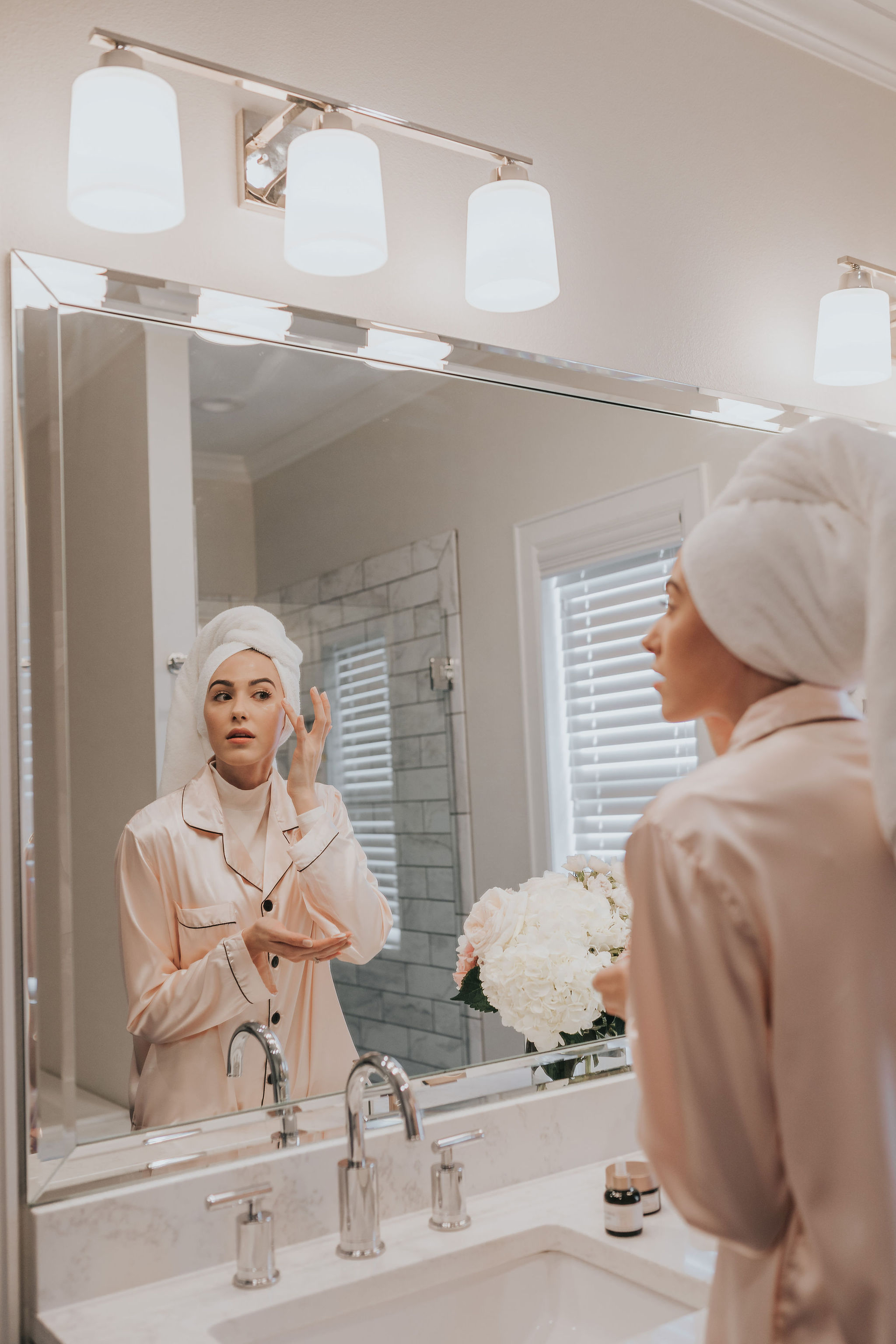 The party season is coming, ladies! From holiday celebrations to weddings, there are so many reasons to make sure our skin is in perfect condition right now! I fell in love with Biossance and I'm so excited to share some of my favorite products that I can use to keep my skin in check! Biossance takes clean beauty to a whole new level by formulating its products without parabens, synthetic fragrances and over 2,000 potentially toxic or questionable ingredients. They are vegan, animal-free, and EEC certified (that is, their products are free of chemicals that could harm your health!).
Use code WITHLOVELEENA25 for a 25% discount on everything except lip balm and eye gel that are already on sale!
Here are my top 5 tips for your next pampering party so that your skin becomes smooth and radiant for your next event!
peeling: This step is not negotiable for me before a big event! Depending on my current skin, I use either a physical peel like a sugar peel or a chemical peel like a lactic acid treatment! You can easily create a sugar scrub at home to achieve a perfectly smooth finish under the makeup!
hair removal: This step makes a big difference with makeup application! I always use a facial razor to get rid of every peach lint so my skin looks super smooth with the foundation. I promise you, it's a myth that your hair grows darker or thicker. I would highly recommend trying this out! 🙂
moisturize:
face: A good moisturizer is a must to make sure your skin is ready for makeup. The Biossance Squalen + Omega Repair Creme is an oil-free beaten texture that deeply moisturizes and plumps the skin! This cream is rich in good fats and gives you moist skin without becoming greasy or shiny.
eye area: Make sure that the area under the eyes is plump and moist so that your concealer does not look cake-like! The Biossance squalene + peptide eye gel Softens the appearance of fine lines and crepines and enhances the radiance of dewy, healthy-looking under-eyes. It's now 50% off for $ 25 (originally $ 54!) This sale ends TODAY 12/1! This is a cult favorite product and has NEVER been discounted like this before.
lips: It is crucial to heal cracked lips before an event! You don't want your lipstick to look cracked and flattering. I absolutely love it Squalen + Rose Vegan Lip Balm by Biossance! It is so luxurious and loving, has a shiny finish and looks like a lip gloss! Hyaluronic acid immediately moisturizes, makes the lips smooth and plump. It is so good!
lighten: Vitamin C is something I have included in my skin care routine to achieve a more even tone and fading hyperpigmentation overall! The Biossance Squalene + Vitamin C Rose Oil Brighten visibly with soluble vitamin C! I use this after my nightly skin care to trap moisture. The rose oil makes my skin look so moist and radiant! Perfect the night before a special occasion!
Hydrate: Drinking a ton of water to make your skin glow might sound clichéd. However, when you're dehydrated, the wrinkles are deeper and the skin really looks less thick. When you are well hydrated from the inside, your skin is at its best!
With love,
Leena
Note: We are not the author of this content. For the Authentic and complete version,
Check its Original Source