September is the worst month for stocks on average, but this September was a good month in which stock markets performed well. Bonds declined slightly and REITs performed well again.
September 2019 Market development
All index returns are total returns (including reinvestment of dividends) and are expressed in Canadian dollars, unless otherwise specified.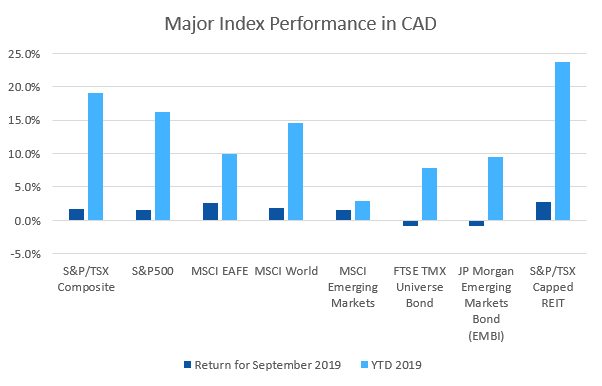 * Absolute return change, not the return on holding the security.
September was a good month for the stock markets. The S & P / TSX Composite gained + 1.7% over the month and returned + 19.1% for the year. In the US, both the large cap S & P500 and the small cap Russell 2000 rose + 1.9% (+ 20.6% and + 13.0% since the beginning of the year, respectively).
EAFE shares (Europe, Australasia & Far East) even outperformed + 3.2%; Specifically, European equities gained 3.0%. After Brexit did not come to an end, UK equities continued to surprise + 1.7%, up more than 10% in 2019. Emerging market equities gained + 1.3%, up slightly by + 5.5% in 2019.
Canadian bonds were one of the few negative points in September, the FTSE / TMX Universe Bond Index lost -0.8% and the FTSE / TMX Short-term Bond Index lost -0.4%. US bonds were mixed in September, while government and first-rate companies fell, while low-rated and high-yield indices were positive. Emerging market bonds slipped -0.8% and gained + 9.5% in 2019. REITs continued to perform well, returning + 2.7% in September and + 23.8% in 2019.
The headlines Commodities, Oil and Gold both fell in September. Oil fell -1.9% and gold -3.7%. Meanwhile, the diversified Bloomberg Commodities Index rose + 1.0% in September, bringing the return in 2019 to a not-so-inspiring + 1.4%.
The Canadian dollar (CAD) gained 0.4% against the US dollar and 1.3% against the euro.
Comment – by Gordon Ross, CFA
September is historically the worst month of the year for US equities. In September of this year, there were many crises that seemed to predict a terrible month: trade wars, impeachment announcements, attacks on oil fields, negative interest rates, etc.
At the end of the month, US equities had posted a positive return for the period. This kind of surprise is completely normal in markets for tradable securities. What can a person do?
The Ontario Securities Commission (OSC) says in its investor news newsletter that "this is the perfect time to learn how to make smart investment decisions." That's what they say about the markets. Check the registration and qualifications of your consultant. Have an action plan based on your goals and resources. Evaluate the impact of fees. Understand risk. Recognize the power of compounding. Understand diversification. Do not give up the selling pressure.
Note that it does not mention what the markets are doing? For most people, it is reasonable assumption that about half of the nest egg you receive will be what you have saved and the other half will be what the market returns have brought you. It's also important that you can forecast and manage the savings. The markets will do what they do and surprise everyone again and again.
ModernAdvisor takes care of all the issues voiced by the OSC to help you set reasonable goals and achieve them in any market environment.
September 2019 Economic Indicator Roundup
The following are the most recent key economic indicators: central bank rates, inflation, GDP and unemployment.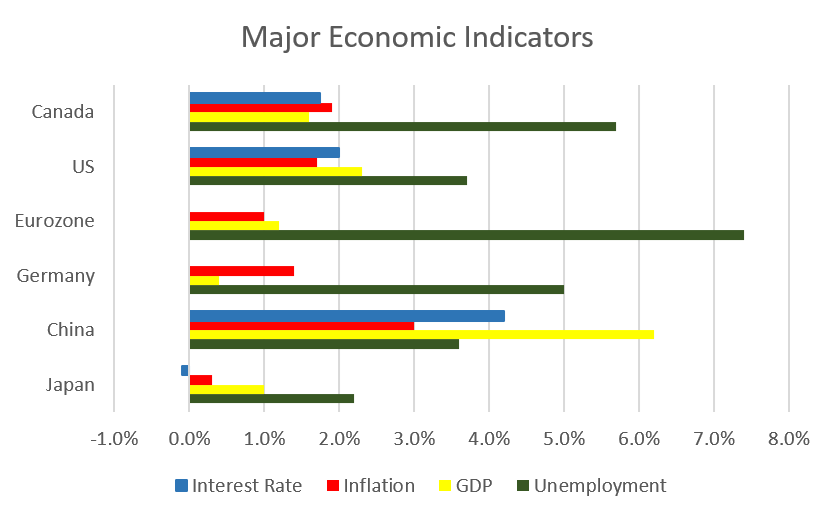 The following are the current levels of some of the other commonly traded economic indicators: retail sales and real estate market metrics.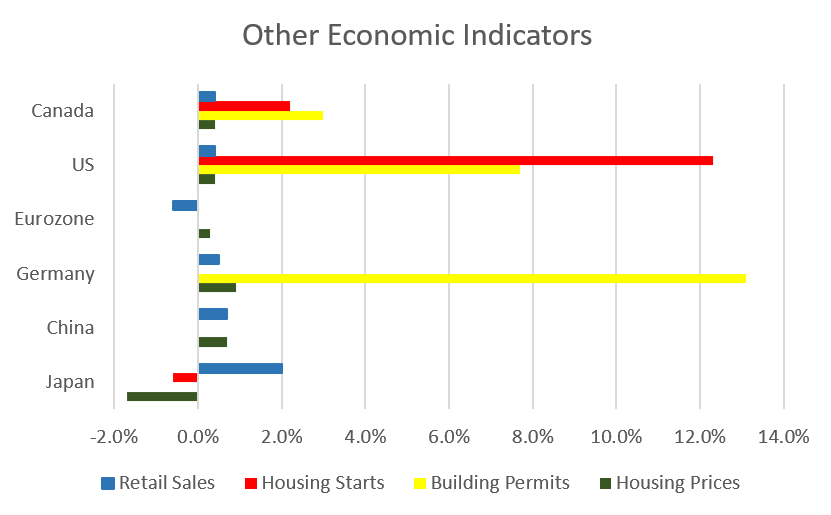 A closer look at the Canadian economy

The Canadian unemployment rate was unchanged at 5.7% in August, as 81,100 jobs were added. Of these, there were 23,800 full-time jobs and 57,300 part-time jobs.
Real estate prices across Canada rose + 0.7% in July, while Vancouver declined -0.8% yoyth consecutive flat or negative month. Seven of the other 10 major cities in the index rose, with Halifax (+ 1.8%), Ottawa (+ 1.7%) and Montreal (+ 1.1%) recording the largest increases.
The number of new buildings increased by + 2.2% to 226,800 units in August. The value of building permits issued in July rose + 3.0% to $ 8.4 billion.
August inflation stood at -0.1% and annualized + 1.9%. Core inflation excluding more variable items such as gasoline, natural gas, fruit and vegetables and mortgage rates was + 1.9%.
Retail sales increased by + 0.4% in July, the first increase in 3 months. Retail sales increased by + 1.2% year-on-year. Stronger sales were recorded by new car dealers, health and personal care markets as well as supermarkets. Cannabis Store sales increased + 14.3%, exceeding $ 100 million for the first time since legalization.
Canada's GDP remained unchanged in July. The goods-producing industry fell -0.7%, led by a -3.5% decline in mining, quarrying and oil and gas production. This is the biggest drop since May 2016. The services sector increased by 0.3%, the fifth consecutive monthly increase.
The Bank of Canada left its policy rate unchanged at its September 4 meeting. As inflation remains low, no change is expected well into 2020 (if at all).
* Sources: MSCI. FTSE. Morningstar Direct. trading economics
Note: We are not the author of this content. For the Authentic and complete version,
Check its Original Source