My wife and I had a hotel experience right at the DXB Airport Terminal 3. We had a relaxing 12 hour stay at the Dubai International Hotel, Concourse B. This was prior to our return to the Philippines.
Dubai International Hotel is available for transit passengers traveling to other destinations and having Dubai as a stopover. If you are in Dubai and fly with an Emirates carrier, you can check in 24 hours before departure, unless you fly to the US or Canada. (Please check this information from your travel agent).
This was our first time at the airport much, much earlier than our departure.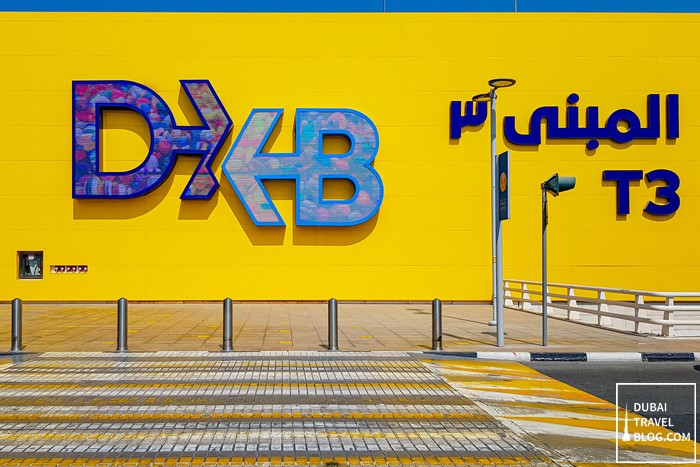 Dubai Airport Terminal 3
Ahlan Meet & Greet Service
Seth helped us until we entered our room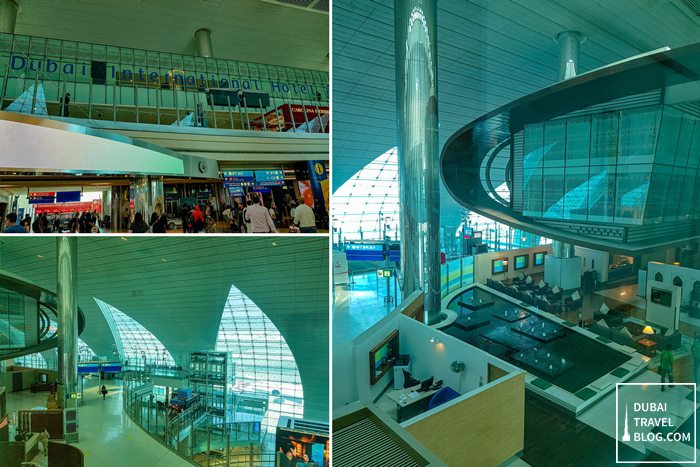 Dubai International Hotel
Dubai Airport Hotel – Dubai International Hotel Stay Experience – Terminal 3
Those looking for a comfortable rest in the comfort of a luxury hotel need not leave the airport or seek out other places in the terminal, as the Dubai International Hotel is a wonderful place to stay.
Ahlan Meet & Greet
An important tip if you are new to Dubai's huge airport is that the hotel has one Ahlan Meet & Greet Service available where the hotel can take you from the arrival to the plane / airport directly to your hotel room.
Seth was the one who helped us, and we eased ourselves past the immigration switches into our room. If you are new to the vast Dubai Airport Terminal 3, Ahlan's Meet & Greet service is definitely an easy way to get redirected to your place of rest.
check in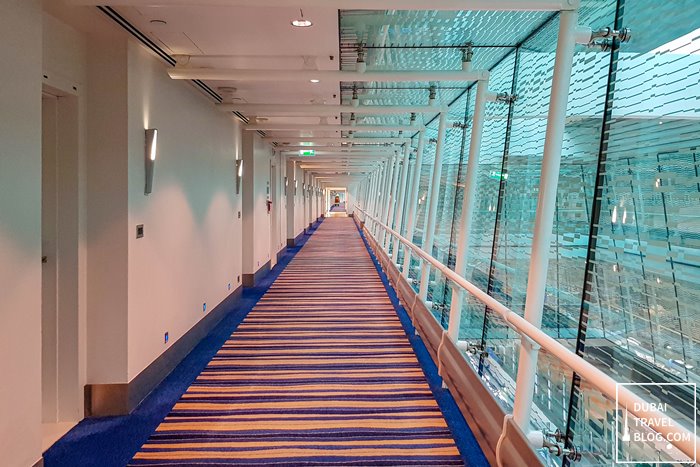 Hallway to the rooms
Bar in the hotel lobby
deluxe room
We checked into a deluxe room that is 32 square meters and quite large for me and my wife. As a guest you can choose according to your wishes between the following rooms:
5 Royal / Presidential Suites
56 junior suites
61 executive rooms
27 superior deluxe rooms
381 deluxe rooms
The room comes with a flat-screen TV, a minibar and a seating area with a sofa. There is Wi-Fi, ironing facilities, and tea and coffee making facilities. The room is pretty complete and something I did not expect.
Most importantly, the room is noiseless despite the busy airport. You can rest assured when you stay at the Dubai International Hotel.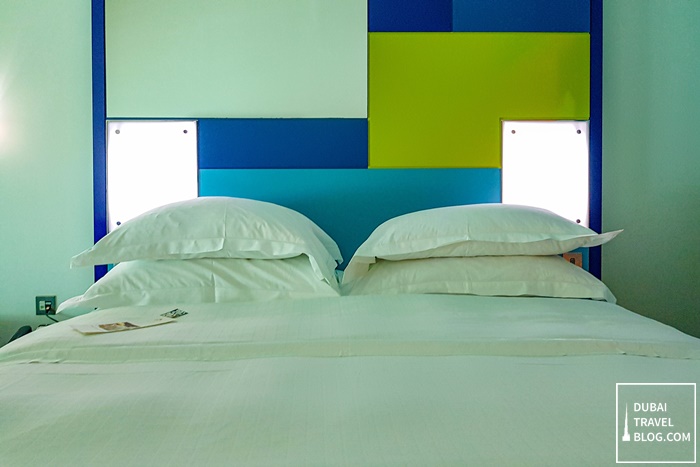 comfortable bed
in the room
the deluxe room
in the deluxe room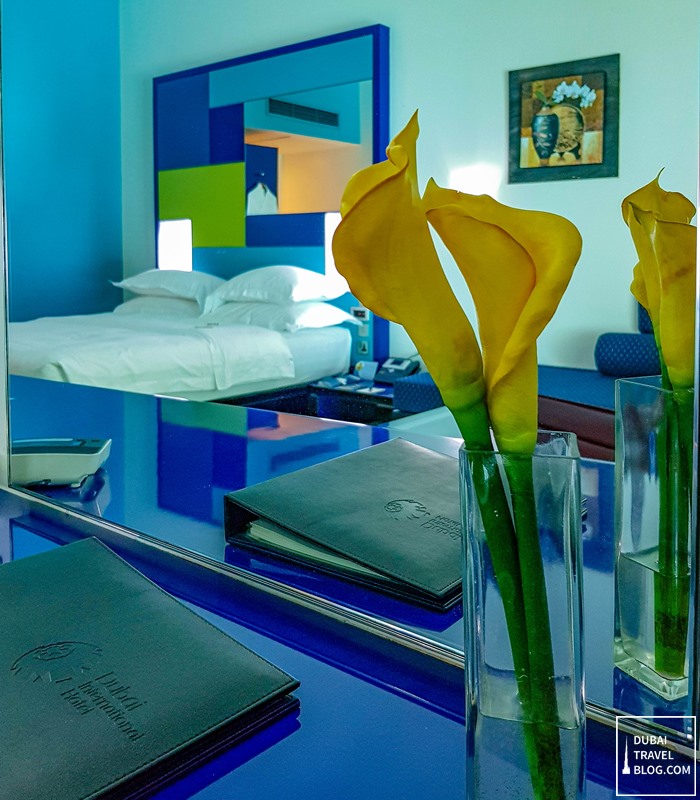 Dubai International Hotel
bath
The bathroom has a shower, free toiletries and a hairdryer. There are also bathrobes, towels, a bidet and slippers. The space is enough to refresh yourself.
Shower in the deluxe room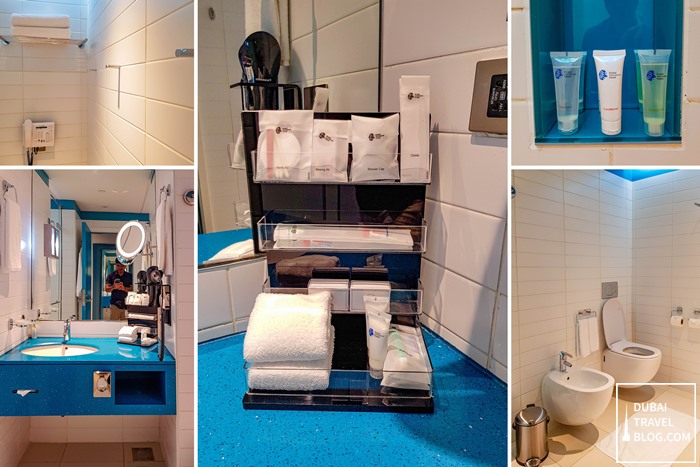 in the bathroom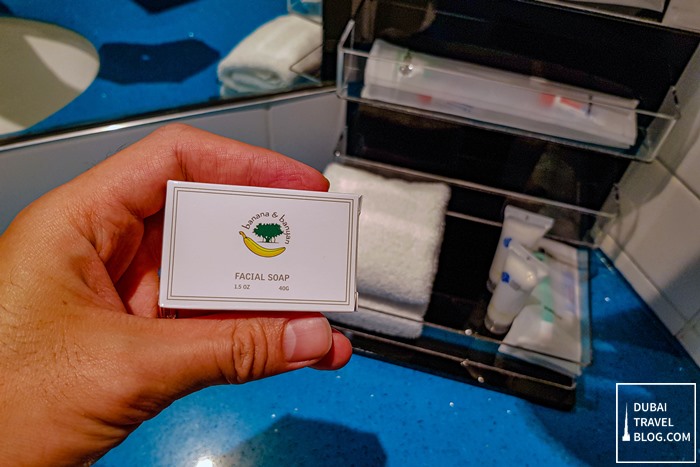 toiletry
G Force Gym & Fitness Center and Health Club
After checking in, we explored the hotel. We found out that there is an on-site gym and fitness center for those who want to stay active during a stopover.
The gym offers a decent place with good equipment for cardio and weight training. Just enough space to work up a sweat.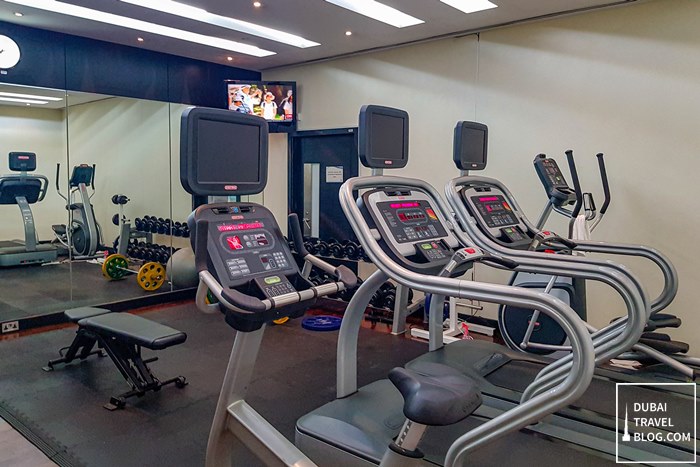 G power gymnastics
real gym at Dubai Airport at Dubai International Hotel
Indoor pool & health club
Dubai International Hotel also has an indoor pool and a separate fitness club for men and women. The health club is equipped with steam room, sauna and whirlpool. So you can be particularly pampered in this area.
I found that quite interesting as I would not expect this luxury to be in a busy airport.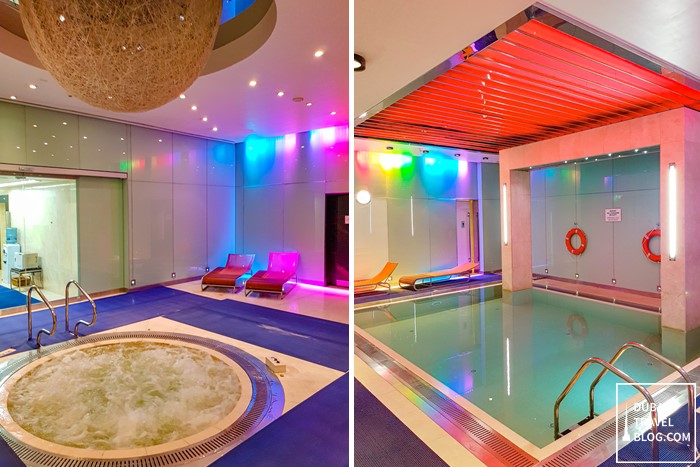 Whirlpool at Men's Health Club – mixed indoor pool at the airport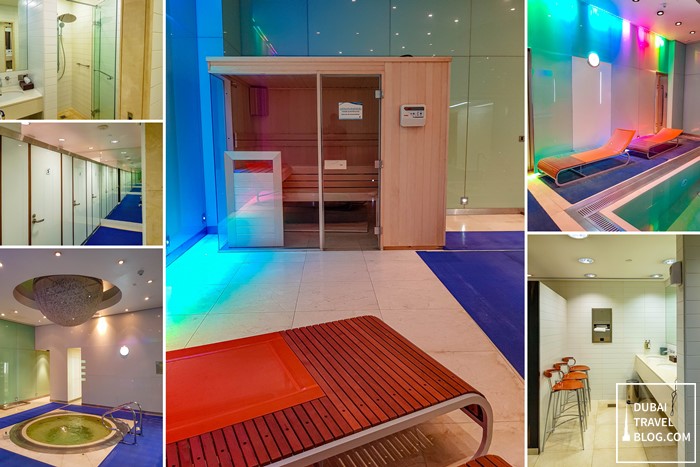 Wet area facilities
Timeless spa
For a first-class pampering experience, you can wash off the travel stress with a wide range of treatments at the Timeless Spa. The entrance to the spa was so calm and peaceful. They have a variety of therapy sessions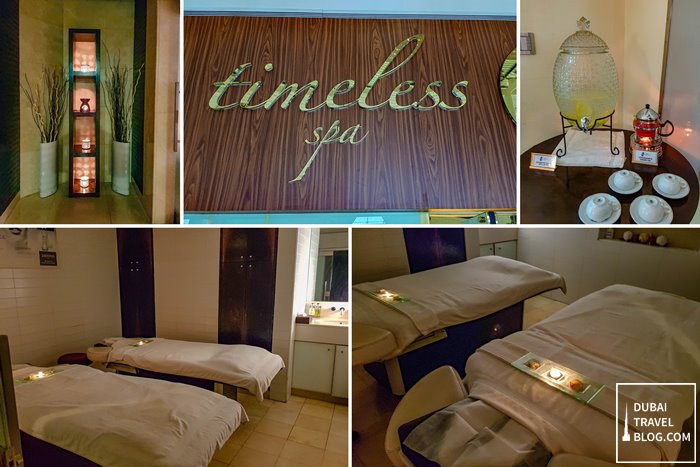 Timeless spa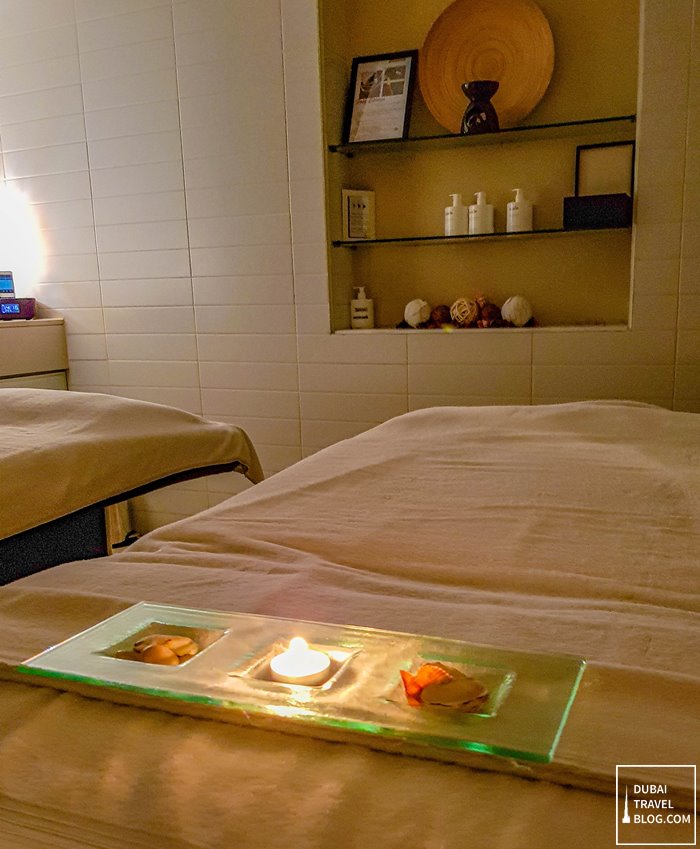 Massage at Dubai airport
Restaurants / Bars
Dubai International Hotel offers the following dining, bar and lounge dining options:
Cho Gao – a place where you can enjoy fresh Asian cuisine. Cho Gao is located between gates A6 and A7 at Concourse A "West Side".
Ahlan Lounge @B / Cadiz – Near the B26 gate, this restaurant serves an international buffet. A la carte dishes and a selection of fine wines and spirits are also available.
The gallery – offers an international buffet for breakfast, lunch and dinner. It offers a selection of dishes from continental, Indian, Asian and Arabic cuisines. A la carte dishes and a selection of fine wines and spirits are also available. The gallery is located near Gate B09.
Ahlan Business Class Lounge – The Ahlan Business Class Lounge at Concourse D offers a wide selection of food and beverages for business class passengers.
First Class Lounge – The Concourse D has a special lounge serving refreshments for First Class passengers.
Dining at Dubai Airport Terminal 3 Concourse B
We did not eat in any of the hotel restaurants. We decided to look for grocery stores in the terminal. In the end we had lunch and dinner in the morning The Daily DXB, Urban Street Food. We had pizza and pasta St. Mia during lunch and some fried chicken on The rest area,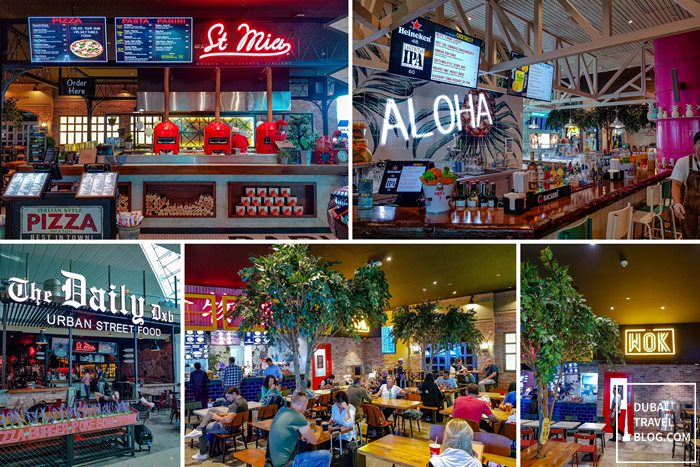 The Daily DXB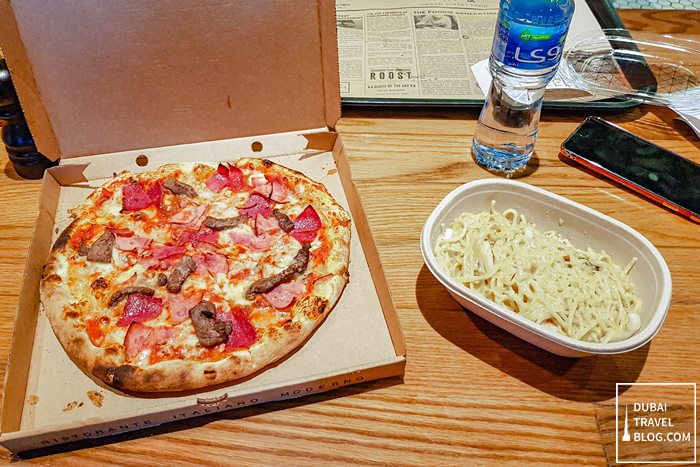 St. Mia – Pizza & Pasta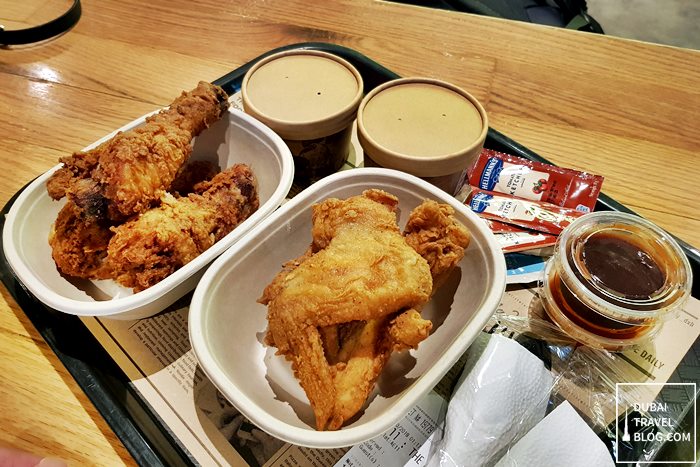 The Roost – recommended!
Video: Hotel stay at the Dubai International Hotel Airport
Watch the video below for a preview of events during our stay at the Dubai International Hotel:
(embed) https://www.youtube.com/watch?v=_DlJE_VDSKw (/ embed)
I am really glad that my wife and I were allowed to stay in the hotel before our flight. We have to stroll around Terminal 3 a bit without having to hurry. We had to refresh ourselves before our 9-hour flight and take a refreshing shower.
It was an unforgettable stay, even though it took less than a day. For transit passengers, this is definitely a place where you can rest.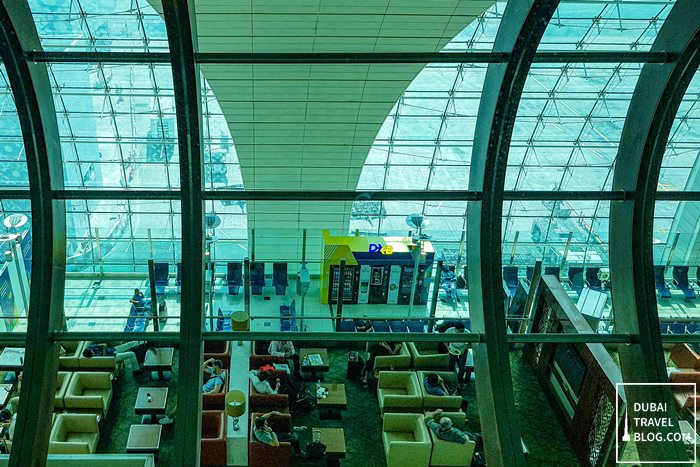 View from our room
Contact information
Dubai International Hotel – Hall B
Address: Terminal 3, Dubai International Airport, United Arab Emirates
Contact number: +971 4 224 4000
Website: dubaiintlhotels.com
Instagram: @dubaiinternationalhotel
Facebook: @DubaiInternationalHotel
Twitter: @dubaiintlhotel
Google map location
Below is a map guide to the location of the hotel. When you use the Ahlan Meet & Greet service, the staff will guide you to the hotel and you do not have to worry about the location, especially if you're new to Dubai's vast airport.
Note: We are not the author of this content. For the Authentic and complete version,
Check its Original Source