It is
at this time of year, literally publishing all the data and reports for the internet
Back-to-school period (SELF-PROMOTION KLAXON: search for my new newspaper
Performance-based funding of post-secondary education from CD Howe
Institute Tuesday next week). In the next few days we will a
deep insight into the Canadian university finances; but today I wanted to leave
through some of the highlights of this year Education at a glance from
the OECD that fell yesterday morning and that you can read here for free,
These
Annual Edition contains some interesting information specific to tertiary education
Education, especially in terms of admission systems, differences in
Results between doctoral students and master's graduates as well as graduation rates.
Strangely enough, Canada does not seem to have participated in most of these events, either
However, the census and the LFS provide clear data on information about graduates.
Strangely enough, we have only given partial data for graduation rates. These
Sections are worth reading – especially the section on approvals (from page
446) – though I will not go into detail because I will be tempted to do justice
Start complaining about Statscan and you probably all have enough of it.
(Even if you want more, this should be the trick.)
Other
Highlights of the report are the fact that Canada for another year
World leader in total expenditure on post-secondary education as
percentage of the economy (total 2.3%, divided between public and private)
Private). We are also by far the largest consumer in terms of percentage
"Short-cycle tertiary" (ie colleges and colleges), six times
OECD average of 0.1% of GDP. In fact, not only do we spend the most
In this area we also find among the highest enrollments in the industry
Short course probably the determining feature of
Canadian University System. That's clear with such a large sector
Entry paths into a range of middle-income occupations are also an integral part of
our success in tackling the extreme income inequality we see
in the US or in the UK.
Figure 1: Total expenditure on higher education as a percentage of gross domestic product by program duration, selected OECD countries, 2016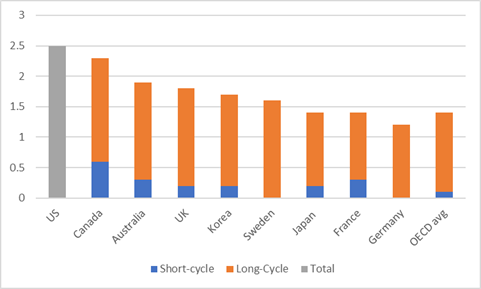 Some of my regular Twitter
Interlocutors (hello Gavin!) Annoy me and say: "Canada spends a lot of money
Education "based on graphics as in Figure 1. They say you can only
Measure this amount of expenditure based on the dollar per student.
Figure 2 shows the following:
Figure 2: Total expenditure (public and private) per tertiary tertiary student, in US dollars PPP, 2016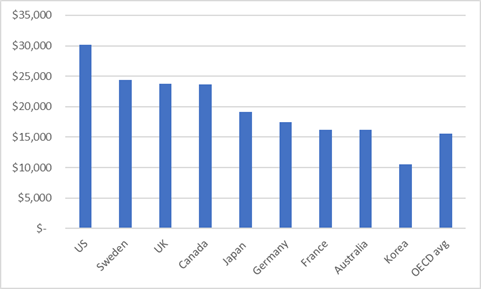 Obviously this shows a bit
different story. The US looks better in this regard because they have GDP per capita
is bigger than everyone else. Korea looks worse, also because it has one
lower per capita GDP and also because it has proportionally much more
Students as all others and therefore has to spread the money thinner. Vice versa,
Sweden and Germany look better because they form something proportional
less students than anyone else, and allocate resources to less
Students. One might be tempted to say that Canada does not do so because of this measure
look so good.
But wait! Figure 2 shows the sum
Expenses over both Short and long term lessons. Since the
The latter is usually more expensive than the former
Canada's overall ranking in this regard suffers because it trains so many
Students in colleges. In fact, this is more or less the case (see illustration
3).
Figure 3 – Total expenditure (public and private) per RTD long-term student in US dollars (PPP), 2016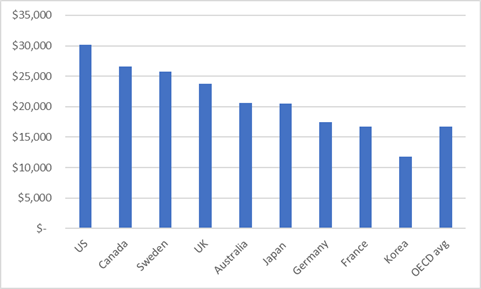 A few things to keep in mind here:
The US figure is probably a bit reluctant because they decide against it
distinguish between spending for long and short periods (officially American)
Believe that everyone in 2-year colleges studies for Associates Degree could
indeed going for a 4-year graduation, which is madness, but whatever). The
means that community colleges are counted in the data for that number; logical, if
If you remove them, the average increases. Australia and Canada follow suit
significant in this calculation – in our case, up to a clear # 2 among the big OECD
Spending per student in different countries – while the rest remains pretty consistent.
This is mainly because the short cycle systems of other countries either small or
is non-existent and therefore does not greatly affect the average.
Let's have the same thing for fun
Data, but only for short-cycle / college programs.
Figure 4 – Total Expenditure (Public and Private) per FTE Short-Cycle / College Student in US Dollars PPP, 2016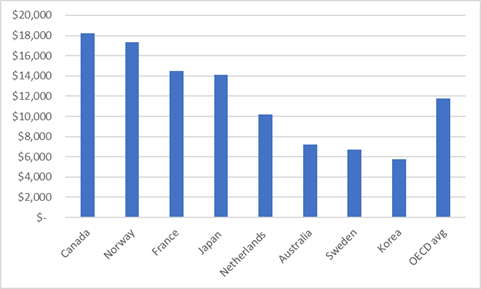 A few countries that we have looked at before
had to leave the list here: the US, because they do not report a community
Universities separated, Germany, because they have no short-cycle institutions
(Apprenticeships are considered part of the secondary education system, not the
post-secondary system) and the UK … well, I do not really understand why the UK
Apparently, there are no short-term programs according to OECD definitions, because
Your FE sector looks pretty short for me. As such, they were removed
and instead I added Norway and the Netherlands. The result: Canada comes out
above! Based on this measure, we * have * the * best-funded short-cycle / community
College system among major industrialized countries, along with the # 2 best-funded
Higher education system.
That's a good thing, of course. It
speaks to our national commitment to education. But – and I know, I keep going
this every year, but it is true – it also raises real questions about why
Everyone claims to be underfunded. With whom exactly? And why do others
Countries seem to achieve similar results with less money than we do?
Data is like mirror. We
should sometimes look into it and ask hard questions.
Note: We are not the author of this content. For the Authentic and complete version,
Check its Original Source