Before you go! Share this content on any social media platform

URGENTLY! Help is needed!
MES! Rescuers! # MCHSRossiya # MCHSKazakhstan
Buran bombarded my girlfriend Alena Inozemtseva and her friends on the border of Kazakhstan
Here is what was learned from her:
"From 13 o'clock we stand in the steppe 3 km from the customs of Kazakhstan (on the territory of Kazakhstan). Strong snowstorm. Technique can not reach us.
Wind 20m / s. At a temperature of -3, it feels like all -15.
On foot is not an option, the road is not visible at all, a solid white steppe, and the clothes are all wet for the first three hours, we honestly pushed and dug.
According to our calculations, gasoline may not be enough until the morning. We are in the car 5 people, all citizens of Russia. Together with us about 10 cars still stuck here.
The connection is not stable, it appears and disappears … the batteries of the phones are running out …
We called in GLONASS but nobody hurries to save us. Friends called the Russian Emergencies Ministry, they said that they had no right to rescue in the territory of another country.
Please save us!
Our location:
Distance to # Tastala 30 km
To Dostyk 15 km
KZ customs 2-4 km
We stand between customs and # Dostyk
And from Tuskala, the carriers called and said that 3 units of equipment (this is the whole fleet of this Tuskala) are stuck and standing.
And we call. And in the Ministry of Emergency Situations and in GLONASS. And nothing!!!!"
Friends! Can anyone have contacts in the EMERCOM of Russia or Kazakhstan?
Help me please!
Thanks for the repost!
Upd: we wrote letters, we cannot get through to Astana Emergencies Ministry. Alena has stopped communicating. Maybe the batteries are safeguarded, and maybe the phones have already sat down … in such a wind everything is quickly discharged
UPD2: Alain got in touch. "We are warming the car for 20 minutes per hour. Dressed in all the clothes. While the car is warming we cheer and chat. And when we cool down, we sleep.
Someone said that six units of equipment were driving up to Taskala. But the information is not verified until there is no real action. "
Upd 3: 0.38 – Buran all lutuet. No technique yet visible. Many thanks to all who have already engaged their contacts and contacts. But apparently more efforts are needed. So far there is no real change.
UPD 4: 0.59 according to unverified information 6 machines of special equipment that went to them, everyone got stuck, roter and so on, I think jeeps (Alert) will not get there
# Urgently # MES # News # NCUKS
All hope for the National Center of EMERCOM of Russia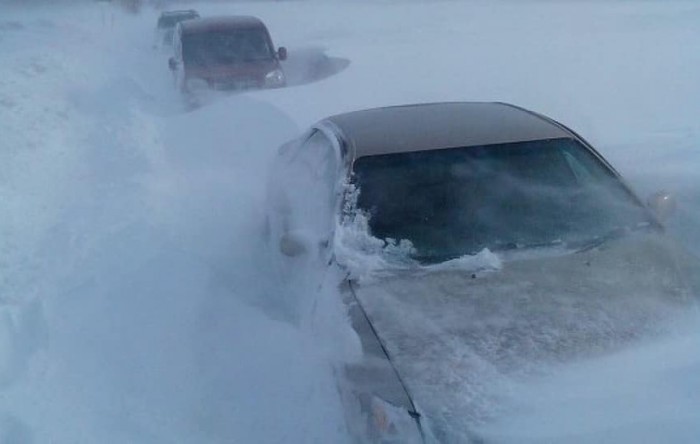 Before you go! Share this content on any social media platform

Source link