Before you go! Share this content on any social media platform

Huawei Chairman of the Board of Directors Guo Ping recently spoke to the participants of MWC 2019 about the abandonment of Huawei's 5G equipment, cyber espionage accusations against her and calling on the allies not to buy Huawei's equipment or services. This call was followed by some countries, including Australia, which prohibited operators from using the telecommunications equipment of the Chinese giant.
But the matter did not end there, and Mr. Ping again took the floor to comment on the next charges against his company, let us recall the latest statements by the leaders of the United States:
According to the Chinese leader, Washington has been trying to tarnish Huawei for many years, although until recently these attacks were restrained to some extent. More in the report of the Committee of the House of Representatives of the US Congress on Intelligence in 2012, the company was called a threat. But now the accusations against Huawei and the actions of the American government have become very harsh, and the company is completely called a danger to all of Western civilization. Why?
The 2010 NSA report states: "Many subjects of interest to us communicate using Huawei products. We want to be sure that we know how to use these products for our own purposes. " It is clear that the more Huawei equipment is installed in communication networks around the world, the more difficult it is for the NSA to "get everything". In other words, Huawei prevents the United States from spying on everyone. This is the main reason we were attacked."- said the head of Huawei.
As the second reason, Guo Ping called the leadership of his company in the field of 5G mobile communication technologies, which are designed to ensure the information connection of any objects – from smart factories to power grids. Huawei has actively invested in research in the field of 5G over the past 10 years and now, as the manager points out, is ahead of the competition by about a year, so its products are attractive to countries preparing to upgrade their networks to the 5G generation in the coming months.
The head of Huawei noted that The lack of Huawei 5G equipment on the international market will allow Americans to continue to spy on people around the world. He also recalled that US law forces telecommunications companies to help the US government as part of an international surveillance program.– if only the order was presented as counterintelligence activity or the fight against terrorism.
"The harsh, critical attacks on Huawei are a direct result of Washington's understanding of its country's lagging behind in the development of strategic technology. The international campaign against Huawei has nothing to do with security and is due only to America's desire to suppress the technological competitor that is gaining momentum, "Mr. Ping summed up his sharp rebuke.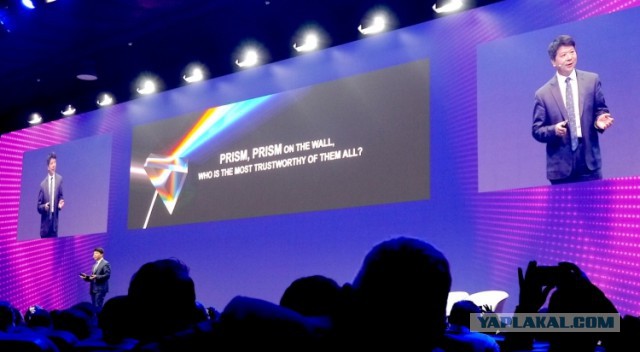 Before you go! Share this content on any social media platform

Source link