Before you go! Share this content on any social media platform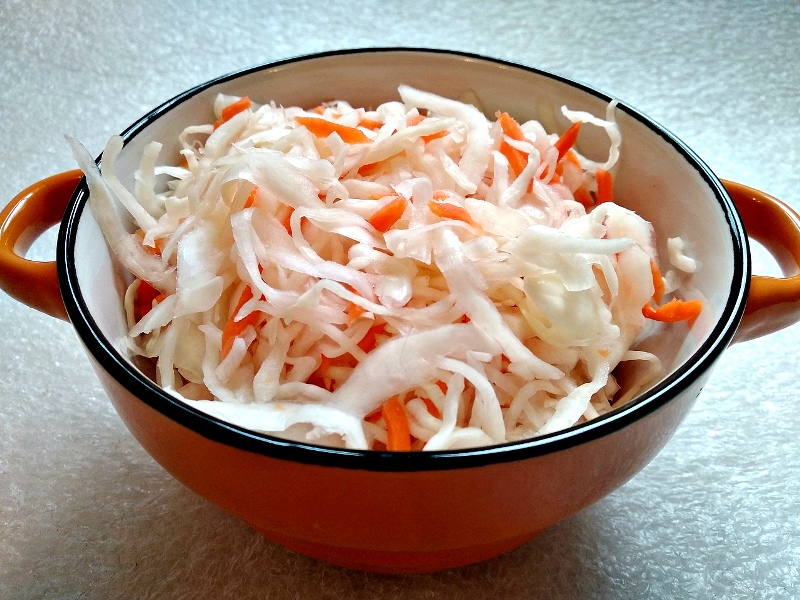 Ferment cabbage can be a variety of ways. But the recipe for the classic, well-known, sauerkraut, is very simple. With minimal labor and money you can get a tasty and healthy product.
At home, cabbage is most conveniently sour in a large saucepan with a capacity of at least five liters. You will need a basin made of plastic for food or enameled. A sharp long knife, and better a special shredder – the cabbage on it is smooth, beautiful, and the cutting process itself is faster.
Of the products required:
shredded white cabbage 3-4 kg
shredded carrots
salt coarse
You can use the usual fine salt, but with coarse cabbage turns juicier.
Wash all utensils and tools with hot water. Remove the top leaves from the cabbage. Cut cabbage with a knife into long narrow strips or chop straight into the pelvis. It is not necessary to cut the stump, it is thrown together with the upper leaves.
Wash carrots, peel and grate on a coarse grater. Add to cabbage and mix well. Weigh the resulting mass. Put the salt at the rate of 25 grams per kilogram of cabbage mass. 25 grams of salt is about a tablespoon of medium size without a slide.
Mix well and mash the cabbage with your hands so that a lot of juice appears. Now put the whole mass into the pan and tamp as much as possible. This can be done with wooden tolkushkoy or just hands clenched into fists. At the same time, the juice should perform well on the surface.
The cabbage must be completely covered with juice during the whole ferment process. To do this, press it with a wooden circle, the diameter of which is a couple of centimeters smaller than the diameter of the pan, or just a flat plate of suitable size. Above it is necessary to put the load. Ideally, this is a flat stone, and if there is none, you can pour water into a small glass jar, close the screw cap well, and press it down.
Cover the saucepan with cabbage and put it in a warm place. Best of all fermentation occurs at a temperature of 22-25 degrees. In the sourdough process, abundant foam appears on the surface of the juice. It is not necessary to remove it, but every day it is necessary to pierce the whole mass in several places and to the very bottom with a wooden stick in order to remove excess carbon dioxide. When the foam disappears, and the cabbage acquires a pleasant sour smell, it is ready. It happens approximately on the seventh day.
When laying cabbage on sourdough, you can put in it various additives that will give it a piquancy and flavor. For example, cranberries or Antonov apples. In another embodiment, you can add cumin, bay leaf, allspice, dill seed. Here you need to focus on your own taste preferences.
Before you go! Share this content on any social media platform

Source link