Before you go! Share this content on any social media platform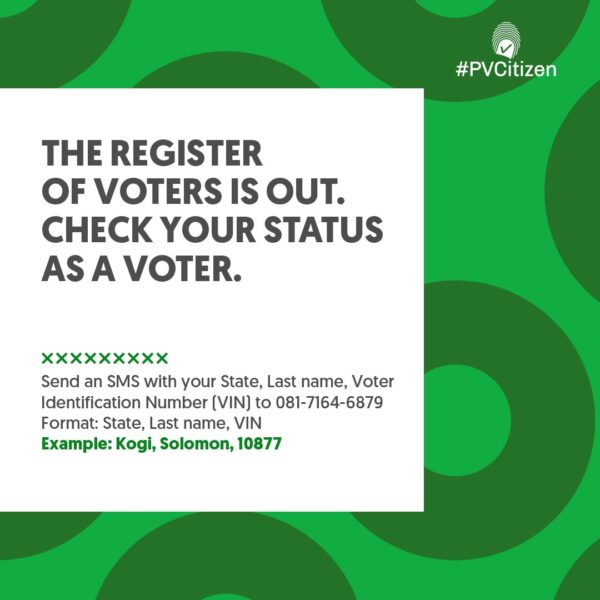 We've already discussed how you can confirm your name on the Voter Register Verification Platform.
There are ways, though, to manually check.
Have you walked past your constituency and noticed passports of people posted somewhere on the wall. It's hard to miss but easy to dismiss.
What it actually is is the voters register of the constituency.
If you registered at that center, your picture should be up on that wall.
What you need to do is go up to that wall to confirm. Of course, it's possible that the list has been left exposed and the rain and sun have beaten it useless. So it may be hard to find your name.
You can also verify your name by sending an SMS to 0817-164-6879.
Send your state of registration, your surname, and your Voter Identification Number (VIN) to 0817-164-6879.
That's something like: Osun, Nwosu, 10877 to 0817-164-6879.
To be absolutely sure, you can still check the Voter Register Verification Platform, and simply fill the forms.
Please, please, please let's make the effort, if not for us or for Nigeria, then for the future generation.
Before you go! Share this content on any social media platform

Source link
SOURCE: TORI.NG TMZ.COM BELLANAIJA.COM POLITICSNGR.COM
STELLADIMOKOKORKUS.COM LINDAIKEJISBLOG.COM
WITHINNIGERIA.COM NAIJABLITZ.COM STARGIST.COM
JOELSBLOG.COM.NG YABALEFTONLINE.NG CELEBNEWS.COM
AMONPOINTTV.COM NIGERIANFINDER.COM
SAHARAREPORTERS.COM CORRECTBAE.NG LIFEHACKER.COM
PEREZHILTON.COM NIGERIATODAY.NG BAYDORZBLOGNG.COM
SPYNIGERIA.NG AUTOJOSH.COM