Before you go! Share this content on any social media platform

Constantly I hear about the demographic hole. The fact that the birth rate in Russia is falling and that they have come here. Gone up – this is very bad and dangerous. This is tragically reported by both demographers and deputies. Tops on this occasion are sad, sometimes even panic. Siberia inhabited by the Chinese. Sakhalin will go to the Japanese. Wise leaders are convinced that in order to save the country, everyone needs to give birth urgently. At least two, but better than three. You have to be patriots and all that. Otherwise bad economy. Otherwise, soon all of us … shorter die out like Indians.
Power makes decisions. But it seems not those. I've come here that is not decreasing, and the birth rate is not growing stubbornly. The truth is not everywhere. In Dagestan, Ingushetia and even Chechnya, this is all good. But in Tula, Pskov or Tver they do not want to give birth stubbornly, and there they are only cheerfully reducing.
The government moves pompous slogans. Generates ideas. Distributes Far Eastern hectares. It is proud of its parent capital, gives large families free parking and even travel to the subway, but strategically nothing changes. Rural Russia is gradually turning into a desert, the electorate flows into several dozen major cities. The population of the Russian regions, excluding immigrants from Central Asia, is inexorably falling. And can, in principle, the situation change with such an attitude in the country to having many children?
The population of the country is now concentrated only in the million. Large cities have become even bigger, small ones have ground up – the main trend of the last decade. It is they who are growing in number – Moscow, St. Petersburg, Novosibirsk, Krasnodar, where the price tags on space are. .
Studios there are more accessible and more fashionable. But in the studio to live with two children suicide. Buy treshku already mortgage bondage for many years. To buy a large apartment is cheaper in small cities. But in small towns, money is tight and they quietly disappear. And the smaller the size of the city, the faster the population decline in it. Young people, choking in this mud, by all means are trying to escape from them to where they pay. And now they pay more or less in Moscow. To Moscow! to Moscow!! To Moscow!!!. Since the days of Chekhov, it seems that nothing has changed. Those who wish to survive are leaving. There are only old men and those who lowered their hands. Controversial joy to live in a dying city. Among cities with a population of less than 5 thousand people. the average decline is 14.5%.
City Gdov – In 2011, the population of 4331 people. And in 2018, already 3542 people. Minus 22% for 6 years. Plyos City – In 2011, 2,300 people. In 2017, there are already 1796 people. Minus 28% for 6 years. Although in bigger cities the situation is not much better. In the city of Kovrov – In 2011, the population was 145,126 people. In 2017, already 138552 people. Minus 5%. Rybinsk – In 2011, the population was 200800, and in 2017 already 190429 people. Minus 5%.
Any Aprelevka, Mytishchi, as well as Zvenigorod, Vsevolozhsk, Lobnya, Ivanteevka, Sosnoborsk, Vidnoye and other joys of statisticians and officials should not be taken into account. It has long been no longer a city, but the suburbs of megacities. In fact, the same Moscow or St. Petersburg only without the subway. Such ultra-long sleeping areas are cheaper. Where people buy apartments from despair.
Small cities disappear from meager wages, from the lack of qualified medicine, from the lack of institutions, music schools. From the absence of any perspective and future. Who wants to give birth in such hopelessness? Disappear also, as before tens of thousands of villages disappeared. Now it's time for small cities. The process did not stop, he moved to another level.
In million people it is possible that people would be happy to give birth, since life here is in full swing. But where to live with six children? In standard treshka with one bathroom, on the 17th floor of the new building? And who needs to be to endure such conditions.
In fact, the state clearly outlined the urban standard of the family. Maximum of two children. Not more. This is the standard for which the entire urban structure of one million people is imprisoned. The share of studios and one-room apartments in the primary market is about 35%. Two-room apartments – about 40%, three-room apartments – 20%. And in recent years there has been a clear trend towards a decrease in living space. Builders at times increased the offer of small apartments in Moscow. That is, even at the design stage of new neighborhoods, a third of the housing is immediately rendered childless.
By the way, it's easier for them to get a loan for an apartment. They have no dependents. And if there are five children, the bank already frowns. My ability to give credit drops sharply. Plus the unemployed wife is the sixth dependent. Chances tend to zero. And the state has nothing to do with it. These are the affairs of the bank and the borrower. Therefore, in the cities will give birth even less. And since people are now being artificially driven into cities, the population (in any case, the indigenous) will fall in the future. Small living space, small income. Dad, mom, I'm a miniature family. And how do you want? People need to somehow survive. Plans of the state and its Wishlist separately – life separately.
In the dead of clogged yards machines, where the child must be held by the hand. Walk and be alert. The cost of dental care, sports clubs, college fees, tutors. Minor porches – where to keep strollers, bicycles, skis, sleds and other joys of children? Polo, Rio, Vesta or Creta cars for four. More space is required – the tax will grow. The price of children's clothes, toys, diapers, food … even utilities on the counter. Children wash every day. More children – pay more. All honest ..
Metro and electric trains without toilets. (Funny iron cabs do not count). 21 century. But trains are still without toilets. Suffer to the nearest McDonald's or burger king. Suffer it yourself and tell the children not to drink before the trip. The device itself trains as if signals – Children are not the place! Here adult uncles and aunts should go to work.
All expenses, taxes, sizes are sharpened and artificially adjusted to a standard family of up to five people. Although the three children in the standard treshka, this is already a mission difficult and unambiguous feat of parents. Therefore, there are naturally few heroes. Therefore, the indigenous Russia naturally extinguishes. We are following in the footsteps of little brothers from Bulgaria, Serbia and other civilized Hungary. The state declares, but does not create conditions. The state pyzhitsya, but can not. And maybe he does not want. Does everything on unhook and milks.
The country has already developed a national idea – to make money at any cost and quickly. At the same time earn in such a way as not to work. Therefore, business youth is flourishing. Blue Ocean. But children in the family take money, take time, energy. This is a scarlet ocean. Raising children is selfless work. This is an anti business. What is the business of solid costs?
Everything is natural. What we strive for and get. We strive in the total mass for money, for resorts, for an easy life, which means we will come to this. But the flip side of the medal will be fewer and fewer children. Cities will grow. Fertility will fall. Who wants to give birth in a stone ghetto? Russian regions will die out further. It's unavoidable.
Until the state intervenes. But it is much easier for him to replace the population with migrants. How it is done for a long time Germany, England, Norway, Sweden. Power since the days of Peter so seeks to be similar to the developed countries. Holland, as a banner. True, the country will be different at the same time ..
By the age of 50 having raised seven children, I came to the firm conviction that the state, and in general our society, in spite of all the programs of maternity capital and calls for strengthening the family, somewhere deep down does not support the idea of ​​a family with many children. ist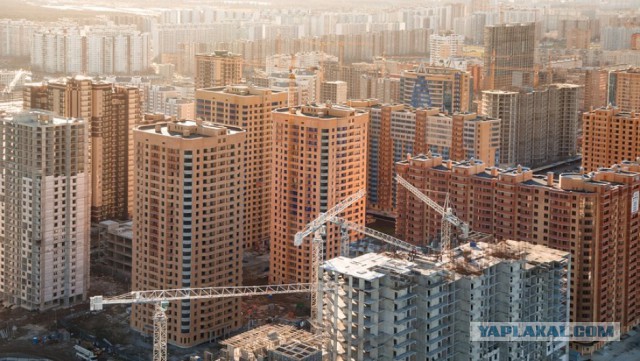 Before you go! Share this content on any social media platform

Source link