Before you go! Share this content on any social media platform

An exquisite dessert of thin pancakes and chocolate filling that is hidden in the mouth will not leave indifferent any sweet tooth. Cooking such a cake is not at all difficult.
You will need
For the test:
– 300 g wheat flour
– 500 ml of milk
– 3 chicken eggs
– a pinch of salt
For mousse:
– 500 g heavy cream (fat content of 33%)
– 150 g of high quality dark chocolate (with a high cocoa content)
– 15 g of cocoa powder
– 50 ml of boiled water
To decorate:
– nuts, cocoa powder, chocolate
Instruction
For pancakes, knead the dough of sifted flour, milk and eggs, add a pinch of salt. mix thoroughly to avoid lumps.
In a pre-heated pan, bake 20 thin pancakes. Do not forget from time to time to lubricate the surface of the pan with a thin layer of vegetable oil.
For chocolate mousse, dilute cocoa powder with water. Chocolate melt in a water bath or in the microwave, add to cocoa.
Using a mixer, whip the cream until stable peaks, add the chocolate mass and continue to beat until a mousse is obtained.
Lay out pancakes with mousse and put them in a pile. Cover the top of the cake with the remains of mousse, and then decorate with nuts, sprinkle with cocoa or melted chocolate. Before serving, put the cake in the fridge for a while.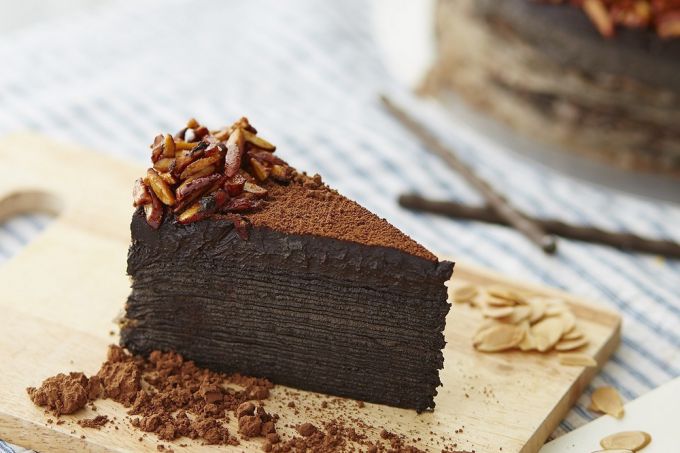 Print out
How to cook a pancake cake with chocolate mousse
Before you go! Share this content on any social media platform

Source link