Before you go! Share this content on any social media platform

Pumpkin – one of the most useful vegetables, it can be safely called the Queen of Autumn. From it you can cook a huge amount of incredibly delicious dishes. Recipes for pumpkin dishes are very simple and do not require a lot of cost and time. In addition, pumpkin is very useful, since it has a large amount of vitamins, amino acids and minerals, such as zinc, magnesium, copper, calcium, phosphorus and iodine.
You will need
• Pumpkin (peeled) – 500 g
• Sour cream – 200 g
• Water (cold) – 20-30 ml
• Vegetable oil – 2 tbsp.
• Garlic – 2-3 tooth.
• Paprika – 0.5 tsp.
• Dill
• Parsley
• Cilantro
• Ground black pepper
• salt
Instruction
First, prepare sour cream sauce: finely chop the greens, add it to the sour cream, squeeze the garlic in the same place, add salt, pepper to taste and paprika, mix everything and set aside.
From the pumpkin, remove the seeds, peel and cut into cubes of 1.5-2 cm.
In a heated pan, pour the vegetable oil and fry the pumpkin until golden brown for 5 minutes.
Then add the sauce, stir, simmer for 2-3 minutes, add water, salt, cover and simmer for about 5 minutes.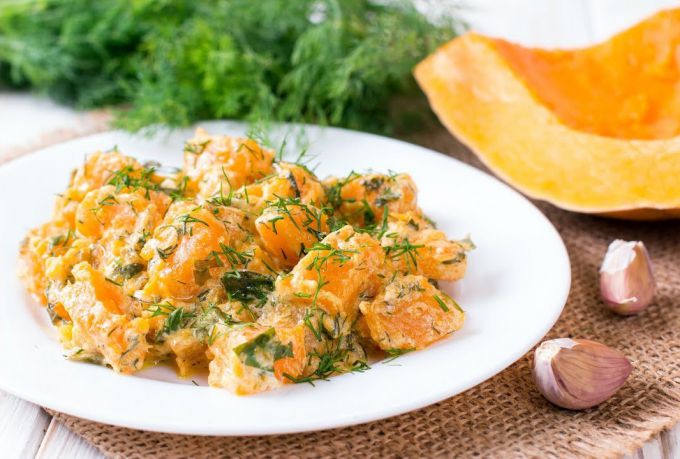 Helpful advice
This dish can be a snack, side dish or a light dinner. It goes well with meat and fish dishes.
Print out
How to cook a pumpkin in sour cream sauce
Before you go! Share this content on any social media platform

Source link