Before you go! Share this content on any social media platform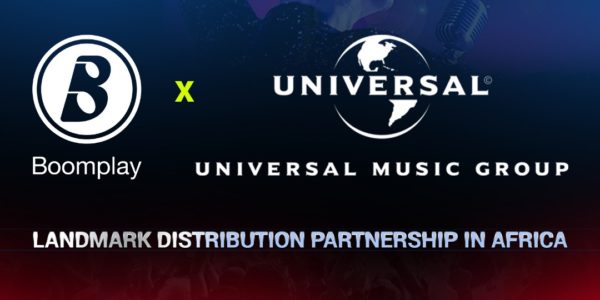 boom Play, Africa's premier music streaming and download service, and Universal Music Group (UMG), the world leader in music-based entertainment, today announced the signing of a landmark multi-market licensing agreement in Africa.
UMG is the first major music company to license its catalog of boom play, which has quickly established itself as the most popular streaming service in Africa. Under the terms of the multiyear contract, Boomplay will now distribute music from UMG's world-renowned labels via its streaming and downloading platform in Nigeria, Ghana, Kenya, Tanzania, Rwanda, Uganda and Zambia. Boomplay currently offers more than two million songs and thousands of music videos for more than 36 million users, with nearly two million new users added each month.
Users now have access to UMG's extensive catalog of local and global artists, including Eminem, Tekno, Post Malone, Nick Wayne, Lilly, Bob Marley, Brenda Fassie, Lady Zamar, Wurld, J. Coli, dr. Tumi, Nasty C, 6lack, Diana Ross, Hugo Masekela, Jon Bellion, Larry Gaaga, Tamia, Maroon 5, Aka & Anatii, TJAN, Jah Prayzah, Nonso Bassey, Mafikizolo, Cina Soul, Ella Mai and Mr. Eazi.
Earlier this year, UMG announced the founding of Universal Music Nigeria, a new division in West Africa that offers artists extensive opportunities in the region, providing pan-African talent the best possible launch pad for broader international success. UMG is increasingly focusing on the growth of the entire African music ecosystem, including music recording, music publishing, production, live events, brand partnerships and merchandising activities.
Adam Granite, Universal Music Group's Executive Vice President, Market Development, said, "We look forward to working with Boomplay as we provide our African artists with a range of creative, marketing and promotional materials to accelerate their careers in this dynamic and growing music market. This agreement will help UMG artists reach new audiences while enhancing the African streaming experience for music fans, artists and songwriters. "
"This partnership extends our reach and makes the music of our artists available to millions of African music lovers," said Ezegozie Eze Jr.General Manager of Universal Music Nigeria, "We are pleased to be the first global music company to partner with Boomplay and look forward to bringing the extraordinary creativity of our artists to as many African users as possible."
Boomplay CEO, Joe HeSays that Boomplay will continue to build partnerships that will enrich the digital ecosystem and connect music lovers to their favorite songs anytime, anywhere.
"Boomplay is determined to legitimately serve the African Music Passion Point, especially Boomplay users. Working with a major music company in the global music industry, such as Universal Music Group, gives us another significant opportunity, "he said.
The Boomplay app, which is currently available only to Android users, is scheduled to be released on iOS in the coming weeks. In addition, new Boomplay users will receive a free one-month subscription if they opt for a monthly auto-renewable subscription.
For more information contact:
For Universal Music Group, contact:
James Murtagh-Hopkins / +44 203 932 6822 [email protected]
For Boomplay Contact:
Tosin Sorinola / +234 8166896617 [email protected]
About Boomplay
Boomplay is a music streaming and download service owned by Transsnet Music Limited, Boomplay hosts millions of songs and videos, connecting music lovers with their favorite songs anytime, anywhere. Boomplay currently has over 36 million users, over 10 million of whom come from the Google Play Store, and the rest of the global pre-installation on TECNO, Infinix, and iTel devices. The service is currently available for use over the Internet and Android. Awarded the Best African App at the Apps Africa Awards 2017, the app allows its users to stream and download their favorite songs and videos as well as subscribe to a plan to save music for offline viewing. Over the years, various payment platforms have been introduced, and music lovers can pay for music through mobile money, bank cards or Boomcoin cards. Boomplay aims to build the largest and most sustainable digital music ecosystem. Find out more Here.
About the Universal Music Group
Universal Music Group (UMG) is the world's leading music entertainment provider, with a broad range of companies operating music recording, music publishing, merchandising and audiovisual content in over 60 countries. UMG offers the most comprehensive catalog of recordings and songs from all genres, identifies and develops artists, and produces and distributes the most acclaimed and commercially successful music in the world. UMG is committed to art, innovation and entrepreneurship, and promotes the development of services, platforms and business models to expand the artistic and commercial opportunities for our artists and create new experiences for fans. Universal Music Group is a Vivendi company. Find out more Here.
————————————————– —-
Sponsored content
Before you go! Share this content on any social media platform

Source link
SOURCE: TORI.NG TMZ.COM BELLANAIJA.COM POLITICSNGR.COM
STELLADIMOKOKORKUS.COM LINDAIKEJISBLOG.COM
WITHINNIGERIA.COM NAIJABLITZ.COM STARGIST.COM
JOELSBLOG.COM.NG YABALEFTONLINE.NG CELEBNEWS.COM
AMONPOINTTV.COM NIGERIANFINDER.COM
SAHARAREPORTERS.COM CORRECTBAE.NG LIFEHACKER.COM
PEREZHILTON.COM NIGERIATODAY.NG BAYDORZBLOGNG.COM
SPYNIGERIA.NG AUTOJOSH.COM