Before you go! Share this content on any social media platform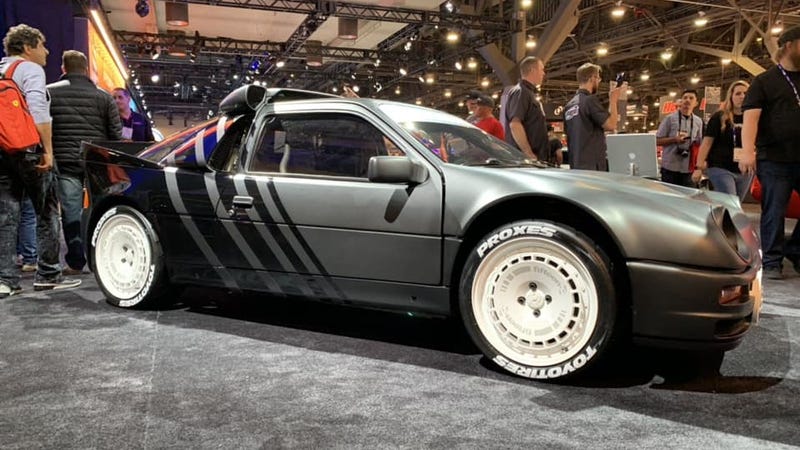 It might be a bit controversial to say so, but SEMA is actually good. Yes, there are many bad things about SEMA, like the hundreds of truck-nut bulldozers that are too big to manage without a ladder. It's overcrowded, it's way too big, and it's in Las Vegas, which should automatically rule it out, to be good. And yet I somehow left the fair this year and somehow felt fine.
We have already discussed the electric Drag Racing Camarowhich was definitely one of my favorite cars at SEMA, as well Honda's huge dune buggy, Cemic hybrid rallycross all-wheel drive car from Clemson, and Mopar's 1000 PS box Hellephant, These are all good things, but here is the rest of the good that fell through the cracks.
CA Tuned Off Road built my dream Isuzu Trooper.
Mopar built this Jeep Wagoneer with extended wheelbase and modified sheet metal to be as powerful as anything available today, while maintaining the classic look. I love it so much.
Also, any car that was built for puppies, even for fake dolls, is completely crazy in my book.
This GMC Syclone has dumped its factory turbo V6 for a supercharged V8. It has to rip.
This Toyota Celica has a 2.3-liter Ecoboost engine. Considering that these were called "Mustang Celicas", it's a bit more ingenious. I only wish it would not say "Swag Rides" on the page.
Nissan built this Titan for the Red Cross disaster relief, which is super cool. It is also great.
I will never be able to deny the Awesome of the Lamborghini Diablo.
Chris Runge was already House building these hand hammered specials for a few years, and they absolutely rule. He asked if I wanted to sit in there. I really wanted it. It fit like a glass shoe made to measure, only I was the wicked stepsister.
I'll never stop thinking about this Volkswagen Scirocco and its incredible contoured torches. The artwork painting by Ornamental Conifer was a bit polarizing, but I dig it.
Unorthodox drag racing cars are another of my passions, and this Lexus with huge turbos and huge, meaty drag slicks was a bunch of boxes. Whoops, looks like Precision Turbo found my kink.
Not many people know it, but Daniel Ricciardo was at SEMA signing autographs. After his eighth engine failure this year, he is just a human shell. Emotionless. He did not move all week.
Electric vehicle conversions were a common theme at SEMA this year. The best thing about this product was perhaps the out of line Mercury from Icon with a full electric powertrain. It has been claimed to have a range of nearly 200 miles, which is quite impressive even for an OEM, let alone an independent shop.
BBI Autosport has used a number of racing car bodies and chassis suspensions for a 911 GT3. It still has a touch screen and air conditioning. They allegedly build a turbo engine with 800 hp.
The gigantic Honda Civic from Bisimoto is equipped with its four-wheel drive and a turbo engine of the K-series.
This Geo Tracker was built in the days of mini-pressure and has been perfectly preserved for all these years. It is a real OG and too much will never be enough.
I can not remember the last time I saw a Jeep Commanche. It looked like a really usable build for my pretty inexperienced eyes. The 4-liter engine under the hood had a compressor for additional grunts. I would absolutely drive this creamsicle.
The most interesting and eye-catching display of the week is this modern Maybach Burnout. A Forgiato Wheels representative told me they found the car on a Copart junkyard. The junkyard wanted an inappropriate $ 10,000 for the car, so he negotiated the lease for a week. They screwed a set of wheels to the chassis and called it on the wheel dollys. It has received more attention than most perfectly curated displays on the show, and that's the whole point of SEMA.
In preparation for the new Supra Toyota trotted a Supras quartet of each generation. They seem to have been sourced from a Toyota Supra fan during the week. It was a cool display, though the new Supra was only shown in boring NASCAR and Concept shapes.
Something you do not see every day: this Brazilian Volkswagen Gol, which has been greatly changed by the owner. His YouTube channel, unfortunately in Portuguese, documents the structure of the car. You can find it as Carros De Colecionadores if you are so inclined
The Toyota Le Mans winner was pushed into the farthest corner of the North Hall to promote retrofit cameras for the aftermarket. What a strange world in which we live.
Coker Tire has been busy with the introduction of a new radial tire for Ford A Model A. This seems to be a strange market for SEMA, but it is a super cool and interesting application of modern technology in classic cars. Apparently this should have happened decades ago.
The joint stand of NASCAR and IMSA proudly showed the Porsche 911 RSR, which won Petit Le Mans. There was even a bit of grass in the splinter.
IRONMAN!
The other electric concept of Chevrolet shown this week was a Bolt Sedan delivery that is absolutely bad. This concept is very useful for local delivery companies. With a huge electrical area and a simplified interior for much more stuff, this could have a big impact on the business world.
A very good square body.
The company that built this monster called it a W16, but since the two V8 engines are only connected to the transmission, this could be a misnomer. It's big and looks super cool. And that's why I'm here.
Ken Block had issued some of his fast fords, but this escort was my favorite.
Flawless Classics built this true Porsche rally car and made sure it was a lot dirty before being presented at SEMA.
I will never be mad at a Mog.
That's too cool. The body panels were sprayed with a thick, high build primer and the design was hand etched into this coat. The color in chrome look was placed over it. With hundreds of hours of carving, this car looks like a million dollars.
This RWB was retroactive and looked like a 60s 911s. She was motivated by a Tesla powertrain. This is a vintage all-electric 911 widebody and I love it all. From the Burberry fabric interior to the chrome roll-over bar, it's fantastic from head to toe. And that's the best thing about SEMA. There are tons of one-upship. Two years ago you could catch the eye with a WARC, but now it has to be an electric RWB to get headlines.
This Ferrari 328 was perfection. It offers many modern touches, such as the 458 GT3 rear-view mirrors, but still looks perfect. The ultimate climax of a largely dismissed Fezza.
This huge Volvo had just as great a performance of the Chevrolet 572 V8.
This 300SL replica sits on a SLK32 AMG (R170) chassis from the early 2000s. With a 350 hp V6 supercharger and a 5-second time from 0 to 60, this is a good deal faster than with an original 300SL. The execution is missing, but only slightly. I like this idea. Can I mount it on a R171 SLK55 AMG now?
And it would not be a SEMA without a whole bunch of wide bodies. The best is the Mazda RX-7 FC generation with a pandem kit and great torque.
When I left last year, I was not sure if I would come back. Over time, I remembered the goodness of SEMA and forgot most of the bad ones. This year, I've been trying to ignore the bad and focus on the good. There was a lot of good. I will definitely be back in 2019.
SEMA is good.
Before you go! Share this content on any social media platform

Source link
SOURCES: CARSCOOPS BMWBLOG MOTORAUTHORITY
CLASSICCARS MOTOR1 JALOPNIK FOURTITUDE INSIDEEVS
DUPONTREGISTRY AUTONEWS OLDCARSWEEKLY
INDIANAUTOSBLOG CARCOMPLAINTS LUXUO AUTOPARTSWAREHOUSE
HYBRIDCARS CORVETTEBLOGGER MERCEDESBLOG
VWVORTEX