Before you go! Share this content on any social media platform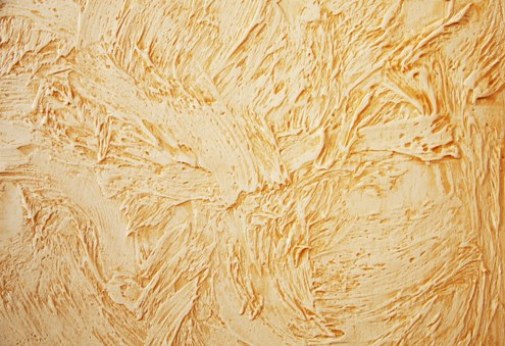 With the help of a structural coating, not only interior but also facades are decorated. In this case, the relief of the finish will depend on the composition of the mixture, as well as tools for its application.
The main base of plaster consists of mineral or polymeric binders and various fillers. Silicate, synthetic latex, cement-lime mixture are often used as binders. Fillers can be various pebbles, granules, sand, wood fibers. The structure of the plaster will depend on the fractionality of the aggregates. The larger the particle size, the more pronounced the coating structure. And, conversely, the smaller the particles, the smoother the surface of the finish. The result of high-quality surface finish also largely depends on the type of binding materials.
Structural plasters are available in white. For them, if desired, you can pick up the pigment of the desired color and achieve the desired shade. This can be done independently or order the necessary shade in the store.
This finishing material has the following advantages in comparison with other coatings:
· Excellent plasticity indicators;
· It is without effort applied on various surfaces;
· Resistant to damage such as bumps, chips, scratches;
· Hides the defects of the original surface: various cracks and drops;
· Due to the porous structure is able to "breathe";
· Undemanding in leaving, easily gives in to wet cleaning, new coloring;
· Resistant to temperature fluctuations;
· Is able to embody the creative fantasies of the designer;
· Durable and environmentally friendly.
Structural Plaster Tips
Plastering of surfaces is carried out in several stages:
1. At the initial stage, preparatory work is carried out, including the release of walls from contamination, the seal of significant irregularities. Small potholes and cracks can be ignored, as structural plaster with such flaws cope easily.
2. The next stage – priming the original surface. It is recommended to apply a deep penetration primer for better adhesion of the plaster to the base.
3. The final stage will be the direct application of the mixture itself to the prepared surface. For the realization of the most unusual designer fantasies need to stock up on a textured roller, spatula or spray. After coating the surface with a mixture of plaster dries for 10 hours. The final freezing occurs only after 1-2 days.
It is important to cover all adjacent surfaces with polyethylene before direct coating, as structural plaster has the tendency to be removed poorly.
The process of surface finishing with structural plaster does not present any particular difficulties and is quite within the power of experimental lovers. To do this, it is enough to study the technology of applying the mixture, stock up on the necessary working tool and get to work. With proper attention and patience, this process can be very exciting.
Before you go! Share this content on any social media platform

Source link