Before you go! Share this content on any social media platform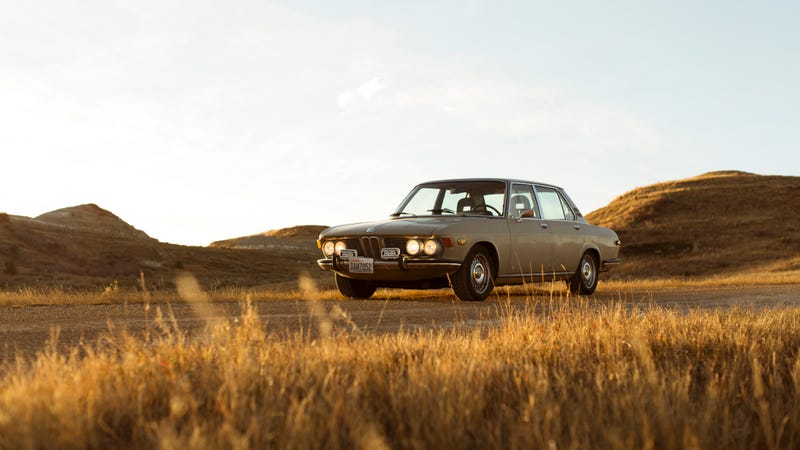 BISMARCK, ND.-I would like to tell you that our trip through the country in one 1970 BMW 2500 It was full of dangers, stress, ingenious roadside repairs, and last-ditch exploits when we ran out of daylight. But the truth is – and I desperately try not to hex ourselves here – so far everything is going well. In fact, it made me nervous and wondered what would go wrong.
For me, this trip was also about confronting some of my irrational deep-seated fears and fears. When my friend Clay told me he would buy Sam Smith's old BMW sedan but reluctant to bring it only from Seattle to the D.C. area where he lives – where's the fun of it? – I immediately took the opportunity and registered to drive to the East Coast. Why not to hell? It would be a great story, one way or the other.
But when I actually got there and started driving this ancient machine eastward through Seattle's midday traffic, 2,800 miles ahead of us in a car that was almost half a century old, all I could think about was: What the hell did I think?
Deep inside, I knew I could do it. It's just driving, steady and careful, with some corrections if necessary and a good sense of when to throw in the towel. But the fear brain can be a powerful thing. Doubt is a powerful thing.
That was before my copilot Raphael Orlove and I got to know this car, and what an impressive machine it is. It is a sturdy road trip tank, built and prepared for such things. And so far it's great. We crossed almost half of the country at this point without any problems, but a broken speedometer needle.
Of course, no old car can make it out of the gate. We had a lot of help. Sam worked on the car to get it done. So Jalopnik reader Jay Swift, who corrected his ignition problem and installed a socket to charge our equipment. And Raph and I prepared extensively and filled the trunk with tools, tape, coolant, oil, hoses, clamps, and everything else we needed.
When I texted Sam last night to tell him that I was worried about what might happen, he told me:
Do not be silly, old BMWs just go, the car was prepared to go far from me and at least one person in front of me, the things I've told you are true, it'll either go well or have a stupid little thing that hurts it just check the oil and watch the water temperature and keep going and enjoy it. "
He added, "Road trips in old cars are not scary if you make a list of shit that you can fuck and then address."
What I think is exactly what we have done so far. We check the oil and coolant level at each stop, are ultra-conservative when refilling (the fuel gauge does not really work.) We double and triple with each other that this noise or smell is nothing new or weird or bad.
The weather has certainly helped so far – no rain, no snow and lots of nice, cold air to keep the engine running well. I also want to pull the spark plugs today just to make sure they look good.
The preparation is of course enormous, both on the front and on the equipment side. But Raph and I also found out that a huge journey across the country is not so intimidating when viewed as a series of steps, smaller goals. It is not a drive to New York City. It's a ride to lunch, yesterday afternoon. Then to the border of North Dakota. Then to Bismarck. Then a few hours to Minneapolis today.
One step at a time, that's all.
I do not get cocky here. I refuse. But I feel good about things, and I know we could not have asked for a better partner than this machine.
Before you go! Share this content on any social media platform

Source link
SOURCES: CARSCOOPS BMWBLOG MOTORAUTHORITY
CLASSICCARS MOTOR1 JALOPNIK FOURTITUDE INSIDEEVS
DUPONTREGISTRY AUTONEWS OLDCARSWEEKLY
INDIANAUTOSBLOG CARCOMPLAINTS LUXUO AUTOPARTSWAREHOUSE
HYBRIDCARS CORVETTEBLOGGER MERCEDESBLOG
VWVORTEX