Before you go! Share this content on any social media platform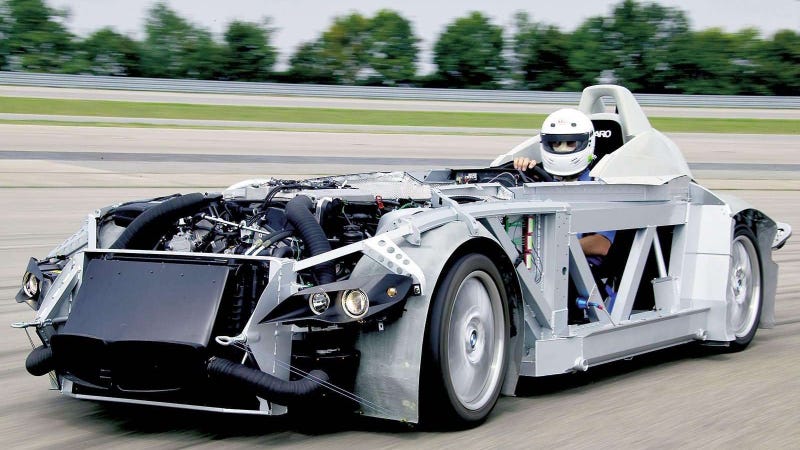 The only news in racing is, in my opinion, that Toyota, McLaren, Aston Martin, Ferrari and Ford are talking this year to design a Le Mans Hypercar-Look / GT1-style class by 2020/2021. Now BMW is in these talks when Motorsport.com Reports. Hm.
My first thought was, "Oh shit, hey BMW has a lot of Carbon Tub stuff from the I8, I bet they could race," but the Motorsport.com report focuses more on the fuel of choice than on the production car on which all this would be based:
BMW, winner of the 24 Hours of Le Mans 1999 […], is not committing to a lower cost category that will cause manufacturers to style their prototype machines for supercars or show cars.

Marquardt said BMW's key factors in the discussion were "finding the right balance between the three themes of road relevance, pioneering them and keeping costs reasonably priced."

BMW has acknowledged its interest in hydrogen fuel cell technology and suggested that it will be possible to drive a prototype in the middle of the next decade at Le Mans powered by such an engine.
BMW has history with hydrogen racing cars. In the early 2000s, the company built a one-seat record car that burned hydrogen in a V12, unlike the normal process of only electricity flowing out of it through a fuel cell. It was called H2R and is shown above and below.
This program (along with pretty much all of BMW's other hydrogen works) dried up abruptly. The rumor I heard from people in the California auto-regulation scene was that BMW could get emission credits from the California Air Resources Board just to research hydrogen, but once that program was canceled, BMW dropped it and interfered and electric vehicles.
But even so, a hydrogen-powered BMW i8 race car or something like that would be fine.
BMW told Motorsport.com that it has been "in the loop" since the start, but is formally only joining in discussions of what that class should look like. It was a challenge to get good information from the various manufacturers involved in these discussions, as they apparently did not follow a clear vision of what that all would look like. Certainly some manufacturers want this to be a GT1 reboot and I support them.
Before you go! Share this content on any social media platform

Source link
SOURCES: CARSCOOPS BMWBLOG MOTORAUTHORITY
CLASSICCARS MOTOR1 JALOPNIK FOURTITUDE INSIDEEVS
DUPONTREGISTRY AUTONEWS OLDCARSWEEKLY
INDIANAUTOSBLOG CARCOMPLAINTS LUXUO AUTOPARTSWAREHOUSE
HYBRIDCARS CORVETTEBLOGGER MERCEDESBLOG
VWVORTEX