At home
Watch movies – WE LOVE MOANA! Captain Underpants was also fun. Was nice too
Supa Strikas cartoon – kids love the song too!
Children stay with grandparents on days when I work
Play Games – WK & Snakes and Ladders
Cards made with sticker pictures and words
Both children have football lessons in the garden
used hot glue gun and lollipop sticks to make boats (copying a youtube video). Alex was afraid to make a mistake, so I shaped a lot. Alex later tried it in the bathroom – it moved for a while, but eventually the glue came off.
Children love to build bases, but lose interest in playing in them quickly! Especially for nerf wars.
Alex
Read some of 'mechanica' – fascinated but not happy that the animal world has died out!
Decision to divide fish into thirds. I told the kids I didn't have any, so Alex said he would have 2/3. So I suggested 1/2 for the boys. Alex argues we would cut into 1/4, have 1 each and then see if Daniel wants more and give him half of 1/4 (he asked what that was and I told him 1/8).
I saw a movie about dragons, it was like a documentary – Alex thought it was real! We talked about "walking with dinosaurs" wasn't real, he said he was surprised! He was disappointed that the dragons were not real, but believes that dragons existed before dinosaurs or elsewhere in the universe. He later claimed that dragons are immune to lava (derived from the HTTYD show / game he started again).
One day at home, Alex took a broom and balanced it on his finger. He told me that one side, even though it was longer, was the same (balanced) as the shorter side.
rolled up paper in the car to make a sound projector and told me it jumped around and made it louder – like a guitar!
Big moment for me – Alex saw the first Harry Potter film and loved it. Also saw the 2nd, 3rd and 4th!
Play Slugterra and Monster legends on iPad. I got a game called Bounzy and watched him figure out what angle to use to get maximum points. Sometimes he was sure that he would do well, sometimes it was a discovery.
Playing top Trumps with fighter jets – he asked for the flags, read some big numbers, and took some facts.
Daniel
Built a tower of magical tiles – he noticed that he was taller than him!
Daniel explains his games to me – that some are loaded because Alex had them first and others, but I bought some for him.
When he invented dinosaurs, he remembered the names of a few from the museum trip the other day.
I did puzzles with Vio
Play with his cooking things. Make play dough.
Play with his Duplo and tell stories about his play.
Daniel wakes up from the nap with aching legs and we bathe him with epsom salt. I don't know if it does anything, but Daniel feels better afterwards.
Played "Bird Seeds" for his birthday.
On road
I saw 'Three Monks' at the Arts Center. Was long and Daniel became restless. The children said they liked it, but wished there was more action (the kung fu movements). Alex was intrigued that the actors did not speak English but Mandarin and learned "hello" (there was a Q&A)
Vio made children flip out.
Went to dumpling with the whole family from Vio. Vio was stressed that the children were a bit loud.
Went to the museum – children spent hours playing with friends in the children's gallery. They had a lot of fun with the spitting frog statue and dodged the water when it came out. We looked at the dinosaurs, then the animals. Alex researched forever and Daniel noticed that there was no giraffe. We went to the Aboriginal garden, where Alex wanted to show everyone the eels. Also the rainforest gallery, where we discovered birds. The store was a big distraction with a lot of "I want", but we got off relatively easily.
We stopped in a new park in Brooklyn – it was really great!
I saw MSO perform "Peter & the Wolf in Hollywood". It was wonderful! The children were thrilled and so engaged. The best parts were the narrator and the foley artist. A great addition, very fun. Daniel surprised me with his observations, insights, conclusions and opinions. Afterwards we had lunch with friends in the park. Then we visited ACMI, where we met other friends and played his favorite game. Daniel visited the shadows again, but generally doesn't love ACMI.
On the way to Green Gully so that Alex and Vio can play tennis as Alex requested.
Went to the scoot in Brimbank Park with cousins.
The kids stayed with the grandparents while I ran errands (understandably they hate to come along!). Then I took her to the playground on Verona Drive. They had a lot of fun guiding the water through the sand.
Made them swim because they were at home with Vio all day and had a lot of energy. Alex was under water. Daniel swims with his kickboard.
I had organized an HS event at Funtopia. As soon as the kids woke up, they were with me to go! It was a great day – Alex climbed so high! He told some friends about the Xbox and they tried together to win it. They found out between them that they would share it, and everyone took it home from Brimbank on Wednesdays! Amazing 🙂 Daniel didn't climb but enjoyed the play area. Alex's friend Eden shared his milkshake, it was so cute. We stopped at the skate park in Keilor East as it was a wonderful day. There were already a few young adults using it, so the children were careful. They watched them on their skateboards and they both want one for Christmas. They slid up and down and made small jumps.
Visited the Junior Rangers spiders. There were games, explorations, finding spiders, looking through the microscope and making badges.
I won tickets for the 'Dinosaur Time Machine'. The kids enjoyed, I was not overly impressed and thankful that I hadn't spent any money on it! Alex had chosen his "sound" as T Rex. The children learned a lot, especially on the timeline. Alex kept telling people later that a Trex is more closely related to a sparrow than to a Stegosaurus. After the show, we took the tram to Flagstaff Gardens and hung out. The kids had a good game, Alex made a friend.
Went to Lollipop's gaming center for a Nintense session with a friend of Alex. Alex loved playing, especially the Pokemon tournament. Daniel enjoyed the trips and continued on the pirate ship – big smile! The big boys climbed – Alex practically ran up the wall.
We visited the La Sanbe Wildlife Sanctuary, where we watched birds in the evening. We looked at the microscopic pond life with the rangers and then went on a nightly foray. We discovered Tawny frog mouths (and Alex too) and a few brush-tailed possums. Daniel fell asleep on me!
Went to the cinema to see Ninjago. We were really impressed with the new beach chairs! It was also a funny film.
Sociability
Daniel is playing soccer training with other siblings
Attended a party and played with friends. A sticky toy is now hanging on the ceiling in the lounge. Alex asked Vio to come down, but it's too high, so we threw other things on it to stop in vain. Daniel suggested throwing aside instead!
Played with friends in the park
Friends visited – kids played Nerf Wars, Lego, went outside. Alex spoke of a glider making a roller because of damaged wings. I reminded him that the weights were also missing, which would have affected.
Neighbors mostly play outside.
Met a new local HS family that had recently moved in. A couple of other families joined. Alex found the interactions and dynamics somewhat difficult. We didn't stay too long – he said he was tired.
Went to a house party as a family. Alex was concerned about the fire in the garden and also about the language his friend used. We didn't stay that long in the end.
Football presentation night – fun night for the kids. Alex got his trophy and hung out with his teammates.
Had other friends (in Daniel's favor). The last game date was not a success, but it was much better this time. Daniel plays with the mothers and fathers sisters, and Alex played on his iPad and watched shows with his arm around his friend.
activities
Children get bored in the gym and I think the children will only see their friends! Alex has big problems talking. Afterwards the children played well in the park. On another occasion, Alex left the class twice. First to tell me about something that happened at Flip Out last night, then the next time he got into trouble with an apparent accident. I ended up having words with the instructor when she said we needed a plan to deal with Alex. I replied that he was no longer worried. That's it for gymnastics!
Football training (at Avondale & VFS) remained to play with the U12
Games – Alex had a good game and scored the best goal! He was so happy when he hit his right foot.
Little ninjas – injuries !! Alex helps other children.
Alex in a soccer tournament with friends. It doesn't seem to be in phases because it doesn't run much! And being distracted. He says he enjoys it, but doesn't take it seriously, just for fun. You have reached the final and won! Alex scored a goal in the semi-finals.
Lego Club – Alex said he doesn't like walking because the teacher talks too much and he doesn't like packing. So we came up with some ideas on how he could simply do the things he enjoyed – we arrived late to avoid the lecture (so as not to disturb others) and he called me when he was ready for grab me to help me. He says he's enjoying it, I think he's asking for a lot of help? The little children played so nicely outside and ran around to invent games together.
Sovereign Hill Camp
We stayed at Ballarat for a few days as part of the Sovereign Hill Camp. Alex said it looked like the wild west. We looked for gold – Alex went to the guide for guidance. He also tried out the different machines. We found a few spots. We did a mine tour that the children really liked. Attended an educational program on toys and school in the gold rush era was fine. We bought Lolies (the highlight) and went back to the caravan park, where we stayed with friends and the children spent hours on the jumping pillow! In fact, we were there the next day with some friends who made them! We took some board games with us, which was useful since it was wet. There was also giant chess (Alex loves and he helped his friend play). We visited a mime that we couldn't see very well. They enjoyed Oliver Twist, but we drove halfway through Little Red Riding Hood. Aklex noticed that the hunter went like Donald Duck! On our last day we visited Sovereign Hill again – did more gold panning, watched candy being made, watched a musket-firing demo (Alex watched and interacted attentively), took a tour of a mine (Alex was super impressed with the Size of the gold nugget) found!) It was good to come home to Vio after 2 nights – Alex sat with his arms around him all evening.
And here are the pictures:
Dancing with friends in the museum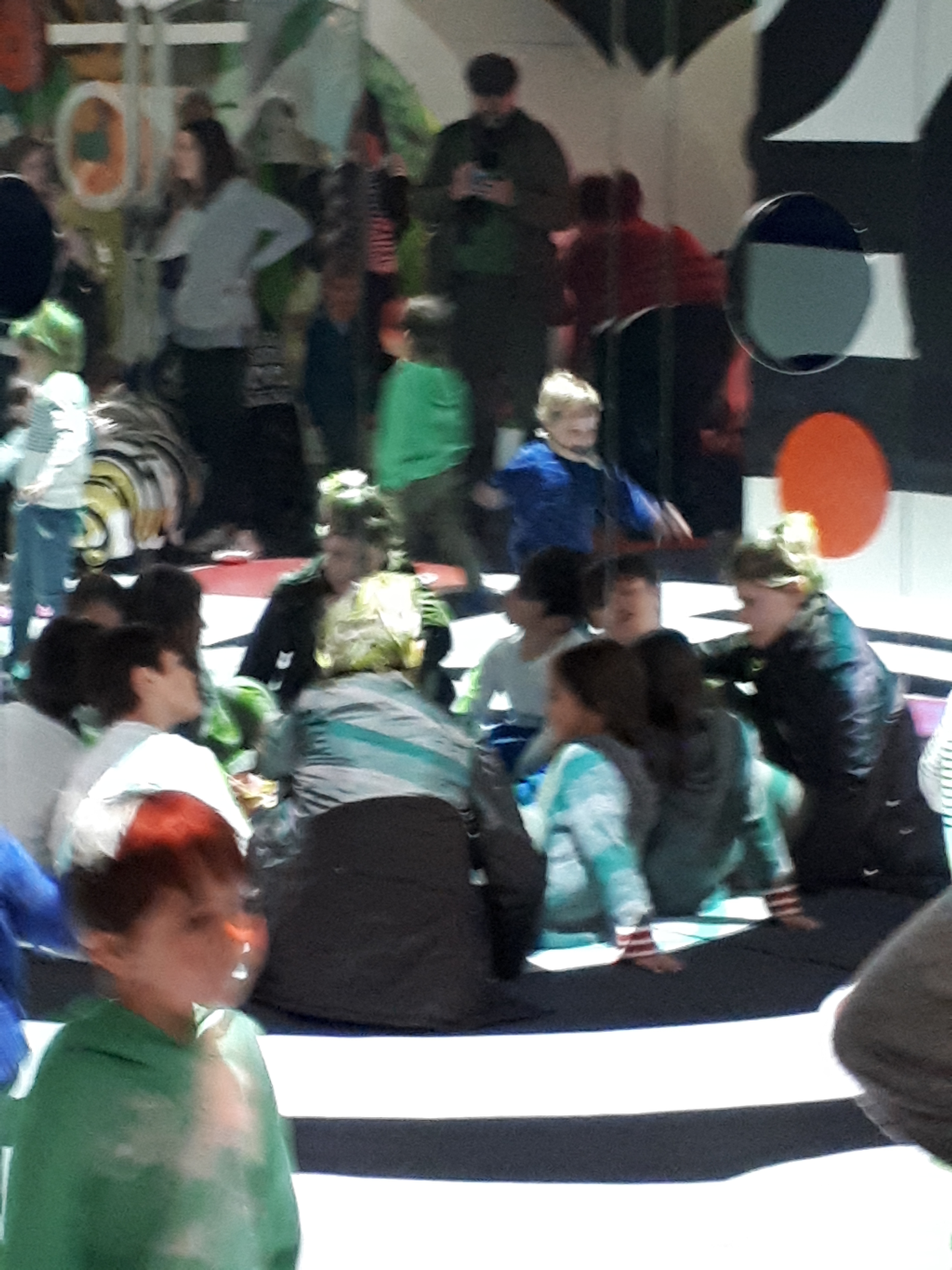 Note: We are not the author of this content. For the Authentic and complete version,
Check its Original Source